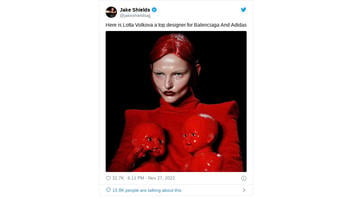 Does a photo circulating on social media show Lotta Volkova, a stylist for Paris-based fashion house Balenciaga, which is facing condemnation after releasing an ad campaign featuring children holding stuffed animals in bondage gear? No, that's not true: The woman in the image is a runway model in a 2016 fashion show in Beijing -- not Volkova.
The claim appeared in a Twitter post (archived here) on November 28, 2022. It opened:
Here is Lotta Volkova a top designer for Balenciaga And Adidas
This is what the post looked like on Twitter at the time of writing:
(Source: Twitter screenshot taken on Mon Nov 28 18:54:21 2022 UTC)
Volkova is not the woman who is clutching two red-covered dolls in the photo. She is a model who appeared on the catwalk of the Mercedes-Benz China Fashion Week on March 31, 2016, according to Getty Images, which includes the photo on its website. The model was displaying fashion by Sheguang Hu, a Beijing-based haute couture designer who posted a similar photo to his Instagram account on April 2, 2016.
Volkova and Balenciaga are facing public backlash after releasing an ad campaign that showed children clutching stuffed bear bags that appeared to be wearing items associated with bondage fetishes, the company acknowledged in an apology posted on its Instagram page on November 28, 2022. The statement said:
WE STRONGLY CONDEMN CHILD ABUSE: IT WAS NEVER OUR INTENTION TO INCLUDE IT IN OUR NARRATIVE ... THIS WAS A WRONG CHOICE BY BALENCIAGA, COMBINED WITH OUR FAILURE IN ASSESSING AND VALIDATING IMAGES.
The fashion house began circulating the images on social media on November 16, 2022, but deleted them from all their online platforms after the media pummeled them with accusations of sexualizing children, BBC News reported.
Volkova's Instagram account was set to "private" mode at the time of writing.