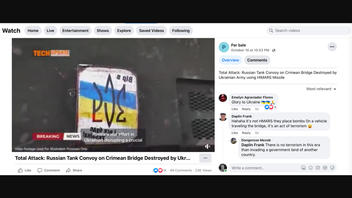 Did the Ukrainian military fire a missile at the Kerch bridge in Russian-occupied Crimea, taking out a convoy of Russian tanks? No, that's not true: The video with this claim says the damage was caused by a truck that exploded on the bridge on October 8, 2022, and makes no mention of tanks.
The claim appeared in a Facebook post on October 10, 2022. It read:
Total Attack: Russian Tank Convoy on Crimean Bridge Destroyed by Ukrainian Army using HIMARS Missile
This is what the post looked like on Facebook at the time of writing: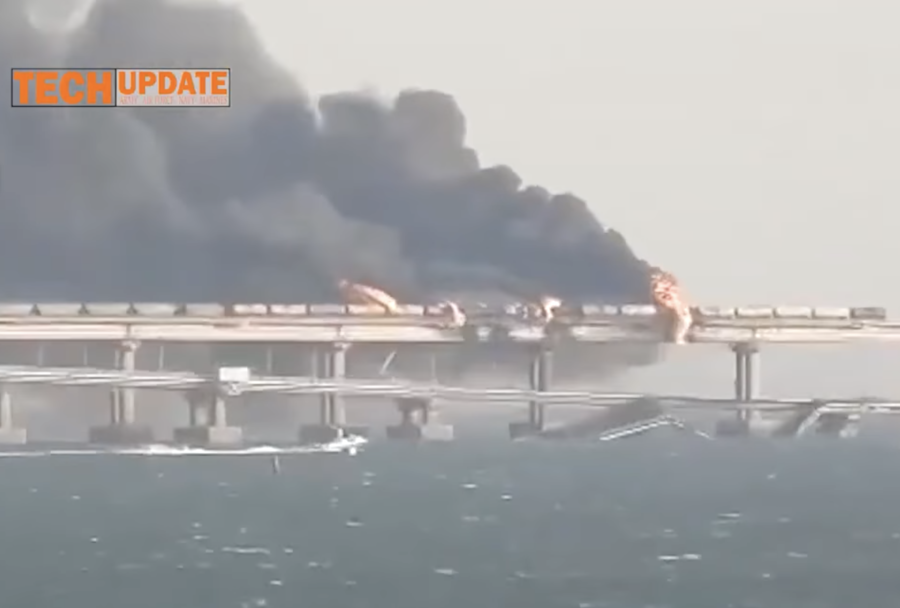 (Source: Facebook screenshot taken on Fri Oct 14 15:08:15 2022 UTC)
The beginning of the video shows fires raging around railway cars along the damaged bridge, but no Russian tank convoy is visible. Russia's RIA news agency reported that a fuel tank was burning, but made no mention of military tanks.

The video then switches to stock footage of artillery launches and other military maneuvers. At 4:00, the narrator says
Russian authorities said the blast occurred around 6 a.m. local time. A video posted by government newspaper Izvestia appeared to show it at 6:03 a.m. Initial information suggested three people had been killed, including the driver of the truck that appeared to explode and two people whose bodies were recovered from the water.
Other news reports also say authorities suspect a truck exploded on the bridge.
There is also no mention of High Mobility Artillery Rocket Systems (HIMARS), a long-range, high-precision missile launcher manufactured by U.S. defense contractor Lockheed Martin. The U.S. has sent Ukraine at least 16 HIMARS out of a total of 34 promised, according to a Pentagon statement on September 28, 2022.
Russia completed the Kerch Bridge in 2018 to connect the Russian mainland to Crimea, a Ukrainian peninsula that Moscow annexed in 2014. The bridge served as a crucial supply route for Russian troops fighting in Ukraine, as well as Russia's Black Sea Fleet, based in the port of Sevastopol, according to Reuters.
This is not the first time Lead Stories has reported on political clickbait headlines in social media posts. Similar fact checks can be found here, here and here.
Other Lead Stories fact checks about the conflict between Russia and Ukraine can be found here.