STORY UPDATED: check for updates below.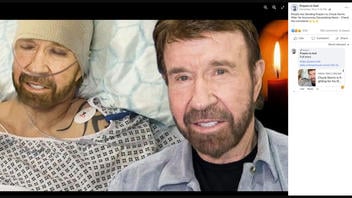 Did Chuck Norris announce "devastating news" on or before December 26, 2022? No, that's not true: A Facebook post that claimed the martial artist announced "devastating news" and implied he suffered a health crisis appears to be nothing more than a clickbait scam leading social media users to an article that makes no mention of Norris having suffered health concerns. No reputable news outlet reported news related to the actor's health, and Norris' verified social media pages did not announce or substantiate such a situation.
The claim originated in a Facebook post shared on December 26, 2022. It read:
People Are Sending Prayers to Chuck Norris After He Announces Devastating News - Check the comments 👇👇👇
Here is how the post appeared at the time of this writing: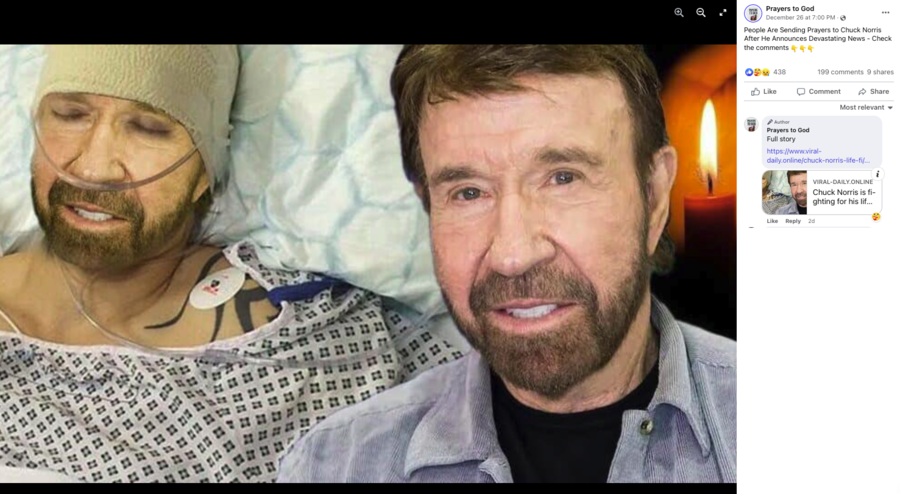 (Source: Facebook screenshot taken Thu Dec 9 21:00:28 2022 UTC)
Lead Stories debunked a similar hoax on December 13, 2022, in which the website Viral News (archived here) claimed that 82-year-old Norris was "fighting for his life." The Viral News article used the same collage image featured in the above Facebook post, including a candle burning in the background, just reversed.
As of December 29, 2022, the day the most recent Norris hoax article was written, Google News did not reveal any recent "devastating news" about Norris and nothing related to his health, as the post image suggests. The official Facebook page for Norris, who is known for his role in numeroius actions movies and the series "Walker, Texas Ranger," also made no mention of his health.
The post is a clickbait scam. A link included in the comments section of the post by the Facebook page that made the post led to an article (archived here) published on viral-daily.online, titled, "​​Chuck Norris is fi-ghting for his Iife. Prayers needed." The article makes no mention of Norris having announced "devastating news," that the martial artist was fighting for his life, or that he had health issues.
The same image that was featured in the Facebook post was also used in a video shared to YouTube in September 2022 titled, "Sad news Hollywood actor Chuck Norris Is Pass Away Expected Soon Family Prepare To Say Goodbye."
There is no record of Norris having the tattoo shown in the photographs used in both the Facebook post and the YouTube video. Furthermore, the placements of the supposed tattoo on Norris' shoulder -- left in the YouTube video and right in the Facebook post - further suggest that the photo of Norris seemingly in a hospital bed is a digitally altered image.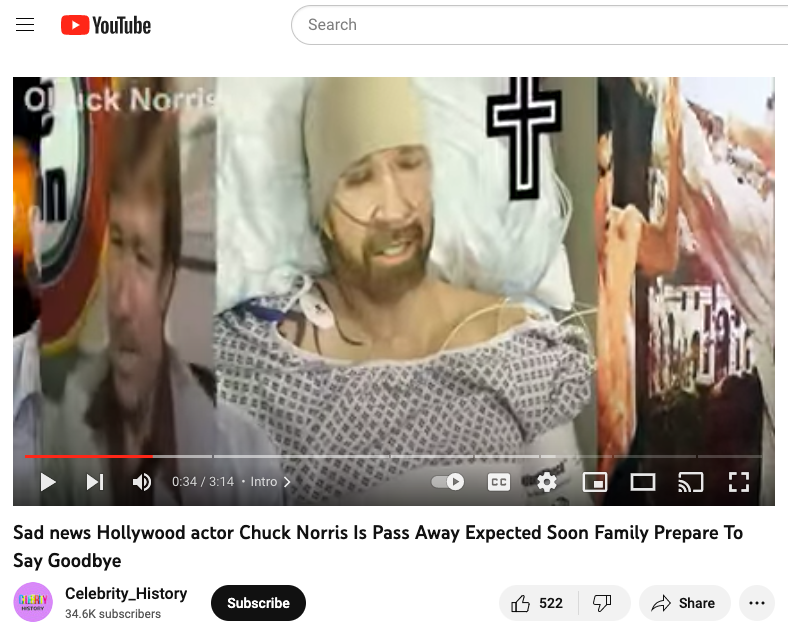 (Source: YouTube screenshot taken Thurs Dec 29 20:54:11 2022 UTC)
Lead Stories reached out to Norris' management team for comment on the claim. Erik Kritzer of Link Entertainment responded by email on January 1, 2023, saying of the claim:
This is completely false. CN is in perfect health and enjoying the holidays with his family.
2023-01-03T17:06:53Z

2023-01-03T17:06:53Z

Updated with January 1, 2023, response from Norris' rep that Norris is "perfectly healthy."