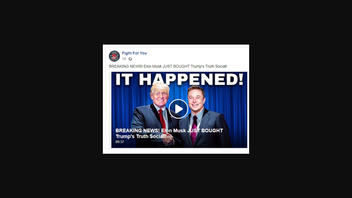 Did Twitter CEO Elon Musk purchase former President Donald Trump's Truth Social in December 2022? No, that's not true: A video shared on Facebook claimed in the headline that Musk had bought the social media platform, but a voiceover narration in the video made no mention of such an event. The headline was merely clickbait. At the time of writing, neither Musk nor Trump had announced the sale and no reputable media outlet had reported such a transaction
The claim originated in a video shared on Facebook on December 21, 2022, titled, "BREAKING NEWS! Elon Musk JUST Bought Trump's Truth Social!"
A voiceover narration of the more-than-nine-minute-long video stated in the introduction:
If you're an Elon Musk fan, you know that Elon and Trump had an on-again-off-again friendship. You are aware that similar rivalries often result in friendships. People realized this when the CEO of Twitter took things to the next level for Trump. What are your thoughts on this rivalry -- as friendship or not? Leave a like before we indulge ourselves in this rivalry/friendship between Trump and Musk. Let's quickly dig in.
Here is how the video appeared at the time of the writing of this fact check: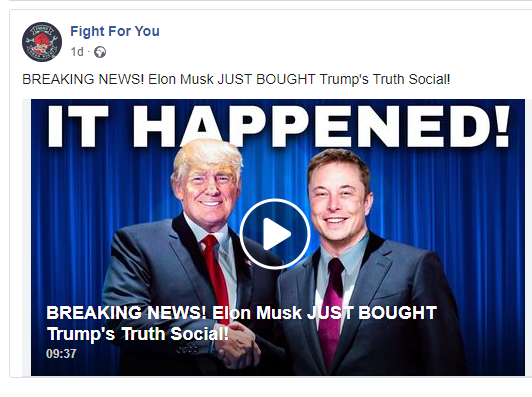 (Source: Facebook screenshot was taken on Thurs Dec 22 21:30:09 2022 UTC
Lead Stories watched the 9:37 video in its entirety. At no point did the narrator state that Musk, who also founded Tesla and SpaceX, had bought Truth Social from Trump.
The video was posted by a Facebook page named Fight For You, which was created on December 1, 2022, and claimed to be based in Toronto, Canada. Facebook has not verified the page. Since its creation date, the page's administrators had posted by December 22, 2022, more than 180 polarizing videos that made false claims or allegations that act as clickbait. Among the examples: "Elon Musk Just EXPOSED Justin Trudeau's Corruption" and "Liberals Laugh At The Suffering Of Canadians."
Below is a screenshot of the most recent videos posted to the page at the time of this fact check's publication: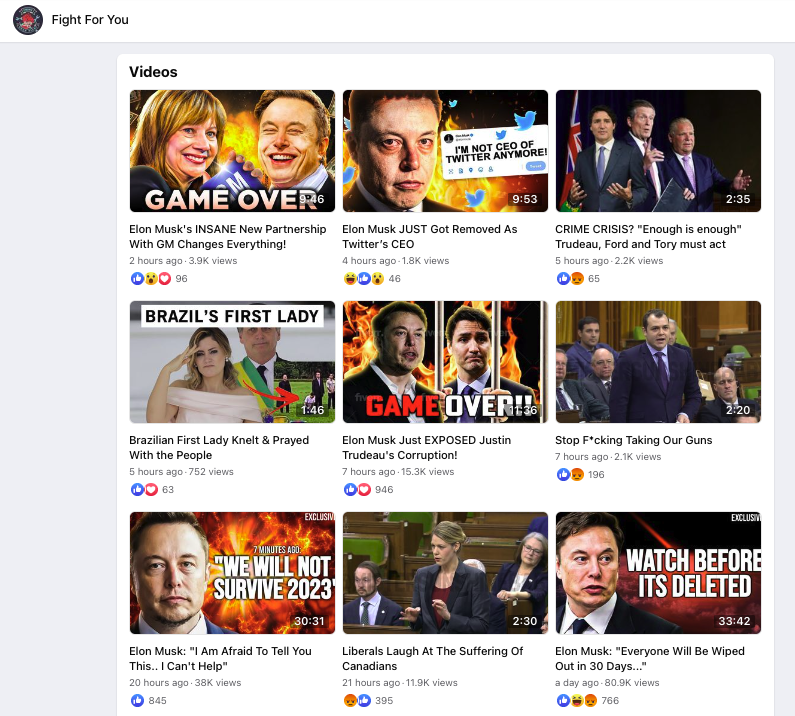 (Source: Facebook screenshot was taken on Thurs Dec 22 21:30:09 2022 UTC
Throughout the video in question, the narrator urges viewers to "leave a like" and baits the audience to boost engagement by asking users to "stay with us until the end." Yet the video closes without any mention of Musk buying Twitter, and, instead, calls for interactions:
So, will Trump enter Twitter or not? What are your thoughts on this? What would you do if you were Trump? We want to know it all. Let us know everything in the comment section below. Don't forget to hit the like button, subscribe to our channel, and click on the bell icon to never miss an update from the U.S.
The same video was also shared on the YouTube channel Elon Musk Rewind, which posts clickbait videos about Elon Musk. The "About" section of the channel read: "Our channel is purely made for entertainment purposes, based on facts, rumors, and fiction." Below is a look at some of these videos: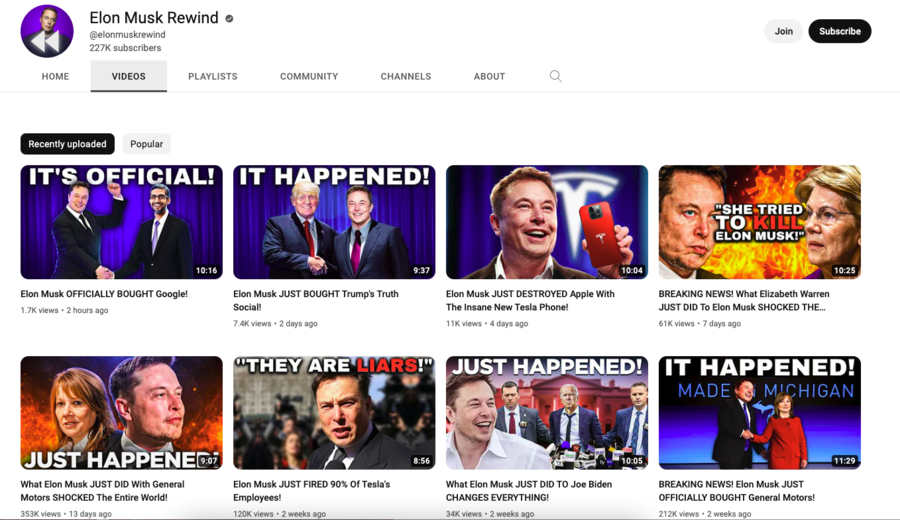 (Source: YouTube screenshot taken Thurs Dec 22 21:56:16 2022 UTC)
Lead Stories contacted Trump spokesperson Liz Harrington and will update the article accordingly if we receive a response.
Additional Lead Stories fact checks involving Musk rumors can be viewed here.