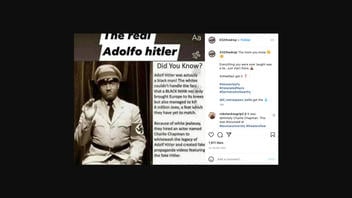 Was Adolf Hitler, the head of the Nazi Party and dictator of Germany, actually black and does this photo prove it? No, that's not true: This picture is a color photo converted into black and white from an episode of a TV sitcom called "Community."
The claim appeared on Instagram on December 23, 2022. It said:
The more you know 🤔 🧐

Everything you were ever taught was a lie.. just start there 🌋

AshkeNazi get it ❓❔

#weseeclearly
#melanatedNazis
#GermansAreSwarthy

@lil_nativequeen_kalifa got the 💧
This is what the post looked like at the time of writing: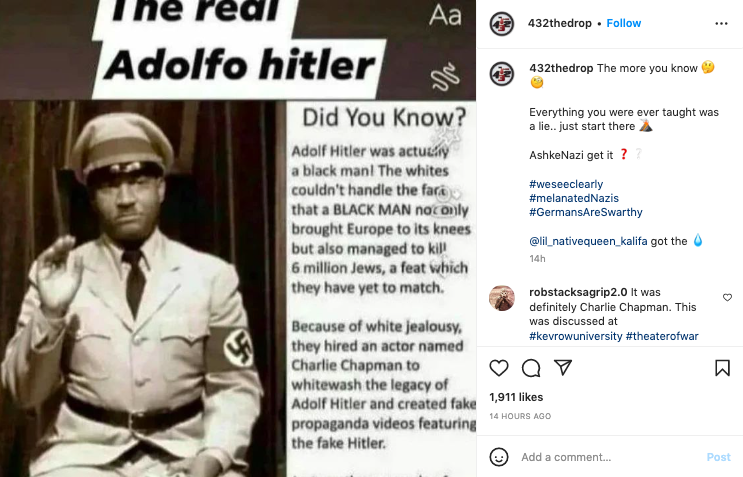 (Source: Instagram screenshot taken on Fri Dec 23 21:21:58 2022 UTC)

The image above is from an episode, titled "Advanced Gay" that aired on November 3, 2011, during season three of "Community," which ran from 2009 to 2015.
"Black Hitler" is seen at 0:18 in this video clip. Here is a screenshot of it: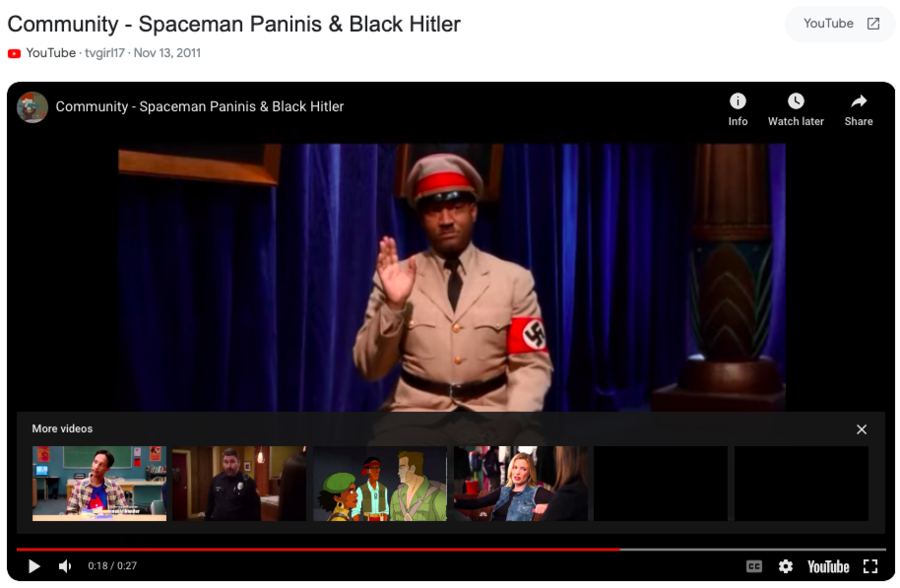 (Source: YouTube screenshot taken on Fri Dec 23 21:49:412022 UTC)
This website for "Community" fans explains the plot of this episode. The character Troy Barnes, played by Donald Glover, is kidnapped:
A moment later, he is in a room with four other students. They are all tied to a chair in front of a council presided by Vice Dean Laybourne, the head of Greendale's Air Conditioning Repair Annex. He explains that they have been selected as candidates for an elite section of the air conditioning repair school, and that this is their initiation.
The character Laybourne, played by John Goodman, says:
But why kidnap you? Why put a sack over your head and drag you here in the middle of the night? Why is there an astronaut in the corner making paninis? Simple. We don't want you to tell anyone about this and if you do, we don't want them believing you. Isn't that right, Black Hitler?
There has been speculation over Hitler's ancestry and whether his grandfather was Jewish. One study conducted by a Belgian journalist and a historian was based on collecting saliva samples from 39 of Hilters' living relatives. The study was written up in the Flemish language magazine, Knack, and reported that the relatives' dominant principal haplogroup, or set of chromosomes, known as E1b1b belongs to groups found not in western Europe but more commonly in Northern Africa meaning his family tree may have included Jewish and African ancestors.
According to this article on the HIstory channel website, since the publication of the Knack article in 2010:
...academics have been quick to point out that this does not necessarily mean the man who inspired the Holocaust was either Jewish, African or a combination of the two. The E1b1b halogroup runs in other ethnic groups for instance, and DNA analysis remains an inexact science.
Other Lead Stories fact checks about Hitler are here, here and here.