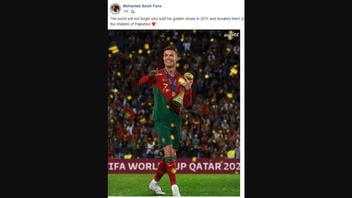 Did Cristiano Ronaldo, an award-winning soccer player and the captain of the Portugal national team, sell some of his trophies -- European Golden Shoes -- and donate the money "to the children of Palestine" in 2011? No, that's not true: Such rumors about Ronaldo donating to Palestine have been circulating for the past 11 years, but no official announcements confirming that have ever been made.
Older variations of the claim have been debunked by fact checkers, including Lead Stories. The CR7 museum, where all four of Ronaldo's European Golden Shoes are stored, confirmed to Lead Stories that they are still on display as of December 30, 2022.
The claim appeared on Facebook on December 27, 2022. The caption, describing a photo of Ronaldo taken during the 2022 FIFA World Cup in Qatar, said:
The world will not forget who sold his golden shoes in 2011 and donated them to the children of Palestine
This is what the post looked like on Facebook at the time of writing: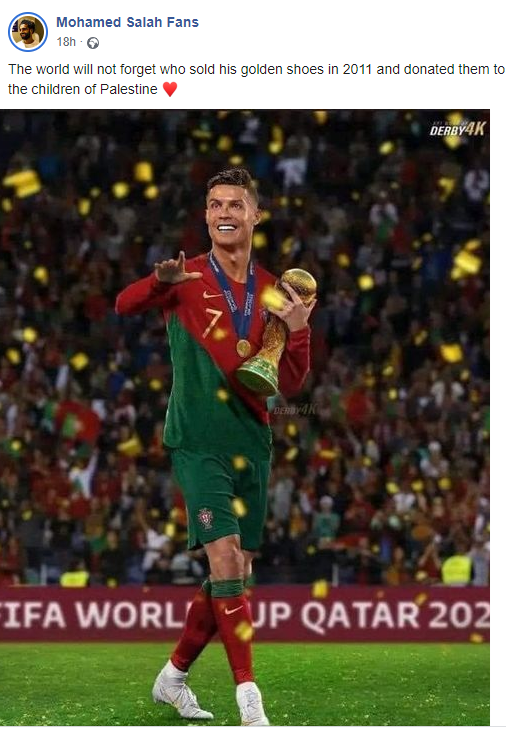 (Source: Facebook screenshot taken on Wed Dec 28 10:27 2022 UTC)
The European Golden Shoe is an award that looks like a soccer boot. Since 1967, it has been given to the player who scores the greatest number of goals in the first division of European leagues in a season. As of December 2022, Ronaldo had won four European Golden Shoes.
Ronaldo is known for supporting charitable causes, predominantly in the field of health care. However, there is no evidence that he sold any of his Golden Shoes in 2011 to do so.
In 2015, Ronaldo was photographed with all four of these trophies, which would be impossible had he sold or donated any of them.
On December 30, 2022, the CR7 museum in Madeira, Portugal, confirmed via email to Lead Stories that Ronaldo's Golden Shoes are still stored there:
The golden boots won by Cristiano Ronaldo are on display in our Museum
The rumors about the soccer player making donations to Palestine have been persistent at least since 2011 when Ronaldo received the third Golden Shoe playing for Real Madrid.
That year, one of the first variations of the claim cited the Arabic version of the Real Madrid website. The story, however, did not mention European Golden Shoes -- it only said that Ronaldo auctioned his sports boots and then donated 2,400 euros (worth about $3,342 then) to an unnamed "Palestinian kids foundation."
As of this writing, the English version of the Real Madrid website did not mention anything similar. See screenshot below of such a search.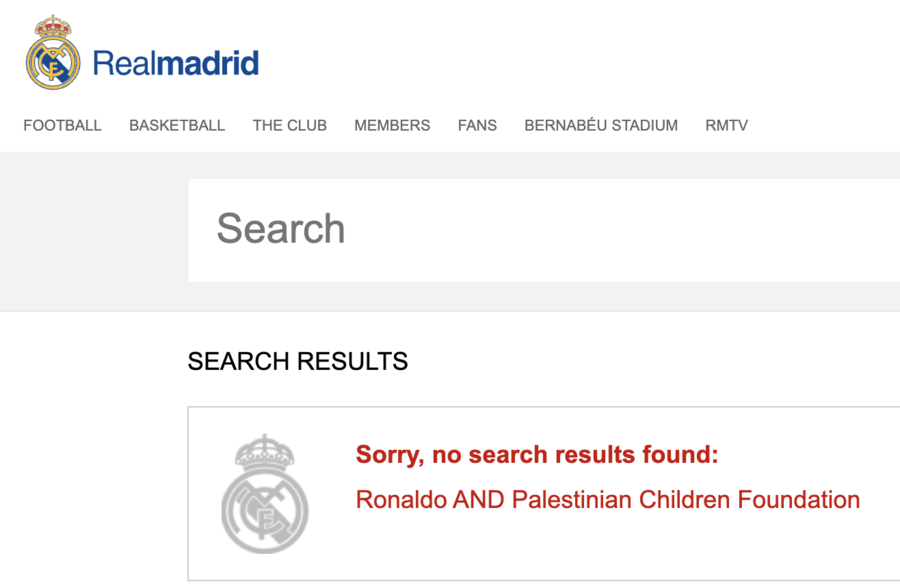 (Source: Realmadrid website screenshot taken on Fri Dec 30 20:10:47 2022 UTC)
Lead Stories Arabic-speaking staff verified that such a story in question could not be found on the Arabic version of this team's website either.
Lead Stories found no other credible sources backing up the claim.
In 2019, Lead Stories and AFP.com debunked a similar claim about the soccer player donating $1.5 million to Palestinians. At the time, Lead Stories reached out to Ronaldo's management agency Gestifute, which told Lead Stories that sources close to the player could guarantee that the story was false.
Lead Stories reached out to Ronaldo's representatives in 2022 as well. When we receive a response, this article will be updated as appropriate.
Other Lead Stories fact checks about Ronaldo can be found here, here and here.