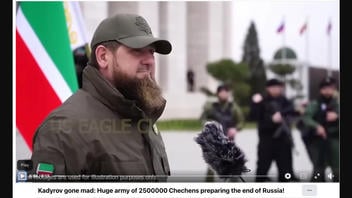 Is there a "huge army of 2500000 Chechens preparing the end of Russia" or helping "get Putin out of the bottleneck" in Ukraine? No, that's not true: The self-contradictory claim that fails to mention a source cites an unrealistic number exceeding the entire population of the Chechen republic.
The claim appeared in a post published on Facebook on December 24, 2022. The caption opened:
Kadyrov gone mad: Huge army of 2500000 Chechens preparing the end of Russia!
The post contained numerous war hashtags facilitating the spread of the video but visible only when a user clicked on the "See more" button in the caption:
#RussiaUkraineWar #LatestNews #airdefense #usmilitary #Zelensky #defense #missile #stinger #ukrainewar #ukraine #strike #su30 #kyiv #NATO #hit #russianarmy #russianarmypower #BayraktarTB2 #headquarters #battleship #tank #blacksea #JoeBiden #putin #Putinswar #militaryupdates #militaryconvoy #military
This is what the post looked like on Facebook at the time of writing: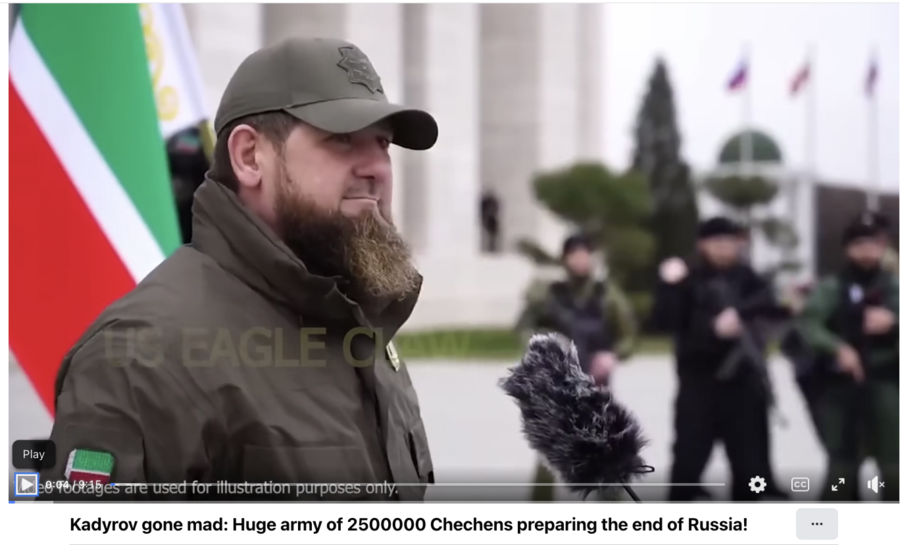 (Source: Facebook screenshot taken on Tue Dec 27 14:21:47 2022 UTC)
Chechnya, also known as the Chechen republic, is a part of Russia. Ramzan Kadyrov was first appointed the head of the region by Vladimir Putin in 2007, replacing his father, who had switched loyalties during the second Chechen war, offered his services to the Kremlin and briefly ran the republic before his assassination in 2004.
Contrary to the claim made in the Facebook post, the entire population of Chechnya, including women, children and the elderly, does not reach 2.5 million people. As of July 21, 2021, only about 1.5 million people lived there, according to multiple sources.
Additionally, the claim contradicted itself. Unlike the caption, implying a rebellion against Putin, the video emphasized Kadyrov's loyalty to the Kremlin at the 2:15 mark:
It is stated that Kadyrov has presented a method that will get Putin out of the bottleneck. Kadyrov plans to provide 2.5 million well-trained Russian soldiers to the Ukrainian Ffont, even if it will get a big reaction from the Russian people.
Yet, according to the Russian Constitution, it is not Kadyrov but Putin who is in charge of the national armed forces, and, thus, Kadyrov, who doesn't have a job within the federal military apparatus, has no control over recruiting Russians in other regions.
On December 11, 2022, Kadyrov wrote on his Telegram about another group of Chechen men leaving to fight in Ukraine on the Russian side. But even he did not claim that the size of the group was as big as 2.5 million people.
Other Lead Stories fact checks about the ongoing war in Ukraine can be found here.