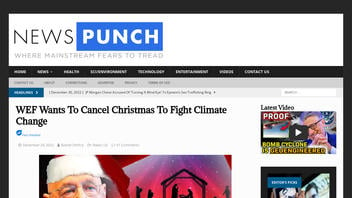 Did the World Economic Forum (WEF) tweet that "Christmas must be abolished" to fight climate change? No, that's not true: There is no evidence that this is a real tweet and it does not appear on the official WEF Twitter account.
The claim appeared in an article published by News Punch on December 24, 2022, titled "WEF Wants To Cancel Christmas To Fight Climate Change" (archived here). It opened:
The World Economic Forum has recently launched a controversial new initiative that will have Christians up in arms.
This is how the article looked on News Punch at the time this fact check was written: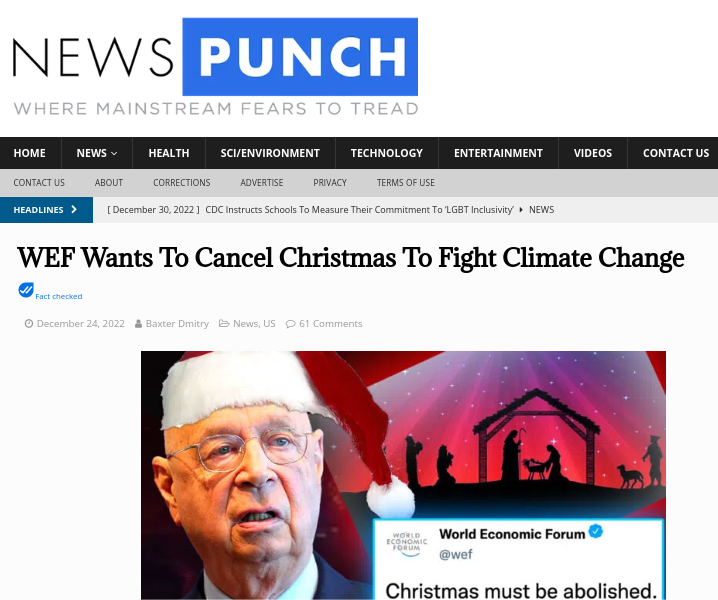 (Source: News Punch screenshot taken on Fri Dec 30 18:59:24 2022 UTC)
A graphic in the article shows a supposed tweet published by the World Economic Forum's Twitter account that simply read "Christmas must be abolished." In addition to there being no such tweet on the official WEF page, there are no verifiable news sources that support this claim.
News Punch (formerly YourNewsWire) has published hoaxes and fake news articles in the past so anything they write or publish should be taken with a large grain of salt. Their Facebook page, "The People's Voice" even lost its verification checkmark according to a 2018 report from Media Matters For America.
News Punch site's terms of use (archived here) also make it clear that the organization does not stand behind the accuracy of its reporting:
NEWSPUNCH, LLC AND/OR ITS SUPPLIERS MAKE NO REPRESENTATIONS ABOUT THE SUITABILITY, RELIABILITY, AVAILABILITY, TIMELINESS, AND ACCURACY OF THE INFORMATION, SOFTWARE, PRODUCTS, SERVICES AND RELATED GRAPHICS CONTAINED ON THE SITE FOR ANY PURPOSE.
Lead Stories' other debunks of claims made by News Punch can be found here.