STORY UPDATED: check for updates below.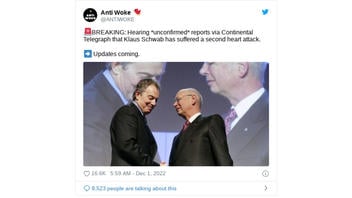 Did World Economic Forum (WEF) Chairman Klaus Schwab suffer a second heart attack? No, that's not true: A WEF press spokesman said Schwab has never experienced a heart attack and confirmed that he is in "good health."
The claim appeared in a Twitter post (archived here) on December 1, 2022. It opened:
🚨BREAKING: Hearing *unconfirmed* reports via Continental Telegraph that Klaus Schwab has suffered a second heart attack.

➡️ Updates coming.
This is what the post looked like on Twitter at the time of writing:
(Source: Twitter screenshot taken on Mon Dec 5 08:39:15 2022 UTC)
WEF spokesman Yann Zopf told Lead Stories by telephone on December 5, 2022, that the claim was false:
I can absolutely confirm that this is not true. There is no basis for that whatsoever. Mr. Schwab is in good health.
Zopf added that Schwab had never suffered a first heart attack, let alone a second one.
A keyword search conducted on December 5, 2022, revealed that no reliable news site is carrying the story, which would have received global attention.
The website that the Twitter user cites as the source of the information, the Continental Telegraph, was last updated on November 7, 2022.
Schwab is the frequent target of misinformation on social media in relation to his Great Reset initiative, which many conspiracy theorists view as an elite plot to install a global government that will enslave humanity. The Great Reset is a plan to build a more inclusive, environmentally sustainable version of capitalism after the results of the coronavirus pandemic. Lead Stories has debunked claims that the Great Reset is a front for an elite power grab.

Other Lead Stories fact checks about Schwab and the World Economic Forum can be found here, here, here, here, and here.
2022-12-06T09:27:06Z

2022-12-06T09:27:06Z

Added more detail from the WEF spokesperson on the claim there ever even was a first heart attack.