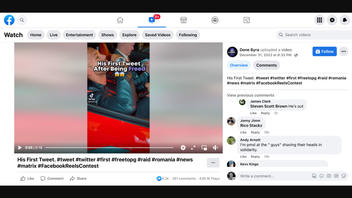 Did Romanian authorities free social-media influencer Andrew Tate from jail two days after arresting him in connection with human-trafficking charges? No, that's not true: A spokeswoman for Romanian law enforcement told Lead Stories that, as of January 3, 2023, Tate remained behind bars. Tate's attorney confirmed that status.
The claim appeared in a Facebook video post on December 31, 2022. The post included a TikTok clip that opened with Tate, slightly smiling, sitting in a car. Text above the footage read:
His First Tweet After Being Freed
This is what the post looked like on Facebook at the time of the writing of this fact check: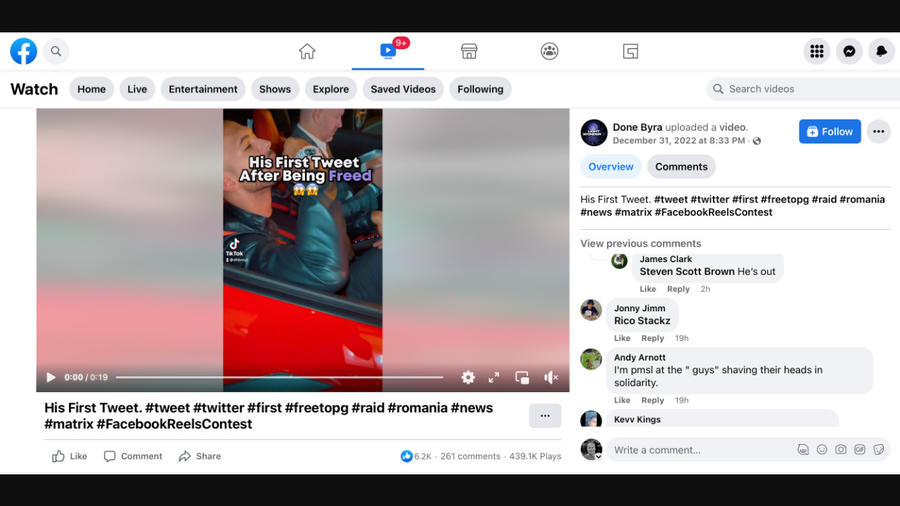 (Source: Facebook screenshot taken on Tue Jan 3 15:26:29 2023 UTC)
Romanian police detained Tate, a 36-year-old former kickboxer who holds dual U.S. and British citizenship, on December 29, 2022 in relation to charges of participating in an organized crime group, human trafficking and rape. Tate's brother, Tristan, and two Romanian citizens were also arrested, according to Reuters.
Ramona Bolla, spokeswoman for the Romanian Directorate for Investigating Organized Crime and Terrorism (DIICOT), said in a telephone interview with Lead Stories on January 3, 2023, that the authorities had not released either Andrew Tate or any of his fellow suspects. A Romanian court ordered all four individuals to be held in pre-trial detention for 30 days on December 30, 2022, Bolla said.
Claims that Tate has been freed are "unfortunately, just a rumor," Tate's attorney, Eugen Vidineac, confirmed in a telephone interview with Lead Stories on January 3, 2023. The Tate brothers have appealed their arrest, but the courts have not yet set a date for the hearing, Vidineac said.
In a press release on December 29, 2022, DIICOT accused the four suspects of recruiting human-trafficking victims
by misrepresenting their intention to enter into a marriage/cohabitation relationship and the existence of genuine feelings of love (the loverboy method). [The victims] were later transported and housed in buildings in Ilfov County where, by exercising acts of physical violence and mental coercion (through intimidation, constant surveillance, control and invoking alleged debts), they were sexually exploited by group members by forcing them to perform demonstrations of pornography for the purpose of producing and disseminating such material through social-media platforms.

(Translation by Google Translate.)
DIICOT's statement did not name the suspects, as is customary in Romania, but police released photos to the media showing officers leading Andrew Tate away in handcuffs.
Tate's Twitter account has been active since December 30, 2022, when a post reading "The Matrix sent their agents" appeared on his thread. It is unclear if Tate himself is doing the tweeting from behind bars.
-Lead Stories reporter Ioana Burtea contributed to this report.