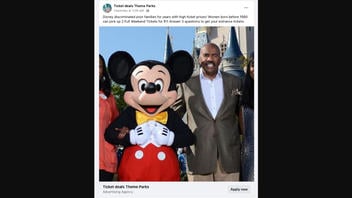 Is Disney giving away $1 tickets for "women born before 1980"? No, that's not true: The company's website contains no mentions of this alleged promo campaign. The claim appears to be a bait likely aimed at making users share their personal information.
The claim originated in a post on Facebook on January 30, 2023. It contained a shared link showing a picture of Mickey Mouse with the description:
Disney discriminated poor families for years with high ticket prices! Women born before 1980 can pick up 2 Full Weekend Tickets for $1! Answer 3 questions to get your entrance tickets
This is what the post looked like on Facebook at the time of writing: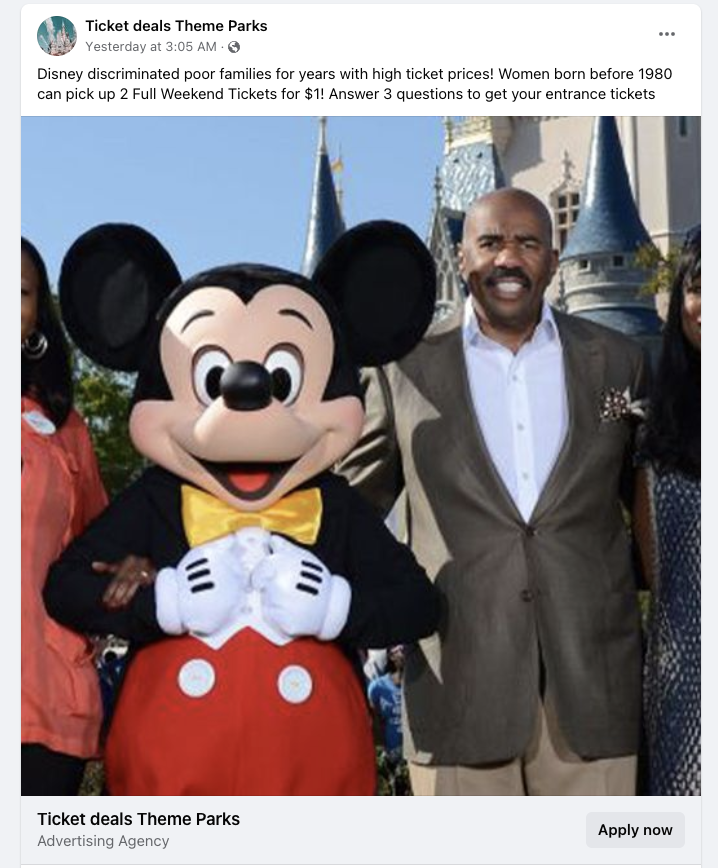 (Source: Facebook screenshot taken on Tue Jan 31 16:5:20 2023 UTC)
The post appeared on the page titled "Ticket deals Theme Parks" created on the same day, January 30, 2023. As of this writing, only one person followed it; two more users liked it.
A closer look at the Page Transparency section showed that the post was promoted as a paid ad: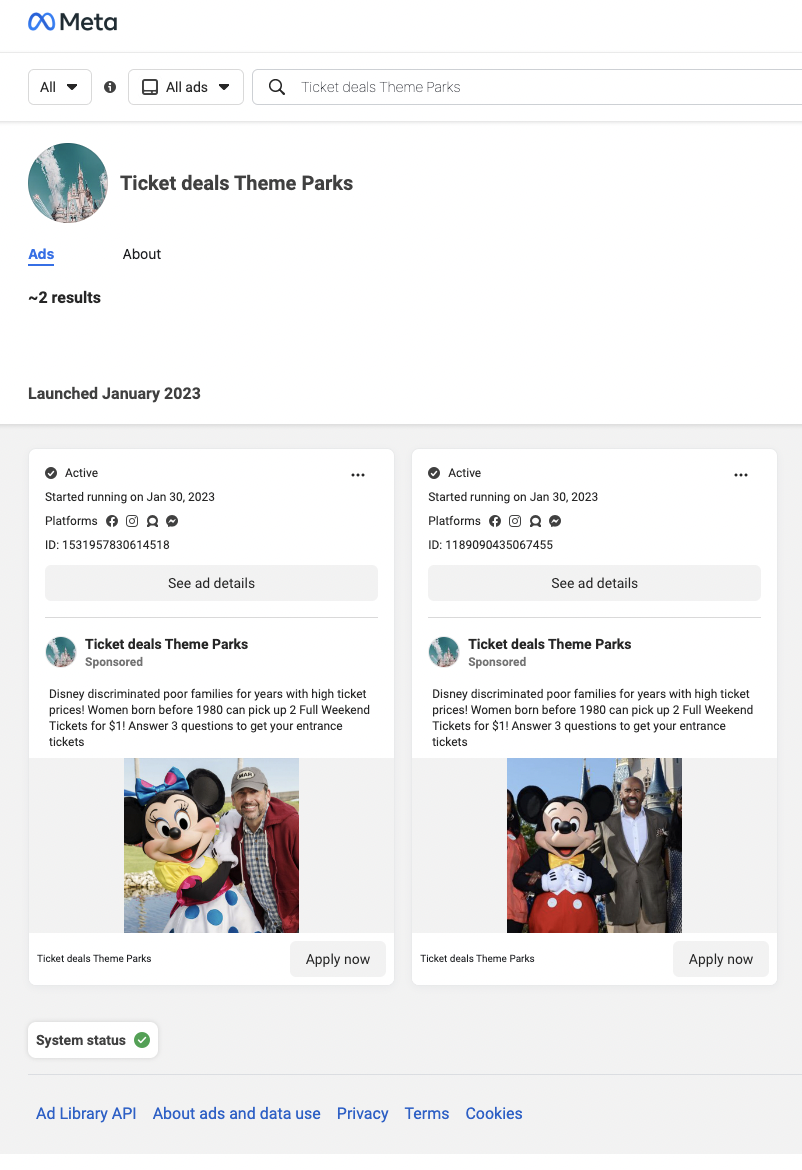 (Source: Facebook screenshot taken on Tue Jan 31 17:58:00 2023 UTC)
The Apply Button would not bring users to the official Disney website -- instead, it would open an external page associated with a cooking website, in the example shown below to a URL beginning jemapell.info: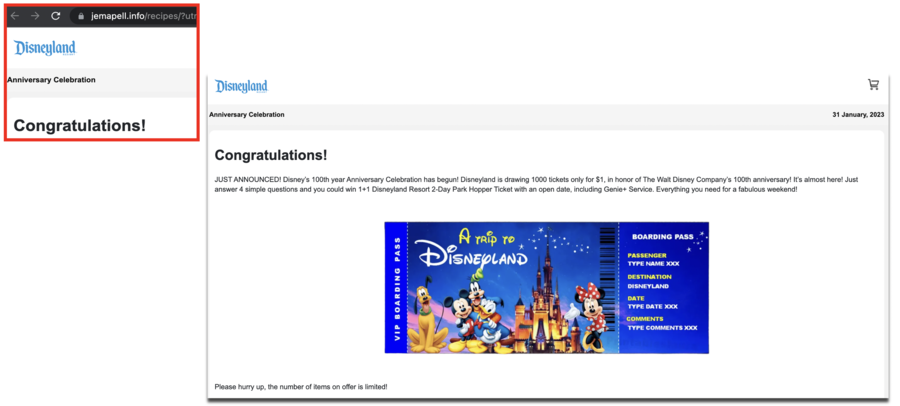 (Sources: JeMapell screenshot taken on Tue Jan 31 19:13:30 2023 UTC; JeMapell screenshot taken on Tue Jan 31 16:58:32 2023 UTC; composite image by Lead Stories)
Users would then see four questions about their preferences regarding trips to Disney Parks and then would see a link "to claim the offer." If one followed instructions, the page would continue to redirect to other websites until users saw this: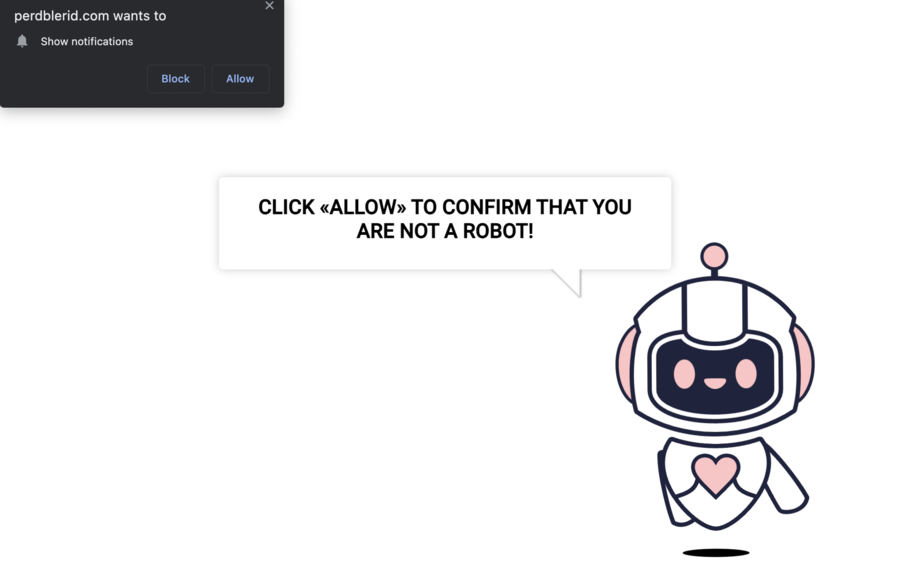 (Source: Perdblerid screenshot taken on Tue Jan 31 17:54:59 2023 UTC)
As of this writing, the official Disneyland website did not list any purported $1 ticket giveaway events. Google News showed no reports from credible sources about it either.
On January 28, 2023, ABC7 in Los Angeles announced a lottery celebrating the 100th anniversary of Disney. The prizes included "1-Park per day tickets and a two-night stay at one of the Disneyland Resort hotels," but the station said nothing about $1 tickets for "women born before 1980."
Disney has been sued over discrimination more than once, but those cases did not appear to have involved claims about price discrimination against "women born before 1980."
A 2019 lawsuit filed on behalf of two former female employees discussed the pay gap between women and men working for Disney, as reported by The New York Times.
In 2020, the company faced lawsuits over an alleged violation of the Americans With Disabilities Act for making those parkgoers spend too much time waiting for accommodation to get on a ride, wrote the Los Angeles Times.
In June 2021, Fox Business published an article titled "Disney accused of tailoring offerings to wealthy families, pricing out loyal customers after COVID closures." But the piece did not refer to any legal actions. Instead, it mentioned "Twitter users" making such complaints and cited a prior Business Insider poll concluding that people who make less than $75,000 annually want to visit Disney parks the most but don't find it affordable.
Disney did increased prices after COVID-19 closures, but on January 10, 2023, the company announced some revisions, including waiving hotel parking fees and increasing the number of days when tickets are available at the lowest price of $104.
Lead Stories reached out to Disney. When we get a response, this story will be updated as appropriate.
Other Lead Stories fact checks about Disney can be found here, here and here.