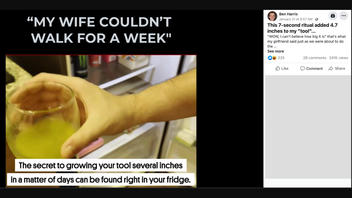 Is there a homemade drinkable concoction that can cause penile enlargement? No, that's not true: There is not a mixture that can be made with ingredients found at home that can enlarge a penis, and the post making the claim does not provide a recipe for such. The Food and Drug Administration (FDA) has not approved any homemade penile enlargement concoctions and warns sexual enhancement products could "pose a significant health risk."
The claim appeared in a video on Facebook on January 21, 2023, under the title "MY WIFE COULDN'T WALK FOR A WEEK." The video opened with a voice speaking and text reading:
The secret to growing your tool several inches in a matter of days can be found right in your fridge.
This is what the post looked like on Facebook at the time of writing: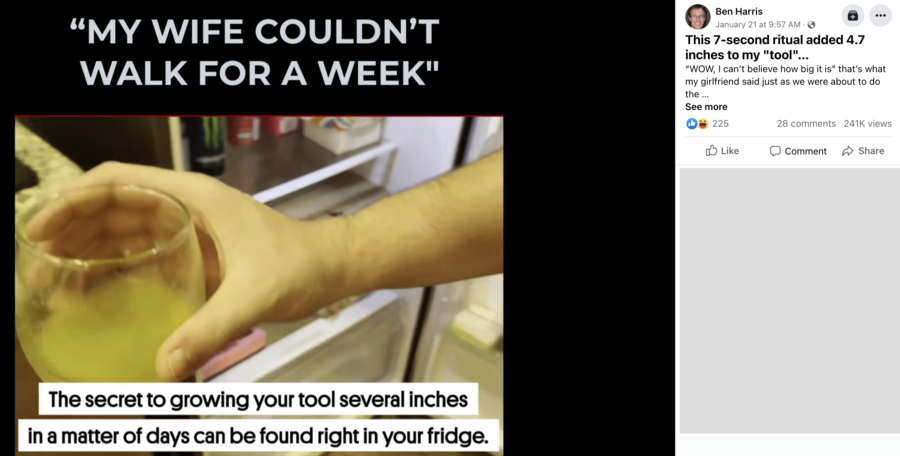 (Source: Facebook screenshot taken on Tue Jan 24 23:08:49 2023 UTC)
The video claims that a concoction that can be made with ingredients found at home can increase a penis' size. The ingredients are not listed in the video, and a yellow-colored drink is shown in a glass, implying that is the secret concoction. There is no evidence that a "mixture," not described or identified in the video, can cause a penis to grow. One example in the video claims a penis had grown from four to eight inches. None of the purported users cited in the video are identified beyond first names, and no evidence is provided to support claims of penis growth.
Since 2020, the FDA has warned consumers several times not to use certain "male enhancement" products that "have been found to contain hidden ingredients and may pose a significant health risk." The agency also warned consumers about "Tainted Sexual Enhancement Products," as of November 21, 2022:
FDA is notifying consumers of certain products promoted for sexual enhancement that have been found to contain hidden ingredients and may pose a significant health risk. The public notifications listed below include those products FDA testing found to contain active drug ingredients not listed on the product labels, including some with ingredients found in prescription drugs. These products may cause potentially serious side effects and may interact with medications or dietary supplements a consumer is taking. Consumers should use caution when considering purchasing these types of products.
Healthline.com published a report titled, Is There Really an Oil or Herb for Penis Enlargement?" that stated, "There aren't any oils on the market that will make your penis larger." Healthline.com notes their content "is medically reviewed to verify the clinical accuracy of our content, images, products, and services. Medical review is provided by members of the Healthline Medical Network."
WebMD noted in an article titled, "Does Penis Enlargement Work?":
Pills, supplements, creams, and lotions. Over-the-counter creams, as well as supplements, vitamins, or mineral pills that claim to increase penis size, simply don't work. They also could contain contaminants like pesticides.
The Mayo Clinic published an article titled, "Penis-enlargement products: Do they work?" that states:
However, there's little scientific support for nonsurgical methods to enlarge the penis. And no trusted medical organization endorses penis surgery for purely cosmetic reasons.
Most of the techniques you see advertised don't work. And some can damage your penis. Think twice before trying any of them.
The Urology Care Foundation notes in an article titled, "The Foundation's Recommendation on Penile Augmentation," that there are ads for "penis pills, creams, stretchers, or stretching devices and surgery," to increase penis size but that "Almost none of them work."