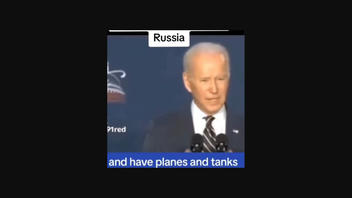 Did President Joe Biden declare "war on Russia" as of June 17, 2023? No, that's not true: This video post is missing context as the footage, taken from a March 2022 event of Biden speaking to the House Democratic Caucus, was edited. The transcript of his original remarks and a video recording of the event show that the video clip edited Biden's words -- more than a year after he said them -- to try to substantiate its baseless claim.
Credible media organizations have reported Biden's previous remarks that the U.S., as a part of the NATO alliance, does not seek war with Russia.
The claim appeared in a post on Facebook on June 18, 2023, with the caption:
Wow👌
The superimposed text above and below a 2-minute eight-second video of Biden speaking reads:
Biden Declares War on Russia
that's called World War 3
okay
Here is what the Facebook post looked like at the time of writing: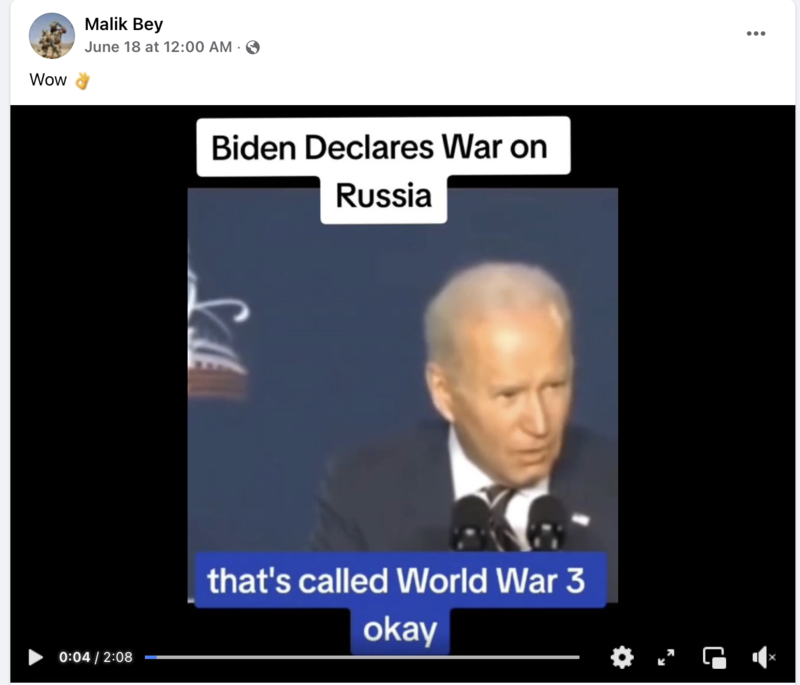 (Source: Facebook screenshot taken on Wed Jun 21 19:13:11 2023 UTC)
If Biden had made such a declaration, it would be a huge global news event with equally massive coverage -- which there has not been.
In the claim's video snippet, Biden's words are pulled out of context from his remarks on March 11, 2022.
In the post video, he says:
... and have planes and tanks and trains going in with American pilots and American crews just understand and don't kid yourself ... no matter what y'all say that's called World War Three, OK ...
A YouTube video titled, "President Biden delivers remarks at the House Democratic Caucus Issues conference -- 3/11/22," can be found on the verified CNBC Television channel. At 17:37 in the recording, the portion used in the Facebook clip occurs in the full context of Biden's remarks.
And the official White House transcript of the speech on March 11, 2022, quotes Biden, speaking in reference to the Russian invasion of Ukraine, as saying:
[Democracies] are rising to meet the moment, relying -- rallying the world on the side of peace and security. We are showing a strength, and we'll never falter.
But, look, the idea -- the idea that we're going to send in offensive equipment and have planes and tanks and trains going in with American pilots and American crews, just understand -- and don't kid yourself, no matter what you all say -- that's called 'World War Three.' Okay? Let's get it straight here. That old expression -- 'Don't kid a kidder.'
Nowhere in these remarks or the original video does Biden mention declaring "war on Russia."
A May 31, 2022, New York Times article titled, "President Biden: What America Will and Will Not Do in Ukraine," reported that Biden had expressly stated that is not the intention of the U.S., in alliance with the goals of NATO, to be involved in any confrontation with Russia while assisting Ukraine in its efforts to battle Russia:
We do not seek a war between NATO and Russia. As much as I disagree with Mr. Putin, and find his actions an outrage, the United States will not try to bring about his ouster in Moscow. So long as the United States or our allies are not attacked, we will not be directly engaged in this conflict, either by sending American troops to fight in Ukraine or by attacking Russian forces. We are not encouraging or enabling Ukraine to strike beyond its borders. We do not want to prolong the war just to inflict pain on Russia.
Other Lead Stories fact checks about the conflict between Russia and Ukraine can be found here.