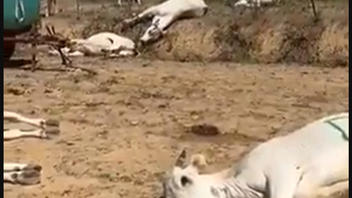 Did a herd of cattle in northern Italy die within a day of receiving a COVID-19 vaccine injected by the government? No, that's not true: The herd was sickened by grazing on drought-stressed sorghum, Italian public television reported.
The video filmed on August 6, 2022, shows dead and dying cattle in northwestern Italy. Sorghum during drought contain high levels of a naturally occurring chemical compound, dhurrin. When digested, dhurrin in sorghum converts into hydrogen cyanide and can kill cattle in as little as a half hour after ingestion. Attending veterinarians recognized the symptoms of acute prussic acid poisoning and were able to save some cattle with injections of sodium thiosulfate.
News stories (here and here) about this agricultural tragedy in Italy were published shortly after a cluster of incidents happened in August 2022. A video of the first incident resurfaced on social media in 2023, targeting English-speaking audiences with an added false narrative that the cattle had just received COVID-19 vaccines.

One example was posted on Twitter (archived here) on June 2, 2023, by UnJabbed Male @crouchendcom with this caption:
⚠️ WARNING ⚠️
Graphic Footage
Northern Italy
Government came and vaccinated cattle against cv19
Look at the result all dead or dying the next day
#diedsuddenly
This is what the post looked like on Twitter at the time of writing: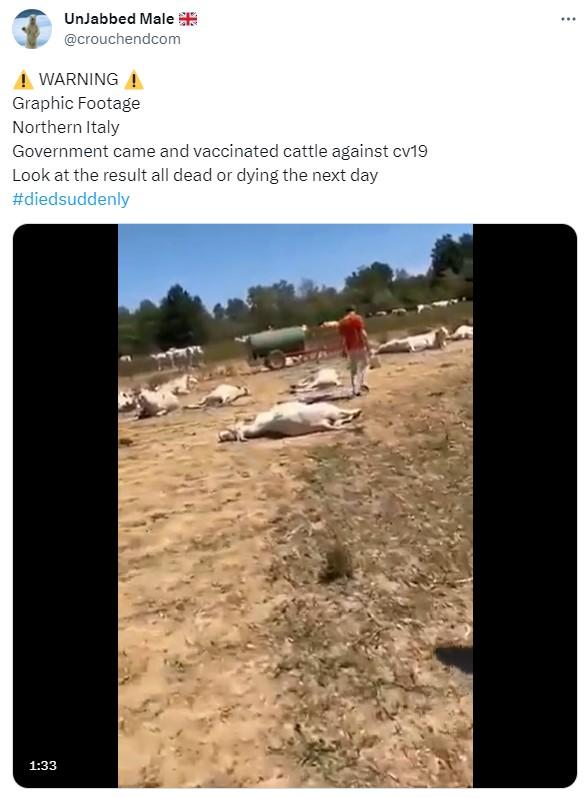 (Source: Twitter screenshot taken on Fri Jun 9 16:04:45 2023 UTC)
The 1-minute 48-second video shows people walking among downed cattle in a dusty crop field planted in rows. The thin plants stand only about a foot high. Some cows appear to already be dead, others can barely move. Some lying upright appear to be recovering or perhaps had not been so sick; some have a green identification mark.

A cow stretched out on her side (visible at 39 seconds) appears to have a large syringe tip inserted in her side. An open cardboard box sits nearby on the ground.

In a pasture on the other side of a deep ditch where other cattle are standing, a man waves a rope as if to move the standing cattle farther away from the dusty field of sorghum.
An August 7, 2022, news segment with video from Rai, the Italian public broadcasting company, reported, "Massacre of cows in Sommariva Bosco | Vets are looking for an explanation. The drought may have concentrated toxic substances in the soil." The Rai video segment includes an interview with the farmer and a short clip of the video footage that was posted on Twitter (pictured above).

This indicates that the clip on Twitter shows the same August 6, 2022, incident at Sommariva del Bosco. Another clip in the TV segment, filmed at the same farm, shows carcasses in a pile after the field had been cleared.
An August 12, 2022, Rai segment followed up on the original story to report that two additional farms had lost cattle from sorghum poisoning. The video segment was titled, "Alarm for poisoned cattle | Killer sorghum: other cows killed in the Cuneo area | After Sommariva Bosco, other cases in Bra and Moretta. The appeal of the experts of the zooprophylactic institute." Additional footage shows sorghum-sickened cattle at other locations inside barns.

Veterinarian Stefano Giantin was interviewed on camera during the follow-up report. Excerpts of what he said have been translated by Google below:
Absolutely avoid using grass clippings to feed your animals, especially ruminants, especially cattle and above all herbs that come from uncultivated fields or left in the wild ...

It is sorghum that poisons cows. A sweet, fresh plant that ruminants are fond of. This was confirmed by the analysis carried out by the zooprophylactic institute on the first cases of death in Sommariva Bosco. A plant also very common in uncultivated fields. The drought is most likely involved. All the breeders confirm the use of this plant. Due to the heat, it hasn't grown as it should, making it much more toxic and leading to the death of the animals.
Sorghum is not always toxic and is a common forage for cattle to graze, eat as hay, or as silage. But under certain natural conditions such as drought or frost, the plants can be toxic to cattle. This Sommariva del Bosco herd, which lost 50 head of cattle, was one of four cattle herds in Italy's Piedmont region to be sickened by sorghum during the drought of August 2022.
Lead Stories has debunked several false claims about cattle vaccines and COVID-19. A March 3, 2020, claim falsely stated that bovine coronavirus vaccine could inoculate humans against the novel coronavirus, then called 2019-nCoV. In 2022, additional baseless claims said that the governments of Australia and New Zealand would force cattle ranchers to vaccinate their cattle with mRNA vaccines.