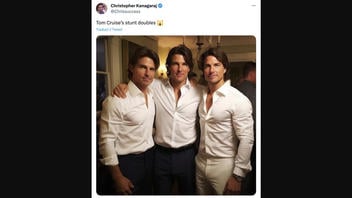 Does a photograph authentically show Tom Cruise with his two "stunt doubles"? No, that's not true: An image shared widely on social media in June 2023 was generated using the artificial intelligence program Midjourney, the image creator confirmed to Lead Stories.
A version of the claim originated in an image shared to Twitter on June 7, 2023, (archived here) that suggested Tom Cruise was photographed standing alongside two similarly looking people said to be his "stunt doubles." A caption that accompanied the post read:
Tom Cruise's stunt doubles 🙀
Below is how the post appeared at the time of this reporting: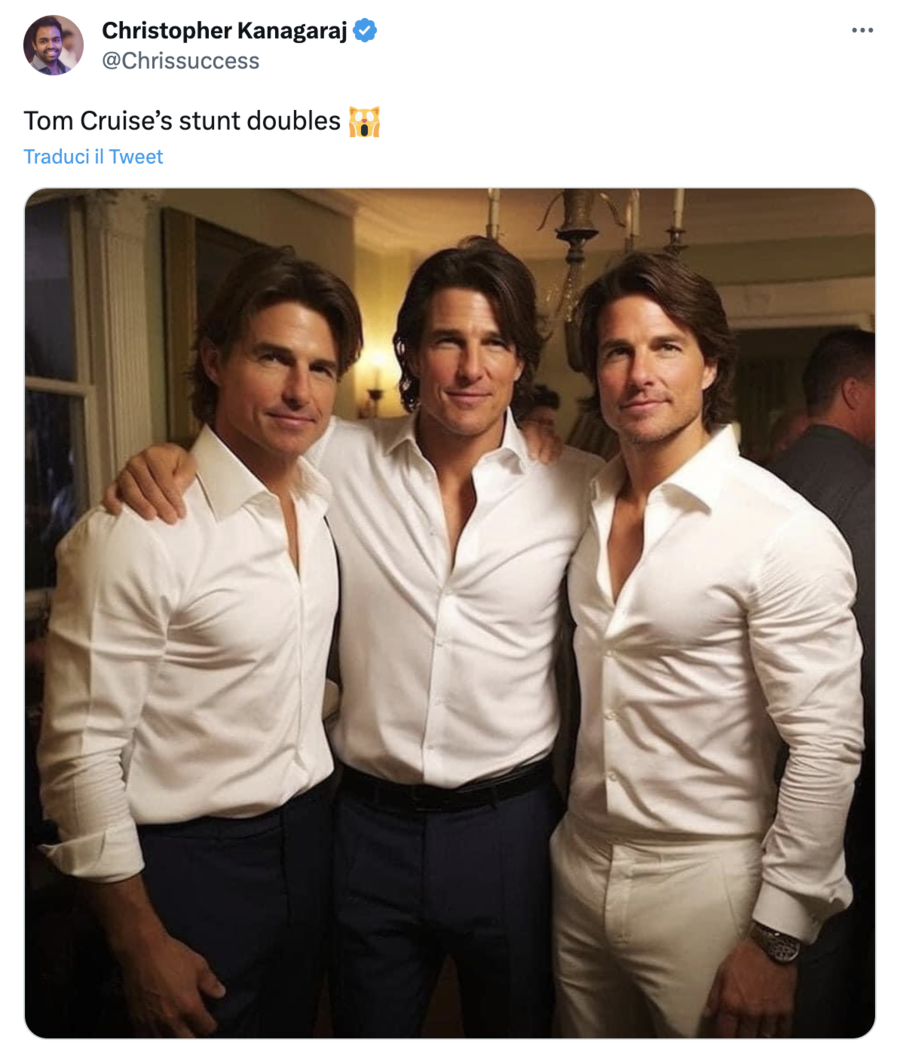 (Source: Twitter screenshot taken Mon June 19 11:44:37 UTC 2023)
Lead Stories sourced the image to a Facebook group for the artificial intelligence company Midjourney Official. The image was originally posted in the group by creator Ong Hui Woo on June 3, 2023 (archived here) with a caption that read:
Tom Cruise's stunt doubles celebrating at the MI 7 premier after party.
Woo confirmed to Lead Stories over Facebook Messenger on June 19, 2023, that the image "was made using Midjourney's AI." Midjourney is an AI program that creates digital images based on user prompts whose AI-generated images our newsroom has previously debunked. The company describes itself as:
... an independent research lab exploring new mediums of thought and expanding the imaginative powers of the human species.
The Midjourney Official Facebook group is self-described as the official group for "a cutting-edge text-to-image generative artificial intelligence program and service." Its purpose is to provide a space for users to share "creations, knowledge, skills [and] tips-and-tricks" for those interested in AI technology.
It appears that as of this writing, the above post has since been deleted. However, a screenshot of an updated version shared on June 4, 2023, was published on the image-hosting site Imgur (archived here). It read:
If you intend to copy and paste these photos on your website or FB, please at least mentioned and give credit to the original creator (which is me) or Midjourney, the platform where all these images are created.
Below is a screengrab of the aforementioned post: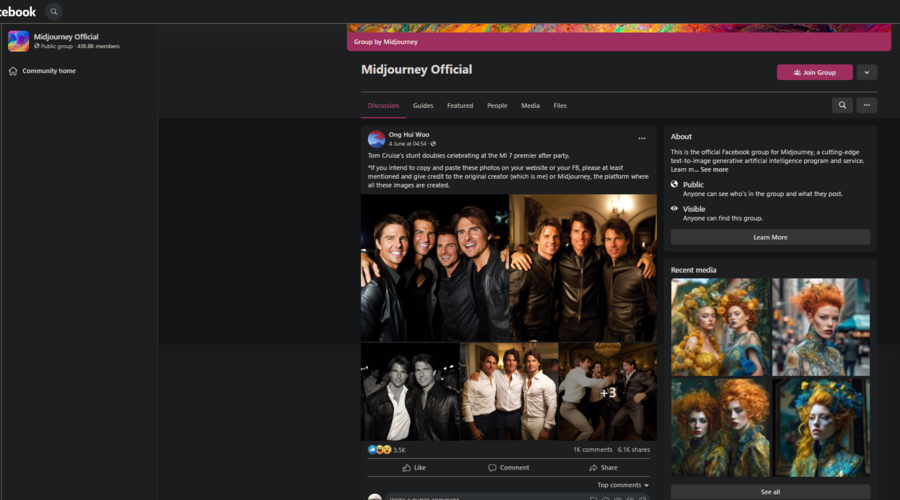 (Source: Imgur)

After the image went viral, Woo wrote in a June 8, 2023, post on Facebook (archived here) that they created the images "for fun" and "didn't expect it to go viral." Woo continued:
I made a few AI images of Tom Cruise Stunt Doubles with Midjourney a few days ago, for fun. Didn't expect it to go viral. Now at least a million people around the world are asking if the photos are real .. or maybe a lot more.

Must have been that crazy stunt video on Youtube with Tom hanging onto the side of a flying Airbus. I was thinking about the stuntmen team that did the testing before Tom Cruise executed it himself when I fell asleep. That very night I dreamt about a group of stuntmen who looked like him high fiving each other at a party. That's why the caption, "Tom Cruise's Stunt Doubles", and not "Tom Cruise AND his stunt doubles".

But for the first time, with the help of Midjourney's AI, I was able to illustrate my dreams in full color, instead of text, which we normally do. Can you imagine how long a composite artist at the police station would have taken? It would also be impossible for me to Photoshop it altogether in less than 5 minutes.

When I posted the AI photos on my Midjourney Official FB group page, I assumed everyone in the private group would know, because that's where all the AI photos and illustrations are shared. But I didn't expect anyone outside the group to pick it up to share on their own social media accounts. Neither did I expect so much interest on the super good looking stuntmen. Suddenly people from all over the world DM me questions about the photos, and I learn about this vocation called fact checker.

So that's the story of the Tom Cruise Stuntmen Double AI photos. I am not paid by anyone to promote his movies ( of course I wish I was).
Furthermore, Lead Stories conducted a reverse-image search and yielded no results on predominant search engines, including Google Lens, Bing, Yandex, and TinEye.
Lead Stories has investigated other AI-generated images posited online as authentic, including that supposed images of Donald Trump posing with "underage" women were not authentic, that images of Trump being arrested by New York City law enforcement officers were produced with an AI program, and that an image claiming to show WikiLeaks founder Julian Assange pale and disheveled was created using an AI-based image generator.