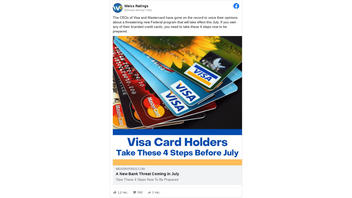 Is the federal government launching a new program that will allow officials to control individuals' bank accounts, and have officials of Visa and Mastercard warned about such a program? No, that's not true: The Federal Reserve is simply launching a real-time payment (RTP) system that does not aim to intrude on bank customers' accounts, according to a spokesperson.
The claim appeared in a post on Facebook on May 15, 2023. The caption of the post read:
The CEOs of Visa and Mastercard have gone on the record to voice their opinions about a threatening new Federal program that will take effect this July. If you own any of their branded credit cards, you need to take these 4 steps now to be prepared.
This is what the post looked like on Facebook at the time of writing: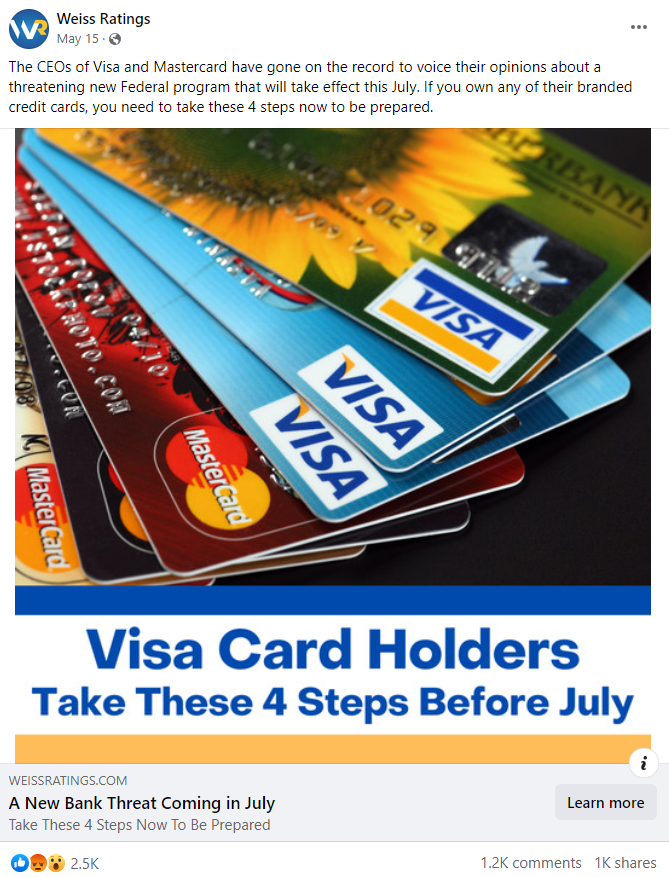 (Source: Facebook screenshot taken on Tue Jun 20 14:10:53 2023 UTC)
The FedNow Service: A real-time payment system
The post included a link to a video titled "Executive Order: Docket No. OP-1670 Exposes New Fed Power to Seize Control of U.S. Bank Accounts," published on the website of Weiss Ratings. In the video, Martin Weiss, the founder of the agency, warns viewers that "unelected officials" can surveil, access and even freeze their bank accounts based on their behavior and potentially even their political views. Weiss cites Docket No. OP-1670, published on August 9, 2019, by the Fed, as proof of this supposed new power. Weiss says that these changes will take effect in July 2023.
Throughout the video, Weiss claims that he will reveal a four-step process to help viewers "protect" their savings. He calls the process the "Make Your Money Safe Again solution." He advertises reports by Weiss Ratings: "Take Back Control of Your Savings and Grow Wealthier," "The Ultimate Gold War Chest," "12 Inflation-Beating Stocks for the Next 12 Months" and "The Weird Way to Make Extraordinary Profits in a Financial Crisis." It seems that downloading the four reports is the "Make Your Money Safe Again solution." Viewers can pay for each report separately or get the four reports by joining the company's yearlong membership -- for a $49 refundable fee. Weiss claims in the video that all the materials viewers can get have a total value of $673.
However, despite Weiss' fearmongering, Docket No. OP-1670 does not mandate intrusive actions by government agents. Instead, the docket identifies planned actions to help support faster payment options for Americans. These include the development of the FedNow Service, an interbank real-time payment service slated for a July 2023 launch, and the expansion of operating hours for the already existing Fedwire Funds Service and the National Settlement Service. Real-time payment service use is widespread in countries such as India, Brazil and China. Such services allow individuals, businesses and other entities to make instant transactions without significant delays.
More information about the FedNow service is explored in this April 2023 Lead Stories fact check, which debunks the claim that the FedNow service became the new, primary currency in the United States.
In an email sent to Lead Stories on June 20, 2023, a spokesperson for the Fed told Lead Stories:
FedNow is an instant payments service that the Federal Reserve will offer to banks and credit unions to transfer funds for their customers. The Fed and FedNow cannot access individuals' bank accounts or control how they choose to spend their money.
Visa and Mastercard are ready for real-time payment services
In "Picking up the pace in real-time payments: Helping financial institutions achieve success," a white paper published by Visa Consulting & Analytics, there is no indication that Visa considers real-time payment services like the FedNow Service a threat, as the post on Facebook suggests. Instead, as the subtitle of the paper reads, the paper outlines "Why now is the time for real-time payments, and how financial institutions in North America can benefit."
Vocalink, a Mastercard company, helped with the development of The Clearing House's RTP real-time payment service that launched in 2017. Lead Stories could not find any evidence that Mastercard has gone on record to characterize the FedNow Service as "threatening."
Lead Stories reached out to Visa and Mastercard for comment on the claim. We will add any relevant responses to this story.