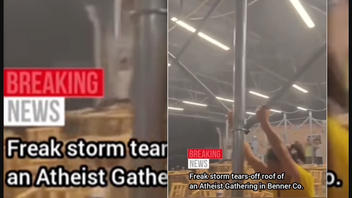 Was an atheist gathering in Benner, Colorado, hit by a sudden gust of wind that lifted the roof off the facility? No, that's not true: This video was filmed on June 11, 2023, in the city of Yichang in the Hubei province of China. There is no town called Benner, Colorado. The text captioning added to this video appears to have originated on the Instagram channel of /johnnygtexas_official, which has a profile photo that says "Skit Creator, Actor."
Videos of the Yichang storm began to circulate soon after it happened on the night of June 11, 2023. This TikTok video was posted that same day. The video was reposted by @johnnygtexas_official on Instagram on June 14, 2023. The post was not captioned but the video had a text caption added. It reads:
BREAKING NEWS
Freak storm tears off roof of an Atheist Gathering in Benner Co.
This is how the post appeared on Instagram at the time of writing: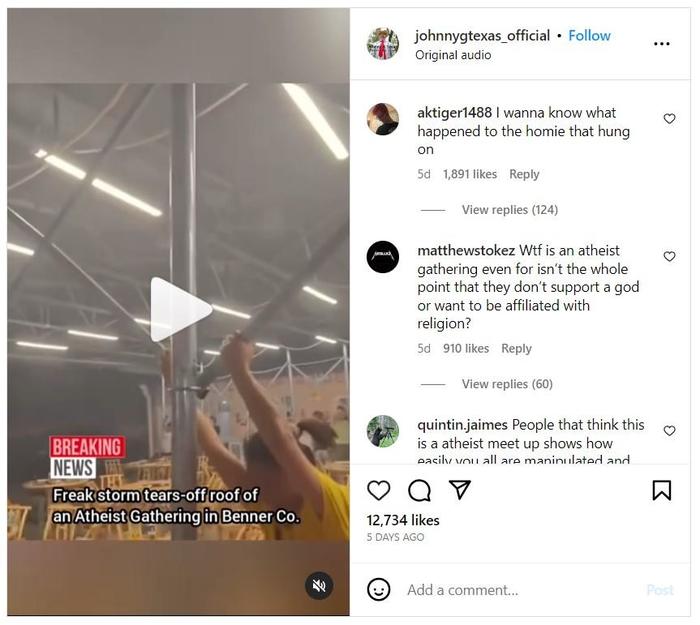 (Image source: Instagram screenshot taken on Tue Jun 20 19:58:22 2023 UTC)
A Level Orange rainstorm warning was issued by the Wufeng Tujia Autonomous County Meteorological Observatory at 9:30 p.m. local time on June 11, 2023. The warning anticipated that 50 millimeters of rain (about 2 inches) would fall in the next three hours and that there would also be thunder, lightning and wind gusts of magnitude 6-8 (on the Beaufort scale, this would be winds of 25 to 46 mph). Other reports after the storm said the winds were magnitude 9-11 (47 to 72 mph).
A temporary canopy was in place over the outdoor seating at this restaurant. As the wind picked up diners ran for cover and staff tried to hold the canopy down with the weight of their own bodies. When the canopy began to lift some people quickly let go, but others held on longer and fell farther to the ground when they did let go.
One person hung on tight. This Instagram video clip does not capture what happened to him after the rising canopy took him up out of the frame, but the incident was recorded from several angles. A TikTok video posted by @flak_88 shows another angle as the canopy rose. Additional clips published by the Daily Mail shows scenes of the man in a grey shirt before and after he was carried up (screenshots below). The last clip (at 35 seconds in the Daily Mail video) shows him standing on a mahjong table as he was climbing down out of the ceiling from where he, along with the canopy, was thrown onto the roof of a private dining room. He appeared to be unharmed. The Daily Mail reported that one of the people who dropped to the floor fractured his ribcage.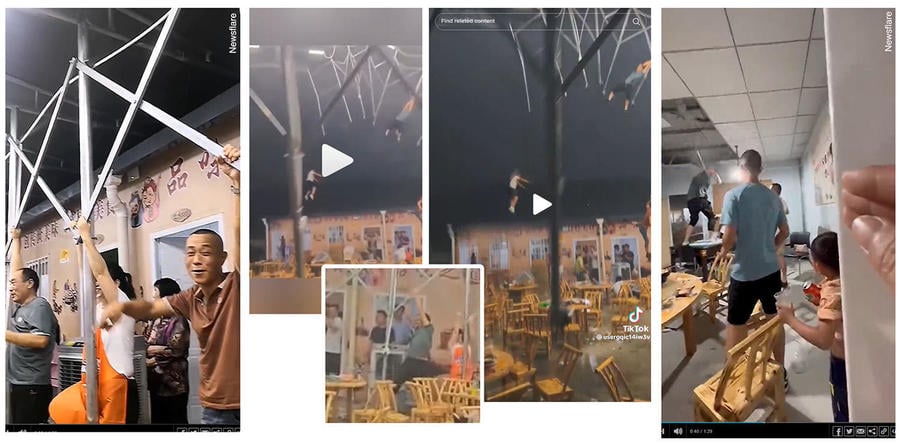 (Image source: Lead Stories composite image with Daily Mail, Instagram and TikTok screenshots taken on Tue Jun 20 22:27:09 2023 UTC)