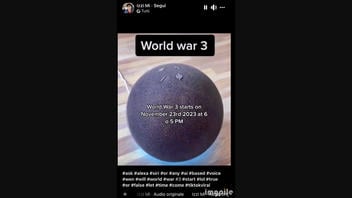 Does Amazon's Alexa speaker say World War III will start in November 2023 when "Russia launches an attack against Germany"? No, that's not true: Amazon told Lead Stories that their AI system does not give that Alexa response to a question about when World War III would start.
The claim appeared in a video published on Facebook on July 3, 2023, under the title "World war 3." It opened with a voice on the video saying:
Alexa when does World War III start?
This is what the post looked like on Facebook at the time of writing: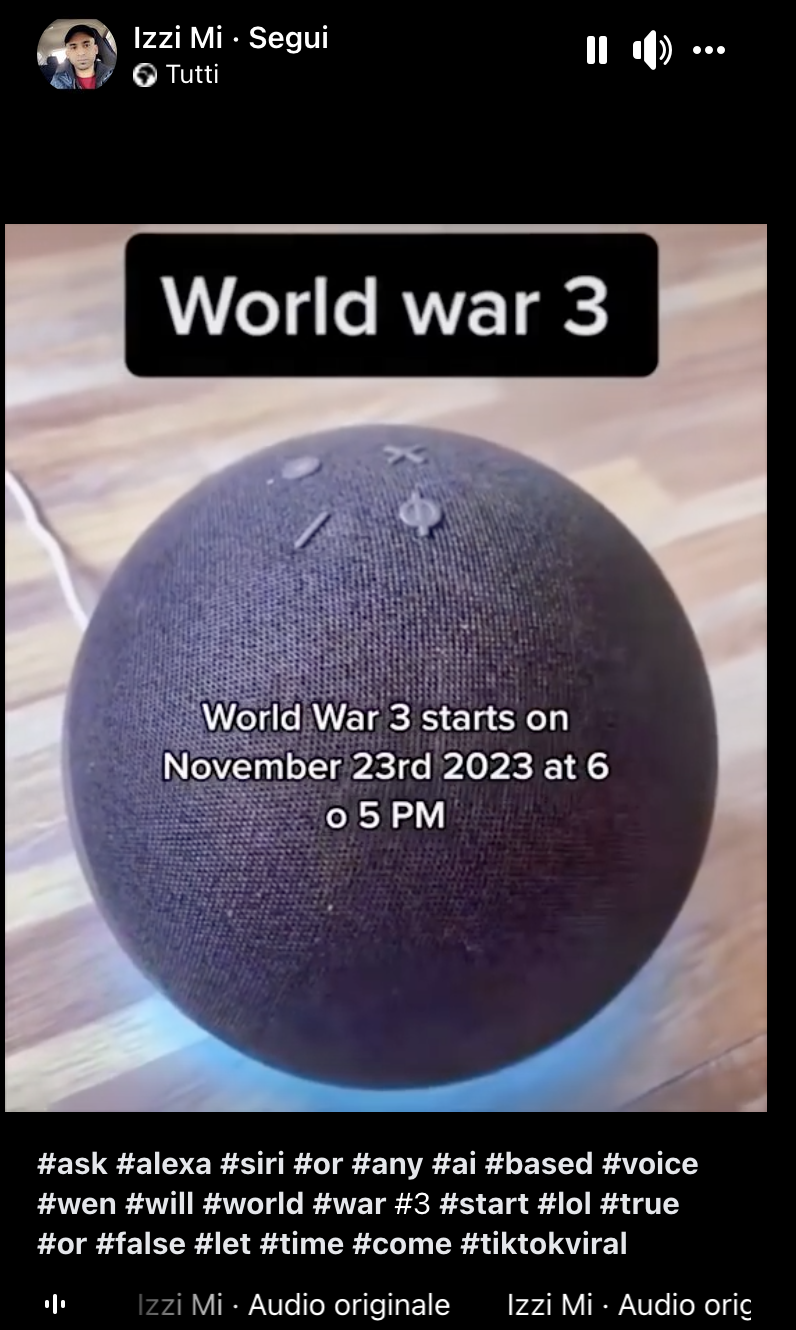 (Source: Facebook screenshot taken on Mon Jul 10 20:18:47 2023 UTC)
The video shows an Alexa device and a voice asks, "Alexa when does World War III start?" and the response is, "World War II starts on November 23, 2023, at 6:05 p.m., when Russia launches an attack against Germany." The video has a chyron with these hashtags:
#ask #alexa #siri #or #any #ai #based #voice #wen #will #world #war #3 #start #lol #true #or #false #let #time #come #tiktokviral
"This is not Alexa's response and we have not been able to replicate this video," an Amazon spokesperson told Lead Stories via email on July 10, 2023. They said the digital assistant's response to the question, "When does World War III start," would be:
There hasn't been a World War III and it's impossible to predict if such a war will happen in the future. World War I occurred from 1914-1918 and World War II occurred from 1939-1945.
The spokesperson noted that Alexa customers can create their own customized responses utilizing programs such as Routines or Alexa Skill Blueprints. The personalized skill or routine for Alexa responses can be shared with others who can replicate the same results.
The same video, but without those hashtags on the screen, was posted in November 2021 to the @iambrendan account on TikTok with the "original sound" credited to the account @jonbuckhouse. The video from that account, which was published on April 23, 2021, can be found here. A March 2021 video posted by @jonbuckhouse on YouTube of multiple video clips asking Alexa to predict the future includes the digital assistant being asked about World War III at 8:04, although it sounds slightly different than the audio in the other videos:
Lead Stories has debunked false claims about Alexa that can be read here. Other Lead Stories fact checks about Russia's invasion and the war in Ukraine can be found here.