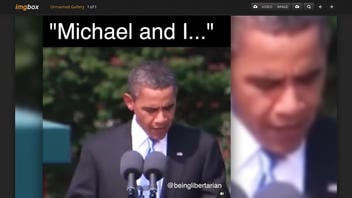 Did then-President Barack Obama refer to his wife Michelle as "Michael" during a speech in 2011? No, that's not true: He was talking about Navy Adm. Mike Mullen's son then-Lt. Michael Edward Mullen. This clip takes a moment from a speech out of context. Obama was listing the members of Adm. Mullen's family during a September 30, 2011, Change of Office ceremony, Mullen was the outgoing chairman of the Joint Chiefs. Mullen and his wife Deborah have two sons -- John Stewart Mullen and Michael Edward Mullen, both of whom were military officers. Obama was thanking the military service people in attendance and especially the Mullen family for their "extraordinary service to our country."
The video of the September 30, 2011, Change of Office ceremony is posted on the YouTube channel "The Obama White House" and an article about the event can be found at obamawhitehouse.archives.gov. A video containing a very short clip of Obama speaking was posted on Instagram by @beinglibertarian on July 25, 2023.The post was captioned:
He said the thing
Text captioning added to the video reads:
'Michael and I...'
This is how the post appeared at the time of writing: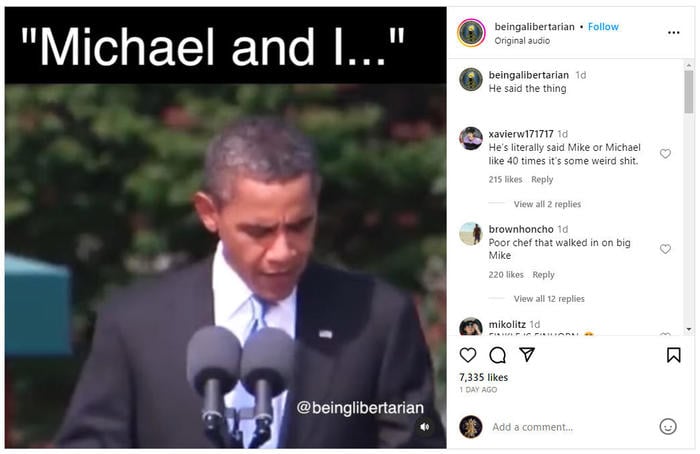 (Source: Instagram screenshot taken on Thu Jul 27 15:59:44 2023 UTC)
The Instagram video is composed of four alternating clips, showing Obama speaking and Diamond and Silk laughing. The clips showing conservative vloggers Lynette Hardaway and Rochelle Richardson laughing came originally from a July 27, 2016, video posted on the "Diamond and Silk - The Viewers View" YouTube channel titled, "Breaking News: Bikers for Hillary are on their way to Philly." Their laughter was directed at a photograph of then-Secretary of State John Kerry riding a pink bicycle in Nantucket, Massachusetts (at 19 seconds into the video). That photograph of Kerry from August 3, 2014, was almost two years old when it was recycled by Diamond and Silk.
Hardaway died of heart disease on January 8, 2023. The clip of their laughter was almost seven years old when it was recycled by @beinglibertarian to combine with an 11-year-old clip of Obama speaking.
Embedded below is the September 30, 2011, video of the Change of Office Staff Ceremony, cued to begin at 12:56 minutes in where Obama says:
Members of Congress, Vice President Biden, members of the Joint Chiefs, service secretaries, distinguished guests, and men and women of the finest military in the world. Most of all, Admiral Mullen, Deborah, Michael, and I also want to acknowledge your son Jack, who's deployed today. All of you have performed extraordinary service to our country.
This was not the only point in the ceremony where a speaker named the members of the Mullen family. At 1:02 minutes into the video, Secretary of Defense Leon Panetta says:
I want to extend my deepest thanks to Admiral Mullen's family -- his wife, Deborah, his two sons, Jack and Michael, who both followed in their father's footsteps, attending the Naval Academy and now serve with the fleet.
This post by @beinglibertarian does not state explicitly what is supposed to be so funny about Obama saying "Michael and I." But it is clear this refers to a conspiracy that Michelle Obama is not a woman. This conspiracy is detailed on the Know Your Meme website that reports the origins date back as far as 2013. Included in the Know Your Meme summary is a different piece of footage from the 2011 ceremony posted on YouTube on September 14, 2016, titled, "Obama calls Michelle (Michael)."
Lead Stories had debunked several variations of this trope. These include edited images (here, here and here), baseless rumors with falsified details (here, here and here), and satirical trolling (here and here).