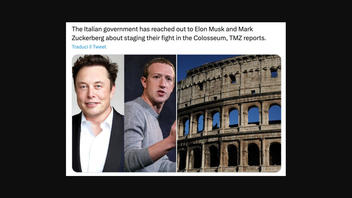 Did the Italian government offer Elon Musk and Mark Zuckerberg the Colosseum as a location for their fight? No, that's not true: A spokesperson of the Italian Ministry of Culture told Lead Stories that no related paperwork existed to substantiate that claim. The article that started the rumor about the supposed location of the fight was updated to include a similar statement from the Italian officials.
The claim appeared in a tweet (archived here) published on June 30, 2023:
The Italian government has reached out to Elon Musk and Mark Zuckerberg about staging their fight in the Colosseum, TMZ reports.
This is what the post looked like on Twitter at the time of writing: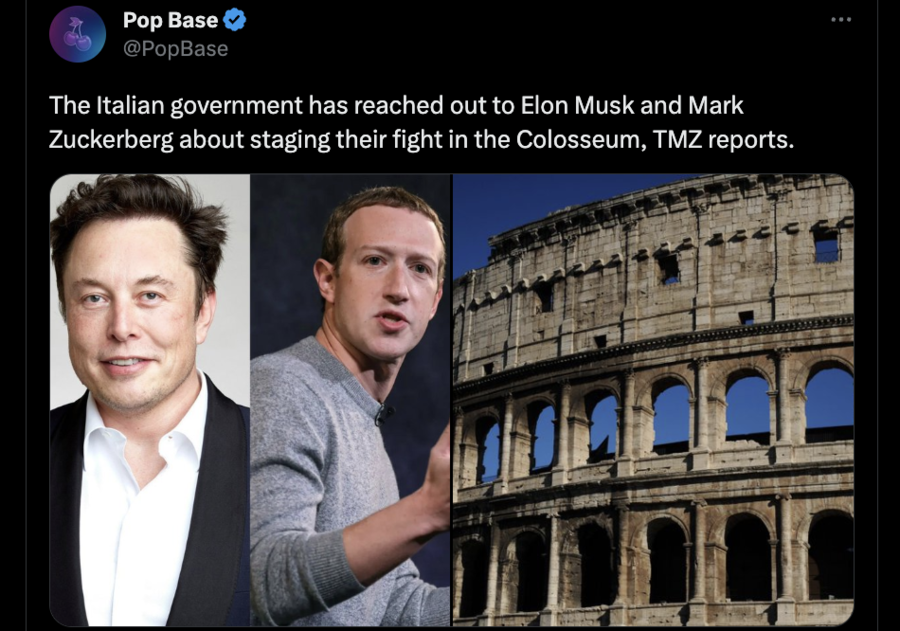 (Source: Twitter screenshot taken on Wed Jul 5 15:24:02 2023 UTC)
Publications about the supposed fight started to appear in mid-June 2023. Some media outlets (for example, here) ran stories about the supposed "cage match," linking it to Meta's plans to launch an alternative to Twitter, which was acquired by Musk. (Meta Platforms, Inc. is the owner of Facebook.)
On June 29, 2023, the English-language website TMZ published an article claiming that the Italian government offered the two tech entrepreneurs to fight at the Colosseum "like true gladiators."
Yet, on the next day, Musk only tweeted about "some chance" of that taking place at the rumored location.
Simultaneously, sources at the Italian Ministry of Culture told the Italian Journalistic Agency (AGI), as translated by Google Chrome:
There has been no formal contact from the ministry nor any written document.
Lead Stories reached out to the Ministry of Culture. Andrea Petrella, the head of the ministry's press department, replied via email on July 4, 2023. He denied the existence of any formal agreement:
Even if the news sounds tasty, it is unfounded. The Colosseum is granted, not from today, for high-profile paid events almost always for charity. Each request is carefully evaluated by the management of the Archaeological Park which verifies its compatibility for the purpose of protecting the site and it is not a responsibility of the political body.
Petrella continued:
If Zuckerberg and Musk wanted to perform in the Colosseum they would have to give life to a challenge that ends with a hug. And maybe a sort of certamen would be better, a duel involving Latin verses ["Certamen" is a Latin word that means "competition"]. And they should ensure an adequate economic contribution to be donated to the protection of Italian historical and artistic heritage...
As of this writing, the TMZ article was updated to include the response from the Ministry of Culture refuting the claim.
Other Lead Stories fact checks about Elon Musk and Mark Zuckerberg can be found here and here.