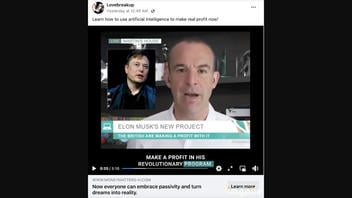 Did Martin Lewis, a popular British financial journalist, endorse an investment platform featuring Elon Musk? No, that's not true: Lewis himself confirmed this is a fake video. This video is a deepfake creation that used Lewis' head from a different video, changed how his lips moved and substituted fabricated audio for Lewis' voice. The authentic video of Lewis speaking on a TV segment shows he said nothing at all about Musk or the purported investment platform.
The claim appeared in a video post on Facebook on August 4, 2023. The caption opened:
This is probably the most important video you will see today!
Here is what the claim looked like at the time of the writing of this fact check: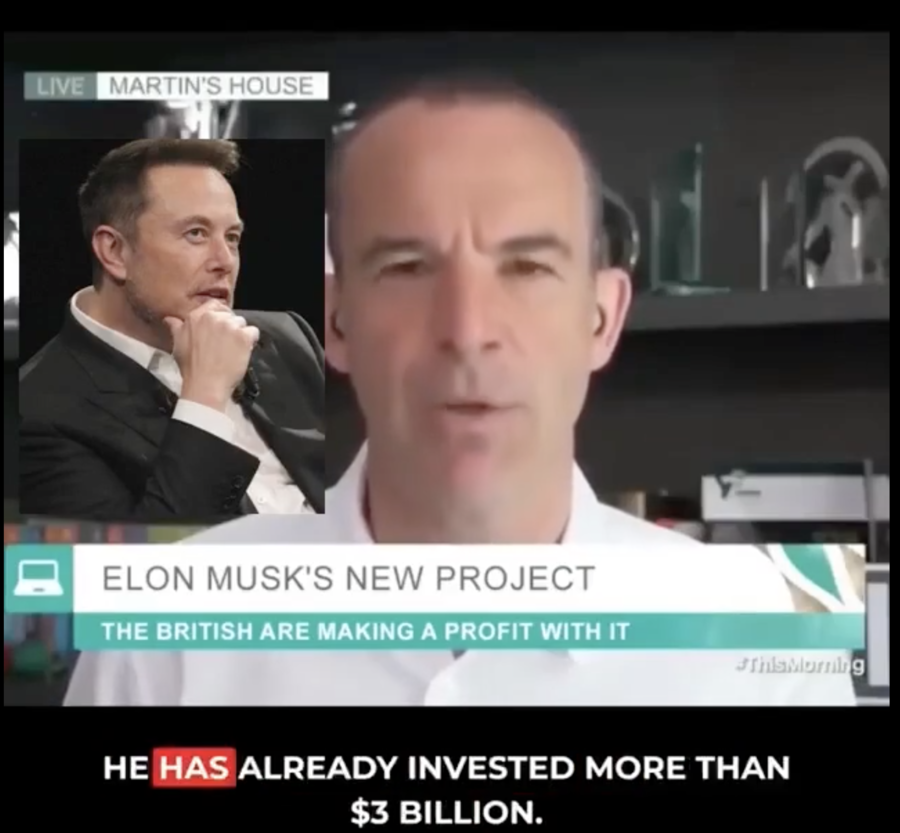 (Source: Facebook screenshot taken on Fri Aug 4 19:41:34 2023 UTC)
Text on the 1½-minute-long video reads, "ELON MUSK'S NEW PROJECT: THE BRITISH ARE MAKING A PROFIT WITH IT." It opens as Lewis -- with an image of Elon Musk on the screen beside him -- says:
British are profiting from it.
Elon Musk presented his new project in which he has already invested more than $3 billion. Musk's new project opens up great investment opportunities only for British citizens.
While the post contains a segment purporting to be Musk's comments, this fact check will focus on the claim that the entire video is a legitimate Martin Lewis report.
A news search on Google's index of thousands of credible news sites did not produce any results to substantiate this claim.
A press officer from Lewis' "Money Saving Expert" website confirmed to Lead Stories in an August 4, 2023, email that this video is fake and the claim is false:
We can confirm that is a fake video and not a real advert - we at MoneySavingExpert and Martin Lewis do not do any form of adverts.
The press officer passed along this July 7, 2023, online press release, titled, "Beware frightening new 'deepfake' Martin Lewis video scam promoting a fake 'Elon Musk investment' - it's not real. In it, Lewis debunks the video. Lewis also tweeted, on July 6, 2023: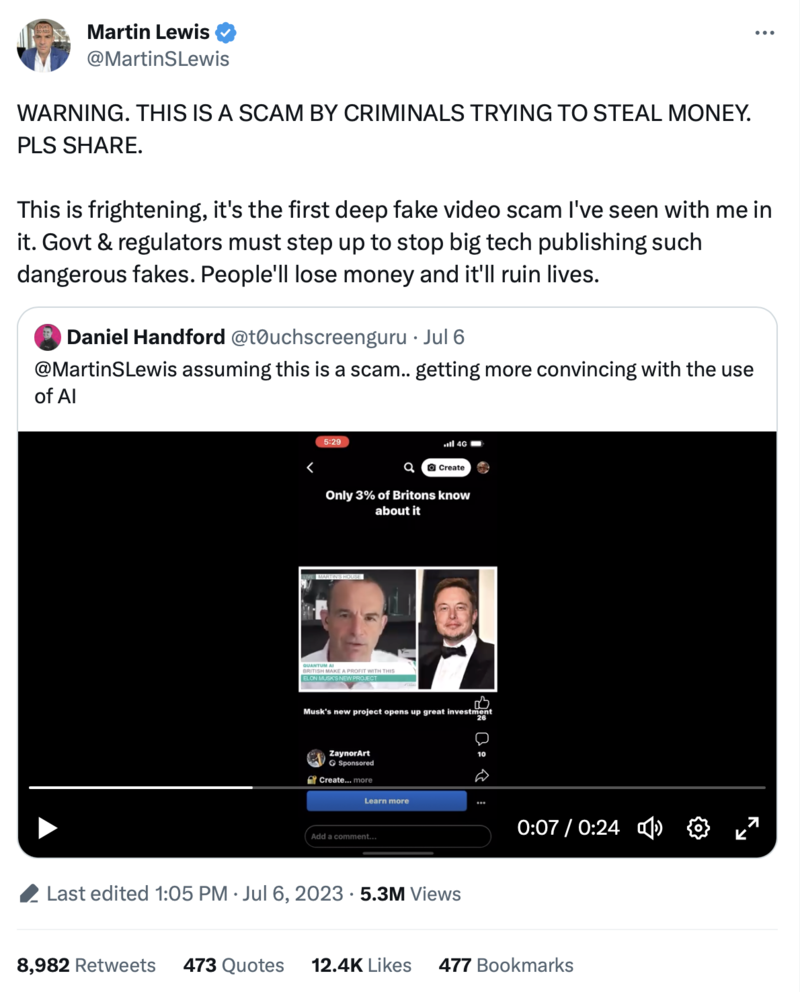 (Source: Twitter screenshot taken on Fri Aug 4 12:59:09 2023 UTC)
The graininess of Lewis' face, except for his lips, indicates that this video is a deepfake.
The real video of Lewis speaking comes from a May 9, 2023, episode of "This Morning," a daytime show on British television that covers a multitude of topics. Lewis appears in a show segment, entitled "Money Expert Martin Lewis Reveals Top Tips on Maximising Your State Pension," that was uploaded to the program's verified YouTube account.

In the video, Lewis answers questions concerning financial decisions made by the program's viewers. Nowhere does he mention Musk or any alleged investment platform that includes Musk.
Lead Stories previously debunked a similar claim that Musk was supposedly promoting a cryptocurrency platform. The claim used altered audio added to a video clip.
Additional Lead Stories fact checks about artificial intelligence can be read here and about deepfakes here.