STORY UPDATED: check for updates below.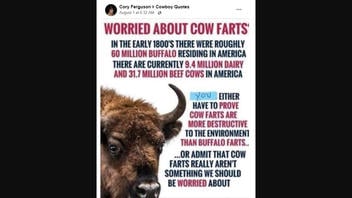 Do potential methane emissions expelled by wild bison populations compare with levels expelled by domestic cows in the U.S. and beyond? No, that's not true: Global populations of bison total less than half a million compared with 1.5 billion cows. An expert in biological systems engineering and agriculture told Lead Stories that the claim's comparison is arbitrary as it does not reflect current scientific understanding of methane emissions from hooved mammals. Simply put, there is not enough available data on the extent of methane emissions associated with bison.
A version of the claim originated in a meme (archived here) on Facebook on August 1, 2023. The meme implied that methane emitted from domestic cows is insignificant compared to the amounts produced by wild bison. It read:
WORRIED ABOUT COW FARTS

IN THE EARLY 1800'S THERE WERE ROUGHLY 60 MILLION BUFFALO RESIDING IN AMERICA

THERE ARE CURRENTLY 9.4 MILLION DAIRY AND 31.7 MILLION BEEF COWS IN AMERICA

YOU EITHER HAVE TO PROVE COW FARTS ARE MORE DESTRUCTIVE TO THE ENVIRONMENT THAN BUFFALO FARTS..

...OR ADMIT THAT COW FARTS REALLY AREN'T SOMETHING WE SHOULD BE WORRIED ABOUT
Below is how the post appeared at the time of writing: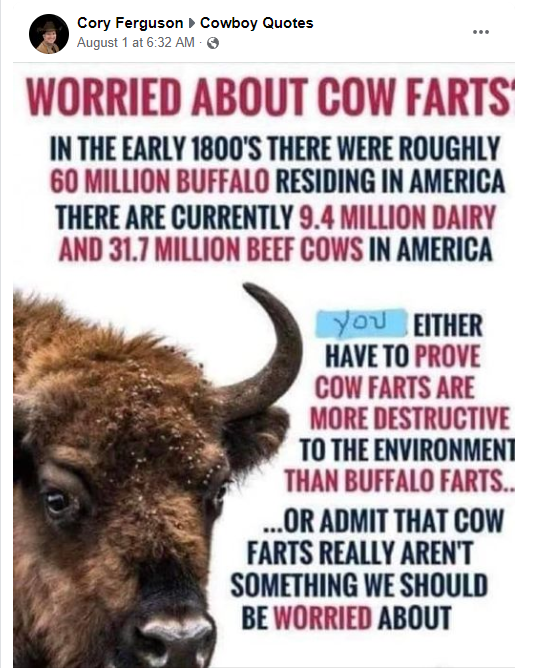 (Source: Facebook screenshot taken Fri Aug. 4 03:02:00 UTC 2023)
"The numbers and math simply don't pencil out," Jeff Martin, an assistant professor and bison expert at South Dakota State University, told Lead Stories in an email received on August 5, 2023.
Buffalo do not exist in the United States, as the post incorrectly states. Buffalo are native to Africa and Asia, whereas bison are indigenous to North America and Europe, the Smithsonian's National Zoo and Conservation Biology Institute writes.
"The photo image is of a European bison, not a North American bison," Martin told Lead Stories.
Why do bison or cow farts matter? It's because of their emissions of methane, which can contribute to climate change. The scientific community has looked to large-scale agricultural production -- including cows and other livestock like sheep -- to determine what impact the industry may have on Earth's changing climate. The U.S. Environmental Protection Agency reports, for instance, that a single cow "produces between 154 to 164 pounds of methane gas per year."
Paul Stoy, an associate professor at the Department of Biological Systems at the University of Wisconsin's College of Agriculture, told Lead Stories that the measurements listed in the meme are not comparable.
"Both bison and cattle emit a minority of methane from flatulence ('farts'). Almost all comes from eructation ('burps'). This is because bison and cattle are ruminants, and methane production in the anoxic [without oxygen] rumen is almost entirely emitted through the mouth," Stoy told Lead Stories in an email received on August 4, 2023.
As grass and other vegetation ferment in the rumen, the largest part of the stomach, methane and other byproducts are produced and expelled, The CLEAR Center at UC Davis, a research group at the University of California, Davis' College of Agricultural and Environmental Sciences. Though methane isn't as potent as carbon dioxide, it traps more heat in the atmosphere, making it 80 times more harmful than carbon dioxide for 20 years after it is released, according to the United Nations Environment Programme.
"From our best current measurements of both bison and cattle in an outdoor setting, the per-head methane efflux is similar," Stoy told Lead Stories. He continued:
From this perspective, the meme is mostly misleading because it underestimates the number of cattle in places that bison once inhabited. Farting is not the dominant pathway for methane efflux for bison and cattle, and reducing methane emissions is a logical step to reduce the global greenhouse gas burden.
Moreover, Martin adds the diets of historic bison were different than those of modern cattle, which could influence the content of expelled gas.
"What historic bison were eating over 200 years ago was predominantly grass forage, not grains like corn, oats, wheat, barley, etc. which are known to increase enteric emissions of ruminating animals. Importantly, methane is only one in a suite of gases of concern," said Martin.
As of July 1, 2023, there were 95.9 million head of cattle in the U.S. This figure includes 29.4 million beef cows and 9.4 million milk cows, according to the most recent figures published by the U.S. Department of Agriculture at the time of writing. Globally, the Food and Agriculture Organization of the United Nations estimates there are 1.5 billion head of cattle globally and 2 billion sheep and goats, among other livestock.
In the United States, the U.S. Fish and Wildlife Service reports approximately 20,500 Plains bison in conservation herds and an additional 420,000 in commercial herds, as of 2023. Wildlife Conservation Society Canada reports that there are now about 2,200 Plains bison and about 11,000 wood bison roaming wild in Canada. There is also a herd of about 80 to 130 bison located in Mexico.

In Europe, the conservation project Rewilding Europe projects that there are around 8,500 European bison, of which about 6,200 live free in the wild.
Before European contact, The Nature Conservancy estimates that around 30 million bison wandered the U.S. Great Plains, though some members of the scientific community contest that number.
"The biggest problem with that meme is that nobody really knows how many bison once roamed the prairies (and forests!) of North America. From our study [published in European Geosciences Union], and to the best of my current understanding, the value is between 30 million and 60 million. This is for all of North America (i.e. including Canada, with fewer in Mexico)," Stoy said.
Lead Stories has also debunked false claims that colonizers killed bison until there were only 27 left; that cow's milk is composed of 60 percent pus, blood and added whitening to mask the color of the blood; and that a herd of cattle in northern Italy died within a day of receiving a COVID-19 vaccine injected by the government.
2023-08-07T21:23:00Z

2023-08-07T21:23:00Z

Adds comments from bison expert Jeff Martin.