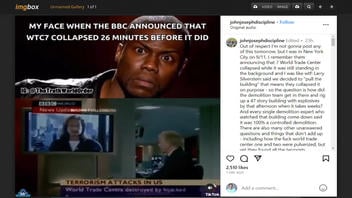 Does a BBC report from September 11, 2001, saying World Trade Center Building 7 (WTC 7) fell more than 20 minutes before it actually did prove a conspiracy? No, that's not true: There's no evidence of a WTC 7 conspiracy. The discrepancy in the reporting of WTC 7's collapse time, after the Twin Towers' collapse, can be explained by the chaos and confusion of the 9/11 events (and breaking news in general), with early reports often containing inaccuracies or errors in real-time information gathering, which were later corrected.
The claim appeared in a post and video on Instagram (archived here) published on September 10, 2023, titled "MY FACE WHEN THE BBC ANNOUNCED THAT WTC7 COLLAPSED 26 MINUTES BEFORE IT DID." The post's caption says:
Out of respect I'm not gonna post any of this tomorrow, but I was in New York City on 9/11. I remember them announcing that 7 World Trade Center collapsed while it was still standing in the background and I was like wtf! Larry Silverstein said we decided to "pull the building" that means they collapsed it on purpose - so the question is how did the demolition team get in there and rig up a 47 story building with explosives by that afternoon when it takes weeks? And every single demolition expert who watched that building come down said it was 100% a controlled demolition.
This is what the post looked like on Instagram at the time of writing: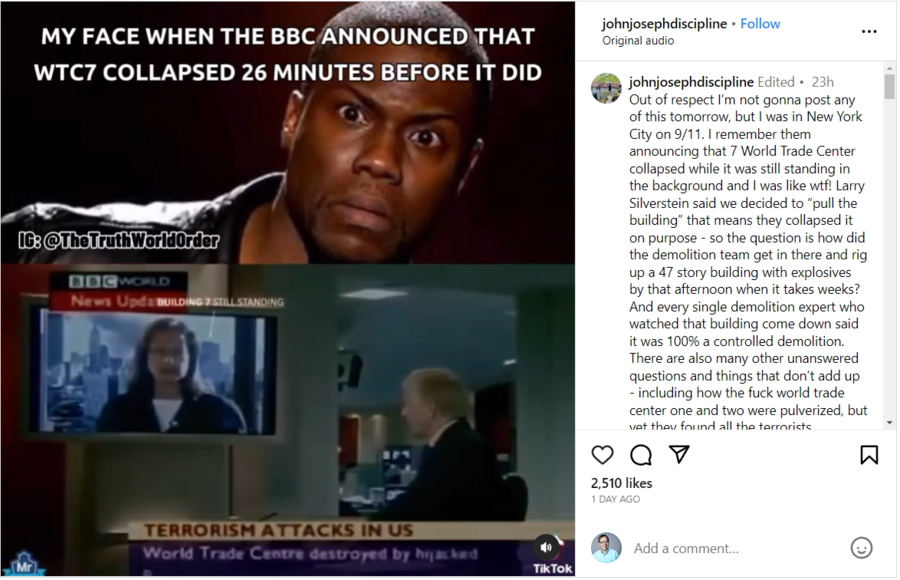 (Source: Instagram screenshot taken on Mon Sep 11 16:25:34 2023 UTC)
The caption continues:
There are also many other unanswered questions and things that don't add up - including how the fuck world trade center one and two were pulverized, but yet they found all the terrorists passports and had them up on TV shortly after. And George Bush Jr comes on the next day and says "don't believe all these wild conspiracy theories" - really dude - that's what you got to say while they're looking for bodies in the rubble? Also the day before 9/11 Donald Rumsfield gets on TV and says $2.2 trillion is missing from the Pentagon - and guess where the "plane" or whatever it was hit the building? Right where all of the financial records were kept 🤔------ I really see this as the event that started to shape the the world that these psychopaths want - they all kept saying this is going to bring about a new world order. Remember that? Then they passed the 'patriot' act and all kinds of other bullshit - not to mention it enabled the military industrial complex to go overseas and conduct an illegal war, which was voted for by Republicans and Democrats alike and caused untold loss of life. Then they just pulled out of Iraq and left the place in shambles after promising to rebuild and the citizens are still suffering. And Killary Clinton bragged about going all over the Middle East and taking out country's leaders. General Clark was stunned when told, "We have a list of countries including Iraq" - he said Iraq had nothing to do with 9/11 - go watch that video on YouTube. #warisaracket #iraqforsale
Reporting errors
In the midst of breaking news, sometimes mistakes are made. That is what happened in this case. In a report on the BBC website from September 10, 2021, titled "11 September 2001: The conspiracy theories still spreading after 20 years," the story said:
The fact the collapse of 7 World Trade Center was announced in a live report by BBC News correspondent Jane Stanley - while it was still visibly standing behind her - has been cited by conspiracy theorists as evidence major media organisations were part of the inside-job plot.

The Reuters news agency had mistakenly reported the collapse of the building, which was also picked up by CNN, just before the live report.

Reuters later issued a correction - but clips of the report continue go viral in the days leading up to 9/11 anniversaries.
World Trade Center
Conspiracy theories have long surrounded 9/11 and the World Trade Center, including WTC 7. Here is a selection of our fact checks related to that day:
Additional Lead Stories fact checks of claims related to the World Trade Center can be found here.