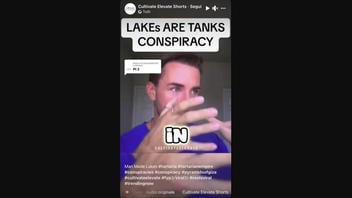 Are all lakes man-made to cover up ruins of an ancient civilization? No, that's not true: While there are some man-made lakes, ponds and reservoirs, lakes are also naturally formed features created over time through several geological processes, including glacial runoff, river erosion, volcanic activity and groundwater changes. The basis of the claim that "all lakes are man-made" stems from an unfounded conspiracy theory rooted in the premise of the Tartarian (also Tartary) Empire, which is said to be a lost civilization whose technologies were wiped out by an historically unsubstantiated "mud flood."
The claim originated in a reel posted on Facebook on September 14, 2023 (archived here). The reel included a video overlay that read, "LAKEs ARE TANKS CONSPIRACY." A caption with the post read:
Man Made Lakes #tartaria #tartarianempire #conspiracies #conspiracy #pyramidsofgiza #cultivateelevate #fypシ゚viralシ #reelsviral #trendingnow
Here is how the post appeared at the time of the writing of this fact check: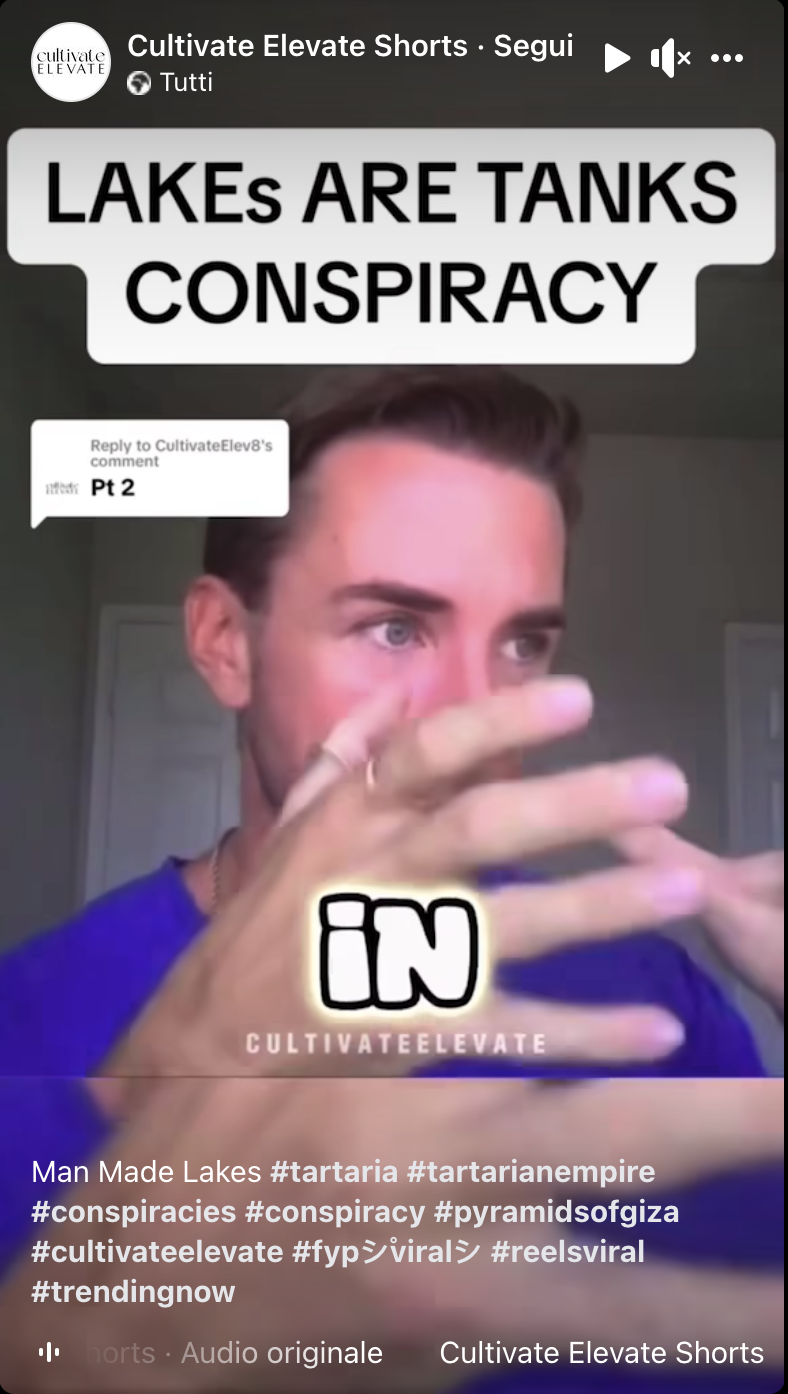 (Source: Facebook screenshot taken Fri Sept 22 11:33:04 UTC 2023)
An unidentified man in the video said, "What happened was you put the lake in that spot, to cover up the ruins ..."
Asked by another man if he was "saying all lakes are man-made," he responded, "Yeah, 53,000."
While there are some man-made lakes, ponds and reservoirs, lakes are also naturally formed features created through various geological processes over time, including glacial runoff, river erosion, volcanic activity and groundwater changes.
"A lake is where surface-water runoff and groundwater seepage have accumulated in a low spot, relative to the surrounding countryside," according to the U.S. Geological Service (USGS). A reservoir is similar to a lake but made by humans; typically, when a dam is built on a river.
Limnology refers to the biological, chemical and physical features of lakes and other bodies of freshwater. According to the limnology group North American Lake Management Society, lakes are formed on or beneath the surface of the Earth over millennia. Below are a few examples of how lakes are formed:
Glacial lakes: Lakes that were formed by glacial ice movements that occurred 10,000 to 12,000 years ago. As glaciers move across the land over time, they erode hills, bluffs, and mountains to alter the landscape permanently and deposit material elsewhere. Over time, these deposits may dam rivers and smaller streams to form lakes, and when the ice melts, their basins may similarly fill with water over time to form a lake.

Solution lakes: As groundwater dissolves rocks below the ground, the top of the land may cave in and form a round-shaped lake known as a solution lake. Commonly found in Midwestern states like Michigan, Indiana and Kentucky, these depressions are deep enough to extend below the water table, which allows them to fill over time.

Oxbow lakes: As it flows over time across mountains and other geological features, water can erode landscapes to create lake basins. Oxbow lakes are shaped like a "C" because meandering rivers deposit materials on the inner portion of the bend, ultimately reducing currents to create a lake.

Volcanic lakes: These types of lakes are formed by activity associated with volcanoes. For example, as volcanic material is ejected out of the Earth, depressions are cavities that can be created, unable to drain, and fill up with rainfall and runoff. Lakes can form inside craters or calderas as well.

Landslide lakes: Large deposits of material carried down by landslides can dam streams to create lakes.

Tectonic lakes: Basins formed by tectonic plate activity are made when a weak section below the earth's crust separates during an earthquake to form a depression. Lake Tahoe in California and Nevada is one such example,

Animal or man-made lakes: Animals like beavers can form lakes by jamming rivers and streams with sticks.
According to the Environmental Protection Agency, experts define natural lakes as "those without evidence of a dam or where available information indicated the lake was natural even if a dam exists to augment the depth of the lake." Alternatively, man-made reservoirs are "waterbodies that were constructed," like those to serve municipal or water resource management needs, such as drinking-water supply or agricultural irrigation.
Two hashtags included in the video caption were #tartaria and #tartarianempire, which stem from an unfounded conspiracy theory rooted in the Tartarian (also Tartary) Empire. The theory references the Tartars (also Tatars), a term used by some historians for tribes who spoke a Turkic language and were united by Genghis Khan in the early 13th century. In the late 20th century, it was estimated there were more than 5 million Tartars living in Russia.
The video incorporates elements of the Tartarian Empire conspiracy theory, also called the "QAnon of Architecture," which asserts that the Tartarian Empire was a lost civilization with advanced technology and culture. Followers of the theory espouse an alternative history that argues that "Tartarians" actually constructed now-demolished constructions like the Singer Building in New York City and standing structures like the U.S. Capitol in Washington, D.C., and the pyramids in Egypt. Adherents of this conspiracy theory argue that a "mud flood" wiped out other monuments, like the grounds for the 1915 Panama-Pacific International Exposition, a world fair in San Francisco, California.
Though the Tartar people were real and did have a powerful military, no historical evidence exists that the group was responsible for a technologically advanced "Tartarian Empire" that constructed massive buildings around the world.
Lead Stories has previously debunked the Tartarian Empire claim.