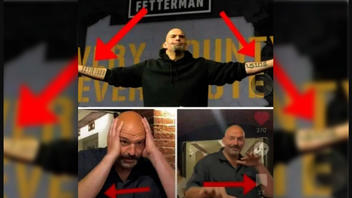 Do photos of Pennsylvania Sen. John Fetterman show that he lost his forearm tattoos? No, that's not true: Two screenshots taken from videos of Fetterman reacting to a question in an animated manner do not show his tattoos, but the tattoos are visible in other frames of the same videos. This is due to the fact that human arms can rotate.
The September 15, 2023, post (archived here) on X (formerly Twitter) includes a composite image of Fetterman standing in several poses with his forearms exposed. It was captioned:
Crazy how Fetterman lost his tattoos, isn't it?
This is what the post looked like on X at the time of the writing of this fact check: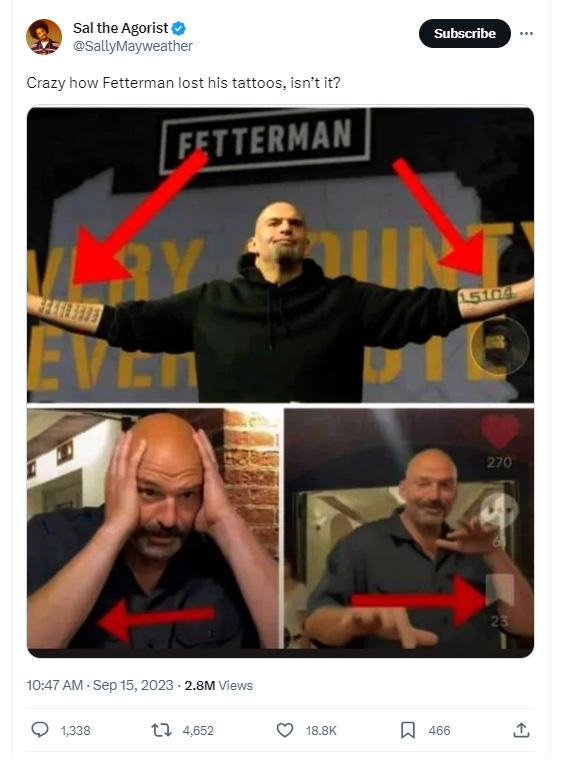 (Source: X screenshot taken on Fri Sep 22 18:48:23 2023 UTC)
The anatomy of the forearm allows it to rotate; the surfaces of a person's arms may face differently depending on the amount of forearm rotation.

The post is a composite of three images that have been marked up with red arrows. The uppermost image (pictured above) shows Fetterman with his arms outstretched and his forearm tattoos clearly visible. This Getty image by Nate Smallwood was taken on August 12, 2022, at the Bayfront Convention Center in Erie, Pennsylvania, where Fetterman was campaigning for the Senate.
The two lower images from the X post are screenshots pulled from two videos filmed from slightly different camera angles on September 12, 2023. Fetterman, now a senator, was making his way down a corridor of a Senate office building when he encountered some reporters. One asked him to respond to the news that GOP House Speaker Kevin McCarthy had announced he was launching an impeachment inquiry investigation against President Joe Biden.
Fetterman mockingly pretended to be shocked and frightened at the prospect of this investigation. These screenshots show Fetterman's theatrical response. The screenshot on the left is from six seconds into a CNN video posted on YouTube (below left) and the screenshot on the right was from 13 seconds into a video posted on X by Liz Brown-Kaiser (below right). The Lead Stories composite image below shows these moments in their original video format.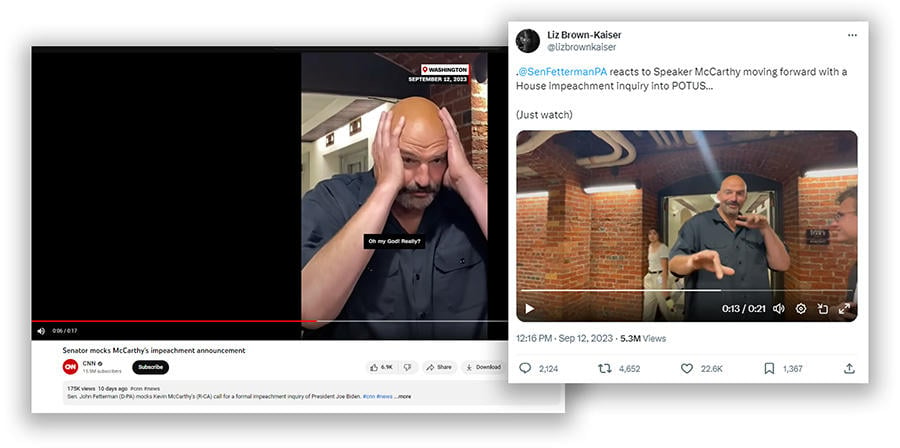 (Source: Lead Stories composite image of YouTube and X screenshots taken on Fri Sep 22 21:01:45 2023 UTC)

The tattoos on Fetterman's forearms are partially visible at several other points in these same two videos. The composite image below shows details of the tattoo on his left arm at eight seconds into the CNN video, and the tattoo on the top and underside of his right arm at four seconds into Brown-Kaiser's video.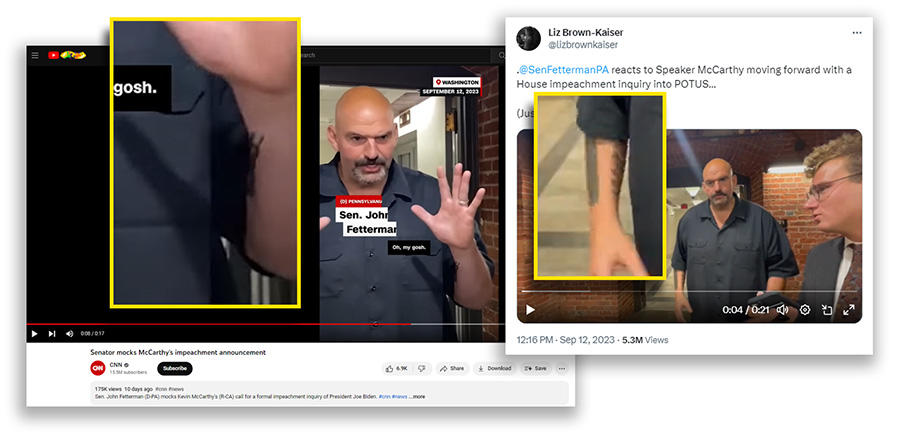 (Source: Lead Stories composite image of YouTube and X screenshots taken on Fri Sep 22 21:01:45 2023 UTC)
In a March 16, 2021, post on Medium, Fetterman explained the meaning of his tattoos:
On my left arm, I have the zip code 15104. That's Braddock, Pennsylvania, my home and the community I was honored to serve as mayor for 15 years. ...

On my right arm, I have nine different dates. These are the dates when people were killed through violence in Braddock while I served as Mayor, starting in 2005. Seven out of nine were gun deaths.
Fetterman has another tattoo on the top of his right forearm that once read, "I will make you hurt." This was the subject of rumors and criticism years after he had covered that tattoo with a solid black rectangle.
Lead Stories has previously reported that photos do not show evidence that Fetterman has been replaced by a body double.