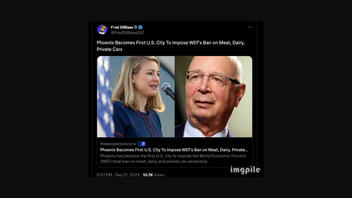 Did Phoenix become the "first U.S. city" to prohibit "meat, dairy, private cars" in September 2023 at the directive of the World Economic Forum? No, that's not true: Had it been a real ban, it would have been officially announced on the government website of Phoenix, which has no traces of it. The claim stems from a misleading interpretation of a pre-pandemic report by an association of cities. That document discussed emission-curbing strategies without making anything legally binding -- although social media posts falsely claimed otherwise.
The story appeared in a post (archived here) on X, formerly known as Twitter, on September 21, 2023. It opened:
Phoenix Becomes First U.S. City To Impose WEF's Ban on Meat, Dairy, Private Cars
This is what the post looked like on X at the time of writing: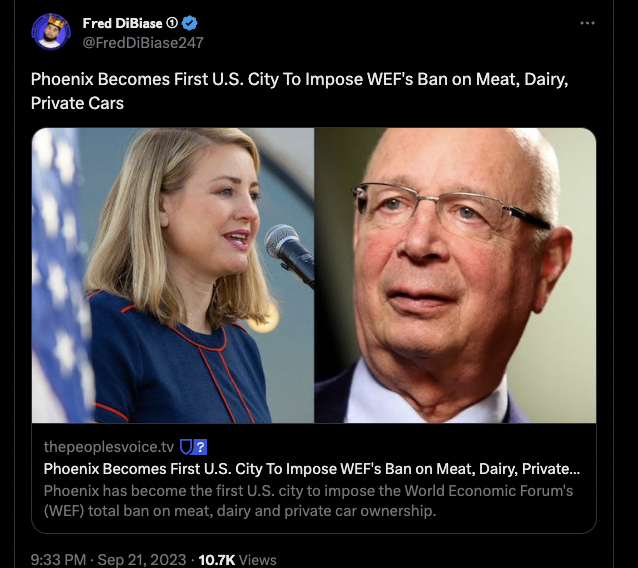 (Source: X screenshot taken on Thu Sep 28 13:55:11 2023 UTC)
The post contained a link to a People's Voice article (archived here) published on September 20, 2023. It made the same claim. Specifically, the article said:
The Democrat mayor of Phoenix, Arizona, Kate Gallego, says she is wants to fast-track the WEF's radical agenda so that Phoenix is fully compliant with WEF policies well ahead of the 2030 deadline set for the C40 Cities Climate Leadership Group.
However, the government website of Phoenix does not say anything about the purported ban as of this writing. Neither the Phoenix mayor's page (archived here) nor the press release section (archived here) contained such an announcement as of this writing.
Lead Stories tried a broader approach, too.
A Google search across the official website of the city of Phoenix limited to September 2023 when the purported ban was allegedly imposed showed only two results for the word "meat," and neither of those pages discussed prohibition:

(Source: Google screenshot taken on Thu Sep 28 14:27:49 2023 UTC)
A similar search for the word "dairy" produced zero matches:
(Source: Google screenshot taken on Thu Sep 28 14:32:09 2023 UTC)
There were no results for the term "private cars" used in the claim, either:

(Source: Google screenshot taken on Thu Sep 28 14:36:00 2023 UTC)
Furthermore, no credible media outlets (archived here) reported on the existence of the purported ban.
On September 6, 2023, Phoenix Mayor Kate Gallego refuted (archived here) the diet-related part of the claim on X: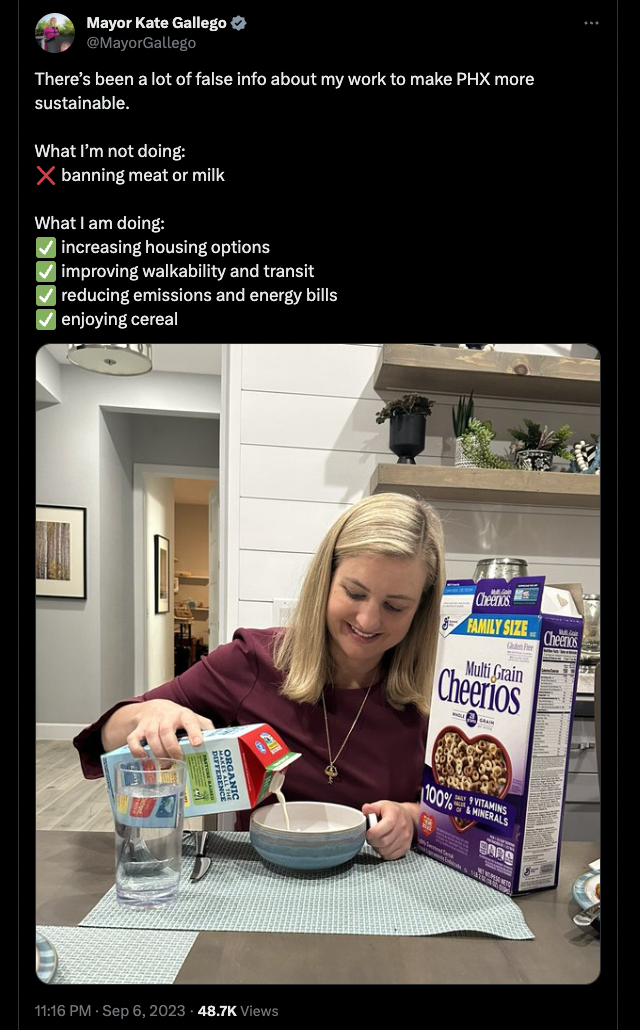 (Source: X screenshot taken on Thu Sep 28 14:55:46 2023 UTC)
Gallego is generally known for taking steps to reduce carbon emissions. For example, in 2019 the city received an Environmental Protection Agency grant to buy alternative-fuel trucks; in 2022, Phoenix made it to the CDP A-list for its environmental efforts.
In 2020, the city adopted the 2025 Food Action Plan, which primarily focuses on increasing access to healthy foods, not prohibiting particular items.
In 2021, Gallego represented North America at C40 -- an international group of cities, officially known as the C40 Cities Climate Leadership Group -- and was the vice chair of one of the organization's committees.
Funded
by several European governments and a mixture of philanthropies and businesses, C40
describes
itself as a "global network of mayors of the world's leading cities that are united in action to confront the climate crisis." As of this writing, there were 96 participating cities.
Similar claims have been circulated on social media at least since mid-August 2023, as previously reported by Lead Stories. They involved misinterpretation of the C40's 2019 report, which provided recommendations on carbon emission reduction, not mandating anything to anyone. As the organization's representative previously clarified to Lead Stories, C40 had no "formal relationship with WEF," referring to the World Economic Forum, which has been a frequent target of multiple conspiracies over the years.
Lead Stories reached out for additional comments to Mayor Gallego's Office. If we receive a response, this story will be updated as appropriate.
The People's Voice has a lengthy record of publishing false stories in the past. It describes itself as a resource "comprised of various web pages operated by Fact Checked Limited," but it has nothing to do with fact-checking.
As of this writing, its website showed a liability disclaimer, saying:
FACT CHECKED LIMITED AND/OR ITS SUPPLIERS MAKE NO REPRESENTATIONS ABOUT THE SUITABILITY, RELIABILITY, AVAILABILITY, TIMELINESS, AND ACCURACY OF THE INFORMATION, SOFTWARE, PRODUCTS, SERVICES AND RELATED GRAPHICS CONTAINED ON THE SITE FOR ANY PURPOSE. TO THE MAXIMUM EXTENT PERMITTED BY APPLICABLE LAW, ALL SUCH INFORMATION, SOFTWARE, PRODUCTS, SERVICES AND RELATED GRAPHICS ARE PROVIDED 'AS IS' WITHOUT WARRANTY OR CONDITION OF ANY KIND.