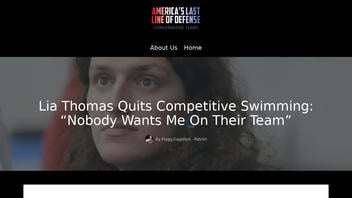 Did American swimmer Lia Thomas quit competitive swimming? No, that's not true: This claim is from a satirical website and has not been reported by legitimate news outlets. The website where this claim originated has a disclaimer that reads, "Everything on this website is fiction."
The claim appeared in an article published by conservativetears.com on September 27, 2023, titled "Lia Thomas Quits Competitive Swimming: 'Nobody Wants Me On Their Team'" (archived here). It opened:
Former NCAA National Champion and Nine-time world record holder Lia Thomas announced that she is done as a professional swimmer.
Users on social media only saw this title, description and thumbnail:

(Source: Conservative Tears screenshot taken on Thu Sep 28 14:28:11 2023 UTC)
The article quotes Thomas purportedly saying: "Nobody wants me on their team ... They're all transphobes and bigots."
The satirical story gives itself away by citing "Sportsball Analyst Tara Newhole" as saying "there's a good chance that some or all of the facts in the first four paragraphs of our story are completely false, unfortunately." The story quotes "Newhole" directly as saying: "Sometimes we write what we hope and pray rather than what actually happened."
Lead Stories could not find evidence that "sportsball analyst" Newhole actually exists (archived here).
A Google News search of the phrase "Lia Thomas quits competitive swimming" (archived here) did not yield any relevant results from a reputable news organization.
The article contains quotes purportedly from American swimmer Riley Gaines. We could not find any evidence (archived here) that Gaines said the words attributed to her as a direct quote.

Lead Stories reached out to Thomas' representatives. We will update this article when we receive a relevant response.
Conservative Tears is part of America's Last Line of Defense network of satirical sites run by self-described troll, Christopher Blair. There is a disclaimer on their website stating, "Everything on this website is fiction.":
About Satire

Before you complain and decide satire is synonymous with "comedy":

sat·ire ˈsaˌtī(ə)r noun: The use of humor, irony, exaggeration, OR ridicule to expose and criticize people's stupidity or vices, particularly in the context of contemporary politics and other topical issues.

Everything on this website is fiction. It is not a lie and it is not fake news because it is not real. If you believe that it is real, you should have your head examined. Any similarities between this site's pure fantasy and actual people, places, and events are purely coincidental and all images should be considered altered and satirical. See above if you're still having an issue with that satire thing.
Other Lead Stories articles on claims related to Lia Thomas are here.