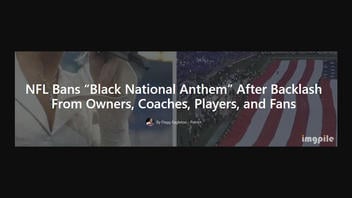 Did the National Football League (NFL) ban the performance of the song "Lift Every Voice and Sing," also known as the Black National Anthem, at any NFL-sponsored venue after the purported performance of the song by Beyonce Knowles-Carter in San Francisco? No, that's not true: When this claim was published, September 19, 2023, Beyonce was not performing at any NFL games or NFL-sponsored events as she was still on her "Renaissance" album World Tour. The claim first appeared on a satirical website that has a disclaimer that reads "Everything on this website is fiction" on its About Us page.
The claim appeared in an article (archived here) published by The Dunning-Kruger Times headlined "NFL Bans 'Black National Anthem' After Backlash From Owners, Coaches, Players, and Fans." It opened:
The NFL had quite the fiasco on its hands when Beyonce Knowles decided to replace the National Anthem with 'The Black National Anthem' in San Fransisco.

Fans immediately flooded the phone lines and email inboxes with complaints and demands for answers.
Users on social media only saw this title, description and thumbnail:

A Google search (archived here) using the keywords "NFL Bans Black National Anthem" produced no results to substantiate this claim.
Lead Stories previously debunked the claim that Beyonce was banned from NFL Games after singing the Black National Anthem instead of "The Star-Spangled Banner." That claim was also published by The Dunning-Kruger Times.
Lead Stories reached out to the NFL for a statement about this claim and will update this fact check if a response is received.
Other Lead stories fact checks that mention Beyonce can be found here.
The Dunning-Kruger Times
The Dunning-Kruger Times is a satirical website with an about page (archived here) that has following disclaimer:
About Us

Dunning-Kruger-Times.com is a subsidiary of the 'America's Last Line of Defense' network of parody, satire, and tomfoolery, or as Snopes called it before they lost their war on satire: Junk News

About Satire

Before you complain and decide satire is synonymous with 'comedy':

sat·ire ˈsaˌtī(ə)r noun: The use of humor, irony, exaggeration, OR ridicule to expose and criticize people's stupidity or vices, particularly in the context of contemporary politics and other topical issues.

Everything on this website is fiction. It is not a lie and it is not fake news because it is not real. If you believe that it is real, you should have your head examined. Any similarities between this site's pure fantasy and actual people, places, and events are purely coincidental and all images should be considered altered and satirical. See above if you're still having an issue with that satire thing.
The website is named after the Dunning-Kruger effect, a term from a psychology experiment that describes the phenomenon of being ignorant of one's own ignorance. (That experiment has been disputed by a math professor.)
It is run by self-described liberal troll Christopher Blair.