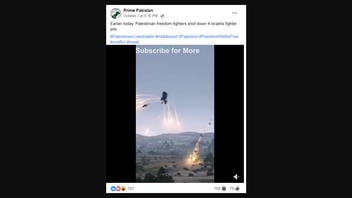 Do several videos shared on social media in October 2023 genuinely show combat footage from the military conflict between Israel and Hamas? No, that's not true: A reverse image search revealed that one such clip originated from the combat video game Arma 3. Several other similar clips are making the rounds often posted by accounts looking to monetize views and traffic. The maker of the video game has warned in the past about such recycled footage and offered tips on how to spot it.
A version of the claim originated in a video shared on Facebook on October 7, 2023, with a caption that read:
Earlier today, Palestinian freedom fighters shot down 4 Israelis fighter jets.

#PalestinianLivesMatter #middleeast #Palestine #PalestineWillBeFree #conflict #Isreal
Below is how the post appeared at the time of this publication: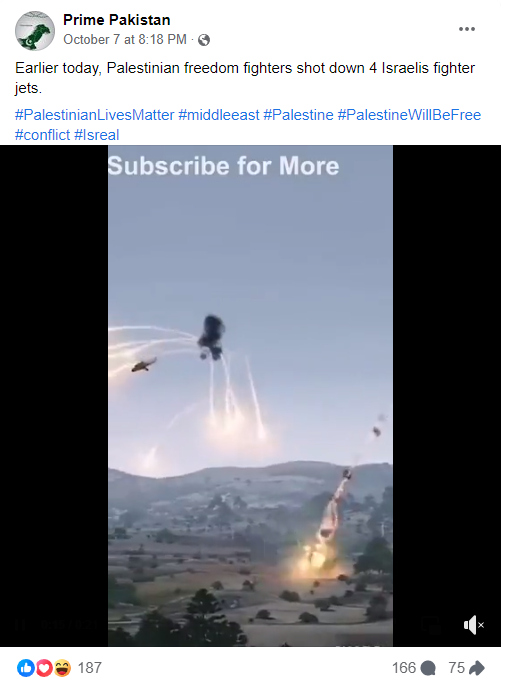 (Source: Facebook screenshot taken Mon Oct 9 06:15:00 UTC 2023
A reverse image search (archived here) showed the above video clip came from the open-world tactical shooter simulation video game Arma 3. It is one example of clips taken from the game and posted as genuine footage depicting the conflict between Israel and Hamas. Other versions of such claims (here, here and here) wrote, "Is.ra.el Air Force F-16 Shot Down Ha.ma.s Su-57 Fighter." The profile description of one Facebook user who posted the same video is described as a "gaming video creator" who lives-streams video games as they're played.
Arma 3 developer Bohemia Interactive previously addressed concerns in a video on game footage used in disinformation, primarily during the war in Ukraine. Clips from the game often get recycled at the onset of military conflict, mostly as a way to draw clicks, likes, and views that can later be monetized through advertising.
Writing in a blog post published on November 28, 2022 (archived here), the developers stated that user-made videos "have the potential to go viral, and are massively shared by social media users; sometimes even by various mainstream media or official government institutions worldwide." The company provided the following tips for distinguishing in-game videos from real-world footage:
Very low resolution

Even dated smartphones have the ability to provide videos in HD quality. Fake videos are usually of much lower quality, and are intentionally pixelated and blurry to hide the fact that they're taken from a video game.

Shaky camera

To add dramatic effect, these videos are often not captured in-game. Authors film a computer screen with the game running in low quality and with an exaggerated camera shake.

Often takes place in the dark / at night

The footage is often dark in order to hide the video game scene's insufficient level of detail.

Mostly without sound

In-game sound effects are often distinguishable from reality.

Doesn't feature people in motion

While the game can simulate the movement of military vehicles relatively realistically, capturing natural looking humans in motion is still very difficult, even for the most modern of games.

Heads Up Display (HUD) elements visible

Sometimes the game's user interfaces, such as weapon selection, ammunition counters, vehicle status, in-game messages, etc. are visible. These commonly appear at the edges or in the corners of the footage.

Unnatural particle effects

Even the most modern games have a problem with naturally depicting explosions, smoke, fire, and dust, as well as how they're affected by environmental conditions. Look for oddly separated cloudlets in particular.

Unrealistic vehicles, uniforms, equipment

People with advanced military equipment knowledge can recognize the use of unrealistic military assets for a given conflict. For instance, in one widely spread fake video, the US air defense system C-RAM shoots down a US A-10 ground attack plane. Units can also display non-authentic insignias, camouflage, etc.
Lead Stories has flagged other claims on social media that falsely presented Arma 3 footage as genuinely showing military conflict, including a TikTok video that falsely claimed to show a large display of Israeli artillery, a video that falsely claimed to show a failed Chinese airstrike near Taiwan, and a YouTube account post that did not genuinely show footage of a missile intercept system used during a missile attack in Iraq.
Additional Lead Stories fact checks of claims related to the 2023 Israel-Hamas conflict can be found here.