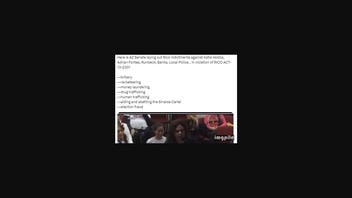 Did the Arizona Senate bring indictments against Gov. Katie Hobbs, Secretary of State Adrian Fontes, Runbeck Election Services, banks and local police for election fraud and other crimes? No, that's not true: The Arizona Senate is not authorized to issue indictments, the state Senate GOP spokesperson told Lead Stories. The video shown in the social-media post that made the claim dates from a February 2023 Arizona legislative hearing in which a woman charged, without proof, that elected officials, judges and politicians were in the pay of the Sinaloa Cartel. The lawmaker who arranged for the woman to make the presentation was removed from office after the hearing.
The claim appeared in a post (archived here) on X, formerly known as Twitter, on September 24, 2023. It said:
Here is AZ Senate laying out Rico indictments against Katie Hobbs, Adrian Fontes, Runbeck, Banks, Local Police... in violation of RICO ACT-13-2301 --bribery --racketeering --money laundering --drug trafficking --human trafficking --aiding and abetting the Sinaloa Cartel --election fraud
The federal Racketeer Influenced and Corrupt Organizations Act (RICO) has traditionally been used against the Mafia and organized crime.

This is what the post looked like on X at the time of the writing of this fact check: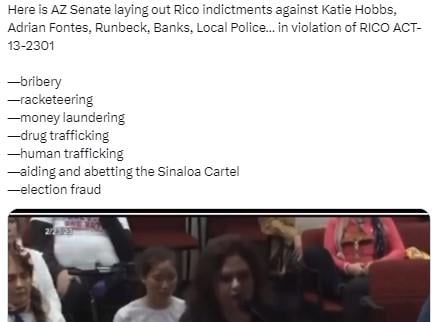 (Source: X screenshot taken on Thu Sep 28 20:06:49 2023 UTC)
The footage is from a February 23, 2023, joint meeting of the Arizona House and Senate elections committees, during which Jacqueline Breger, an insurance agent, claimed that elected officials, judges and members of both political parties had taken bribes from the Mexican drug cartel Sinaloa. She did not provide credible proof to back up these allegations, Lead Stories previously reported.
Kim Quintero, Arizona Senate Majority spokesperson, told Lead Stories via email on September 29, 2023, that she could "confirm" that the Arizona legislature is not authorized to issue indictments.

Republican State Sen. Wendy Rogers, chair of Arizona's Senate Committee on Elections, tweeted (archived here) on September 24, 2023, that the claims about the indictments were false. Rogers wrote:
(I'd been asked about this, but just now able to respond because of being with family all day...)
The following is FAKE NEWS. The legislature doesn't issue indictments! pic.twitter.com/wQzZndsp85

-- Wendy Rogers (@WendyRogersAZ) September 25, 2023
Liz Harris, the Republican member of the House of Representatives who had arranged for Breger to make her presentation, was expelled from the legislature following the hearing for "disorderly behavior," according to The Associated Press (archived here).
Republican lawmakers in February 2023 denounced Breger's claims, with Arizona House Speaker Ben Toma describing the allegations as "unsubstantiated and defamatory," and Sen. Rogers stressing that none of the claims should ever have been aired in front of state legislators: "To our knowledge, none of the people named had charges filed, have prosecutions pending, nor had any convictions made against them," Arizona Public Media reported her as saying.

Additional Lead Stories fact checks of claims about Arizona elections can be found here.