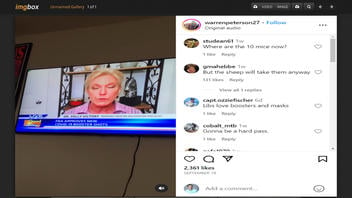 Were the updated COVID-19 vaccines only tested on 10 mice before they were given emergency use authorization in September 2023? No, that's not true: The Food and Drug Administration (FDA) told Lead Stories that the revised vaccines have adhered to the stringent scientific criteria of the agency concerning safety, efficacy and manufacturing excellence. Human vaccines typically go through rigorous clinical trials involving thousands of human participants before they are authorized for widespread use.
The claim appeared in a post and video on Instagram (archived here) published on September 28, 2023. The video includes an exchange between Good Morning San Diego co-host Paul Rudy and Dr. Kelly Victory about the updated COVID-19 vaccines:
Rudy: So, new boosters for young and old. Your thoughts, please.

Victory: Well, I'm really flabbergasted, Paul, that the FDA has approved these brand new boosters for one thing. To be clear, these boosters were tested on a total of 10 mice, not a single human. Ten mice were given this new vaccine, and they were compared to 10 mice that got the previous booster. This new one is a monovalent one. It is based solely on the XBB variant of omicron, but it was not tested on a single human being.
This is what the post looked like on Instagram at the time of the writing of this fact check: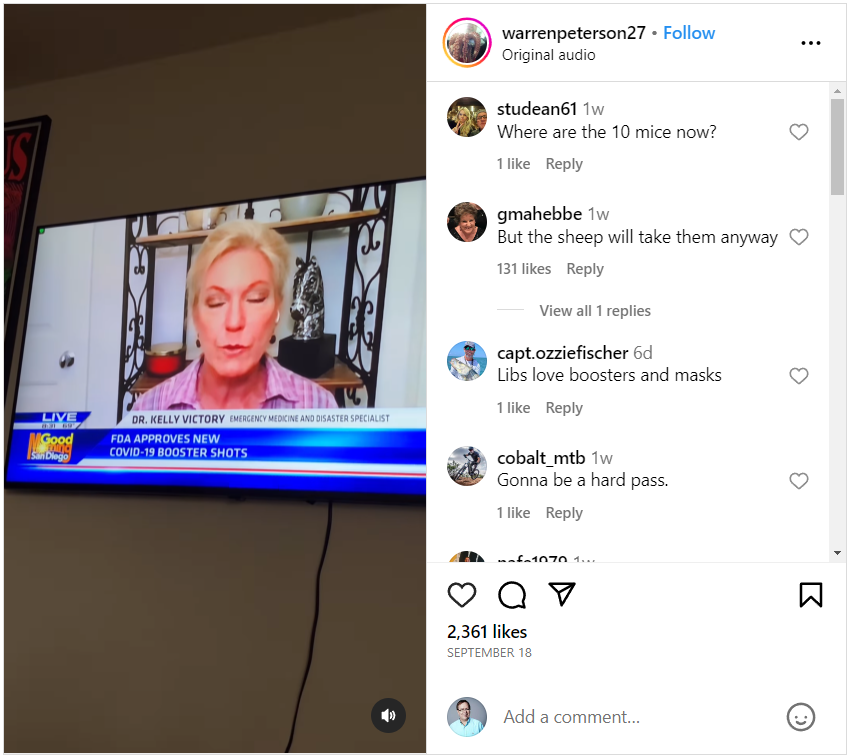 (Source: Instagram screenshot taken on Thu Sep 28 16:12:34 2023 UTC)
The interview
The complete interview between Rudy and Victory can be found on the television station's YouTube channel: KUSI News (archived here). It was published on September 13, 2023, two days after the Food and Drug Administration approved emergency use authorizations (EUAs) for updated COVID-19 vaccines for the fall of 2023.
In her interview, Victory provides no information or examples to support her claim that the updated COVID-19 vaccines were only tested on 10 mice before being granted EUAs.
While it is true that the updated Pfizer COVID-19 vaccine was tested on 10 female mice, it was also tested on hundreds of people, too. Slide 12 from a Pfizer presentation to the Advisory Committee on Immunization Practices (ACIP) at the Centers for Disease Control and Prevention shows that 200 people between the ages of 12 and 55 were given the updated shot, as well as another 200 people older than 55. Slide 12 appears below: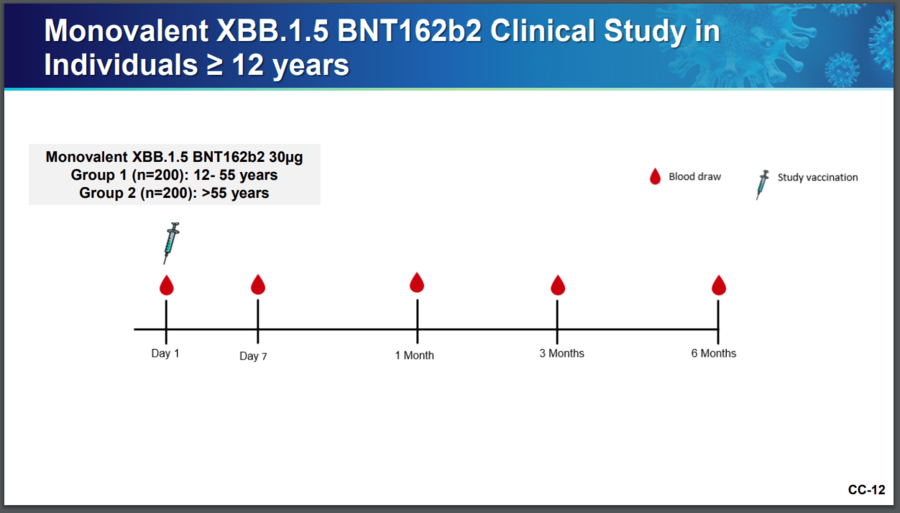 (Source: CDC screenshot taken on Fri Sep 29 14:52:55 2023 UTC)
The full ACIP meeting from September 12, 2023, can be watched on YouTube. All of the presentations from the meeting are available here.
"Vaccine Development - 101"
Vaccines developed for use in the United States must follow very specific plans called "protocols," the FDA website says. The testing starts in a lab before moving on to other living things:
Before a vaccine can be tested in people, a company or researcher performs additional laboratory research and testing in animals to obtain information about how the vaccine works and whether it's likely to be safe and work well in humans. These tests are known as the Pre-clinical phase.
If a vaccine passes the "pre-clinical" portion of development, the FDA says it must go through three phases of clinical studies before it can be considered for an EUA or full approval. The agency's website spells out the process:
Phase 1: Safety and Initial Immune Response Assessment
Involves 20-100 healthy volunteers not exposed to the studied disease.
Focuses on safety and adverse reactions with increasing doses.
Evaluates early vaccine effectiveness in inducing an immune response.
Phase 2: Expanded Testing and Diverse Demographics
Includes hundreds of participants with varying health statuses and demographics.
Tests different dosages in randomized-controlled studies.
Provides safety data on short-term side effects and dose-response relationships.
Assesses initial vaccine effectiveness using standardized immune response tests.
Includes a control group for comparison.
Phase 3: Large-Scale Effectiveness and Safety Assessment
Administers the vaccine to thousands of people.
Gathers critical data on effectiveness and safety.
Compares vaccinated individuals to a control group (placebo or an approved vaccine).
Measures disease incidence reduction in the vaccinated group.
Identifies less common side effects.
Food and Drug Administration
The FDA told Lead Stories in a September 28, 2023, email that "these updated vaccines have met the agency's rigorous scientific standards for safety, effectiveness, and manufacturing quality." Cherie Duvall-Jones, a press officer at the FDA, provided the agency's response. It said:
To clarify, these are not 'new vaccines.' The recently authorized/approved updated COVID-19 vaccines are strain updates of existing vaccines that have been through the large scale clinical trials routinely required for licensure. COVID-19 vaccines have undergone--and continue to undergo--the most intense vaccine safety monitoring in U.S. history. Additionally, COVID-19 vaccines have an established track record of safety and effectiveness, from the large-scale clinical trials conducted prior to initial authorization and licensure to real world evidence following their use.

The 2023-2024 XBB.1.5 strain update that has been made to the vaccine is quite analogous to that which is done for the strain updates for the annual influenza vaccine. As the FDA noted in its press release, the mRNA COVID-19 vaccines approved and authorized on September 11, 2023, are supported by FDA's evaluation of manufacturing data to support the change to the 2023-2024 formula and non-clinical immune response data on the updated formulations including the XBB.1.5 component. Additionally, the updated mRNA vaccines are manufactured using a similar process as previous formulations.

The data accrued with the monovalent (Original) and bivalent (Original and Omicron BA.4/BA.5) COVID-19 vaccines manufactured by Pfizer Inc. and ModernaTX Inc. are relevant to the updated COVID-19 vaccines that include the 2023-2024 formula because each company is using a similar manufacturing process for their respective updated COVID-19 vaccine as they used for their previous COVID-19 vaccines.
Pfizer
In a September 28, 2023, email to Lead Stories, Keanna Ghazvini, manager for global media relations at Pfizer, provided the company's response to the claim that its updated COVID-19 vaccine was only tested on 10 mice. Pfizer said (emphasis theirs):
That claim is not true. This season's approved COVID-19 vaccine is based on the full body of previous clinical, non-clinical, and real-world evidence supporting the safety and efficacy of the COVID-19 vaccines by Pfizer and BioNTech. Further, pre-clinical data showed this season's vaccine substantially improved responses against multiple Omicron XBB-related sublineages.

Our vaccine has been shown to be safe and effective and is recommended by numerous global health organizations and regulatory agencies around the world.
Moderna
Moderna provided its response to the claim in another September 28, 2023, email. The text is from a September 11, 2023, press release on the day their updated COVID-19 vaccine was granted EUA. The yellow highlights to the text were added by Moderna media relations:
In August, Moderna announced additional clinical trial data which showed the company's updated COVID-19 vaccine elicited an immune response in humans against EG.5 and FL.1.5.1, currently the dominant variants in the United States. Last week, the company shared additional clinical trial data confirming that the updated vaccine also elicited a human immune response against BA.2.86.
Read more
Additional Lead Stories fact checks of claims related to vaccines can be found here.
Other Lead Stories fact checks related to Victory can be found here.