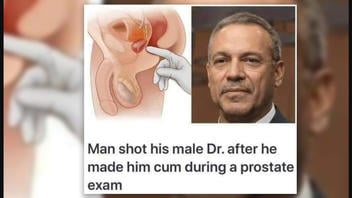 Did a homophobic man from Florida shoot his male doctor twice in the chest because he had an orgasm during a prostate exam? No, that's not true: This 'Florida man' article is fictional and was published by the now-defunct fake news and satire website Bok Daily on September 7, 2020. The images of the two men included in the original article are not real people, but computer-generated faces made with the StyleGAN program. There is no record of a real crime matching the details provided in this article.
The article (archived here) titled, "Man shot his male Dr. after he made him cum during a prostate exam" was published by Bok Daily on September 7, 2020. This website is no longer online and the bokdaily.com domain name is for sale.
A screenshot of the fake news article, as seen on Instagram, appeared in a post (archived here) on Facebook. It was posted by the page Pretty Petty on September 26, 2023, without a caption. The text of the article visible in the screenshot reads:
Man shot his male Dr. after he made him cum during a prostate exam
Jacksonville, FL A 56-year-old man from Florida shot his doctor twice on the chest, close range for giving him an orgasm during a prostate exam. Milo Johanson fled the state of Florida on the day of the incident which took place on August, 22. Luckily the doctor he shot survived the gunshot wounds and he... Continue reading
This is what the post looked like on Facebook at the time of writing: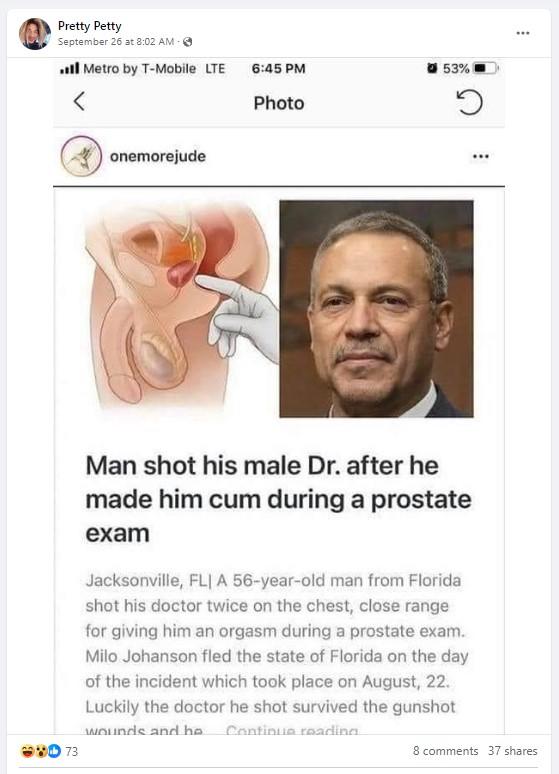 (Source: Facebook screenshot taken on Fri Sep 29 15:33:25 2023 UTC)
This screenshot (above) does not show the name of the publisher, the date of the article or the date of the Instagram post. The account @onemorejude is not visible on Instagram. A Google search (archived here) for the headline shows that there have been many copycat versions of the article published by other websites, but Google does not surface any real news stories about this purported crime.

Topping the search results is a Reddit thread from September 25, 2020, titled, "Facts Only - Prostate Exam Orgasm Shooter is NOT Real". This post identified the article's origin as Bok Daily, and mentions several other sexually explicit and outlandish articles by "Amelia Mills," the same author who wrote the story in question.
Bok Daily was still publishing at the time that Reddit post was made. The Internet Archive's Wayback Machine has an archived copy of the Bok Daily Homepage from December 8, 2020, but this article does not appear in on the homepage on that date.
Lead Stories checked "archive.today," and did find a copy of the September 7, 2020, article (pictured below left), archived on September 17, 2020.
Lead Stories has experience with images which have been created by an artificial intelligence program called StyleGAN. GAN stands for a Generative Adversarial Network and these images became widely available to the public in 2019 through a website called thispersondoesnotexist.com.
Suspecting that the faces illustrating the Bok Daily articles were GAN images, Lead Stories ran the pictures of the Florida man, 'Milo Johanson' and 'Dr. Herald Smith Jr' through the hivemoderation.com AI-generated-content-detection tool (below right). Both images were identified as GAN images with a 99.9 and 99.4 percent likelihood. These people do not exist and this story is not real.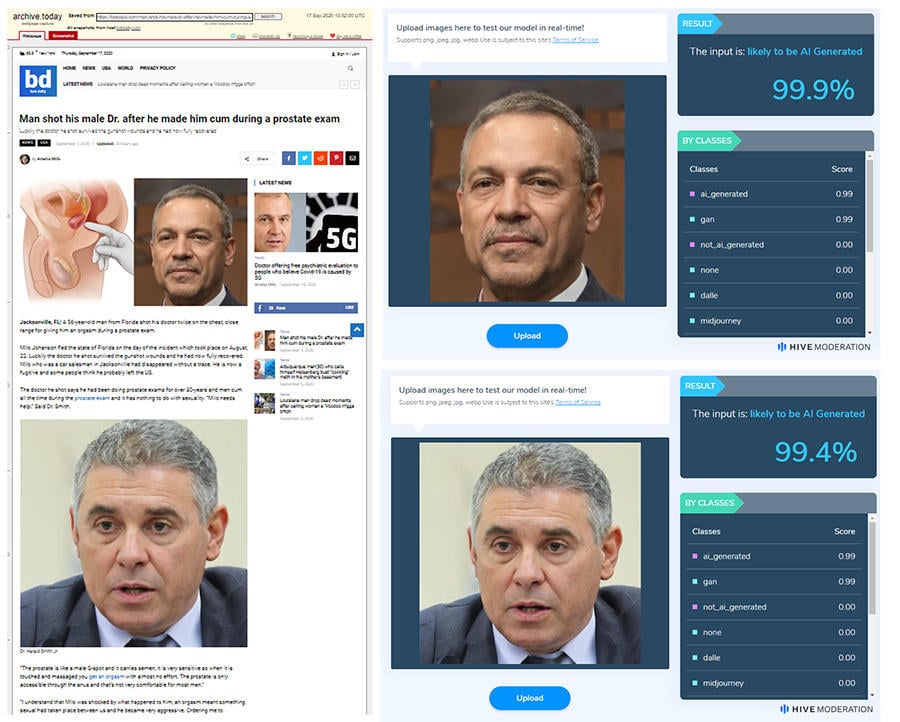 (Source: Lead Stories composite image with archive.today and hivemoderation.com screenshots taken on Fri Sep 29 15:33:25 2023 UTC)
In 2019, Lead Stories published an explanation of StyleGAN images (here). Our January 2022 debunk of a death hoax about children who never existed examines the creation of computer-generated images with thispersondoesnotexist.com.