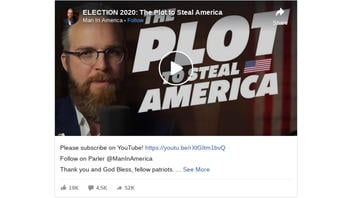 Does an advertising video titled "The Plot To Steal America" contain hard evidence of election fraud? No, that's not true: the 18-minute pitch contains allegations based on video clips purporting to show "evidence" but several of these clips do not actually show what is being claimed. The announcer repeats 11 already-debunked claims in the opening five minutes, then tells viewers to get their news from NewsMax, Epoch Times and One America News Network, switch from Google search to DuckDuckGo and to quit Twitter for Parler. At the conclusion, he asks viewers to sign up for his email list at a website that solicits cash donations.
The video appeared in a Facebook post (archived here) where it was published by a page named "Man In America" on December 7, 2020, under the title "The Plot to Steal America." The post originally read:
2020 has been a year like no other. Everything we know, everything we trust, and everything we have come to rely on has changed. So why should we expect the US election to be any different?

Mainstream media are telling us the race is over, Biden won, time to move on, nothing to see here folks. But in your gut, you know something's just not right. From the strange patterns on election night, to the weeks of suspense, to the reports of fraud that evaporate faster than Biden's memory. It just doesn't add up.

In this episode, I'll show you just what's going on behind the scenes in this election, and why the greatest threat we're facing right now, is not an invisible enemy invading our bodies, but one that's invading our country and our minds.
This is what the post looked like on Facebook at the time of writing:
(Source: Facebook screenshot taken on Thu Dec 24 12:19:31 2020 UTC)
The video itself also appeared on YouTube (archived here and here).
Host Seth Holehouse opens with a monologue casting doubt on the results of the election. The video appears to be an episode in a new show called "Man in America" that has two episodes up so far on its website mia.news, which was registered on November 24, 2020. Holehouse appears to be a former Epoch Times contributor or photographer (backup link) but his articles have now been scrubbed from the site.
To assist readers, each time code reference is linked to that precise point in the YouTube version.
At 2 minutes, 9 seconds he mentions "late night ballot dumps" that were "somehow" all for Biden. As we and others wrote before, these "ballot dumps" were usually mail-in ballot counts being announced as soon as they were tallied, which was late at night, something that had been predicted would happen before the election because in many places, mail-in ballot counting was only allowed to start after the closing of the polls on Election Day. Not all mail-in ballots went for Biden (but many did, most likely because Biden urged his supporters to vote by mail while President Trump told his followers not to).
At 2 minutes, 14 seconds he mentions the "burst water pipe," an event in Georgia that did not happen at the time of day claimed by several conspiracy theorists, as Lead Stories explains here.
At 2 minutes, 16 seconds he mentions "the computer glitches," probably a reference to a human error in Antrim County, Michigan, in an unofficial election tally on election night that was corrected on the spot.
At 2 minutes, 18 seconds he mentions "Sharpie pens," a reference to a debunked story about ballots supposedly being invalidated in Arizona if they were marked with such a pen.
At 2 minutes, 20 seconds he brings up "lost USB drives," probably in reference to a story about a Philadelphia warehouse theft that had no impact on the election.
At 2 minutes, 28 seconds, Holehouse talks about "hordes of dead voters" but no stories mentioning large numbers of dead people voting ever seem to check out. (Although there was one recent case of a man who was charged for voting for President Trump using his dead mother's name.)
At 2 minutes, 43 seconds, he speaks about "counties with more votes than eligible voters." Yes, there were stories about that, which turned out not to be true as you can read here and here.
At 2 minutes, 46 seconds he repeats the false story about "Pennsylvania having more mail-in ballots than they even sent out."
At 2 minutes, 56 seconds, Holehouse joins in on false claims about Dominion voting systems, which have been debunked by ourselves and Newsmax, and which Fox News and Newsmax have corrected in response to the threat of litigation.
Newsmax just aired this note to "clarify" its coverage of Smartmatic and Dominion. pic.twitter.com/I5XZ7CQpAk

-- John Whitehouse (@existentialfish) December 21, 2020
At 3 minutes, 12 seconds, Holehouse airs the proven-false claim that key battleground states decided to "stop counting and head on home" in the middle of the night.
At 3 minutes, 50 seconds, he reprises the famous "Georgia suitcases" video. Lead Stories has extensively written about that here, here and here and found nothing illegal happened.
At 4 minutes, 15 seconds, Holehouse asks "where is the evidence" and then proceeds to show a clip of ballots that were supposedly found in the trash at an Oklahoma wedding. However subsequent investigation revealed these were actually spoiled ballots that were destroyed after voters received a new ballot because they messed something up on their first one.
The video goes on to blame the Chinese Communist Party for the spread of COVID-19, saying it's part of a communist take-over plot, and invites people to subscribe to his email list and tune out mainstream media.
"We know truth from lies," he intones.