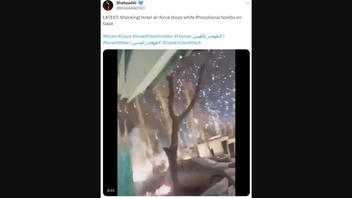 Does a video shared to social media in October 2023 show "white Phosphorus bombs" dropped on Gaza? No, that's not true: The video was shot in Ukraine and was posted to social media in March 2023, which predates the October 7, 2023, start of the Hamas-Israel conflict. The original clip showed an alleged attack made by Russian forces on the eastern town of Vuhledar, Ukraine, using what a news report described as "incendiary thermite munition."
A version of the claim was in a video shared to X on October 10, 2023 (archived here), with an accompanying caption that read:
LATEST: Shocking! Israel air force drops white Phosphorus bombs on Gaza

#Israel #Gaza #IsraelPalestineWar #Hamas #طوفان_الأقصى | #IsraelAtWar | #طوفان_القدس #GazaUnderAttack
Below is how the post appeared at the time of writing: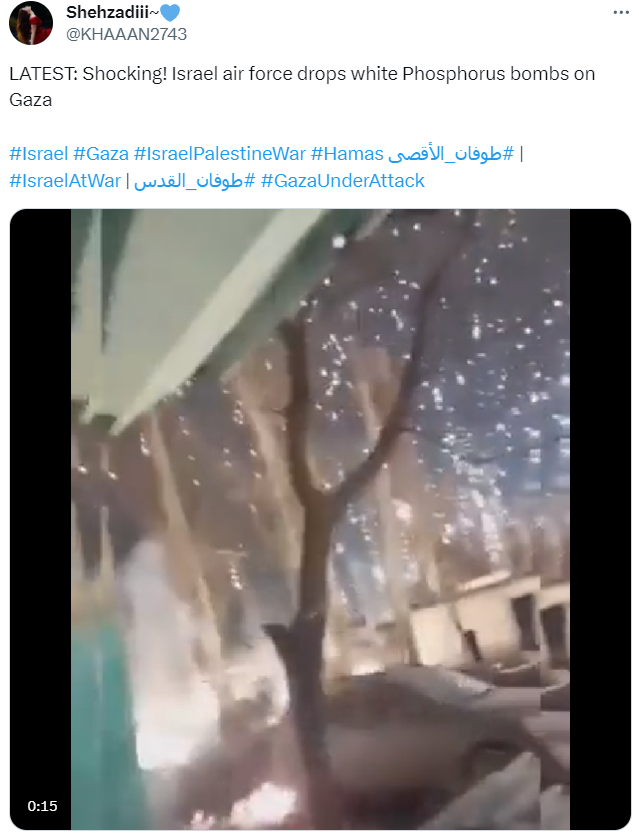 (Source: X screenshot taken Tues Oct 10 19:19:00 UTC 2023)
Lead Stories captured stills from the video posted to X and determined through two reverse image searches (archived here and here) that though the footage was authentic, it did not show "white Phosphorus bombs" deployed over Gaza in October 2023. Rather, it was published in March 2023 and showed Russian shells deployed over the town of Vuhledar, Ukraine.
A version of the video shot in Ukraine was published to YouTube by the British media outlet The Telegraph on March 13, 2023, with a description that read:
Russian forces appeared to target the eastern town of Vuhledar with incendiary thermite munitions.

Videos taken of the alleged attack show brightly burning metals raining from the sky on the coal-mining town, while a Ukrainian can be heard talking in the background.

Vuhledar has been one of the main focuses of Moscow's ill-fated offensive to capture the remains of the Donbas.

Elite troops from its 155th Naval Infantry Brigade have spent months failing to capture the town, suffering huge numbers of casualties and more than 100 pieces of destroyed armour.
A side-by-side comparison of the two videos revealed similarities between the two scenes, including a view of a y-shaped tree. It can be seen at the 11-second mark in the video posted to X, and the 15-second mark in the video published to YouTube by The Telegraph.
Other Lead Stories articles on claims pertaining to the 2023 Hamas-Israel conflict are here.