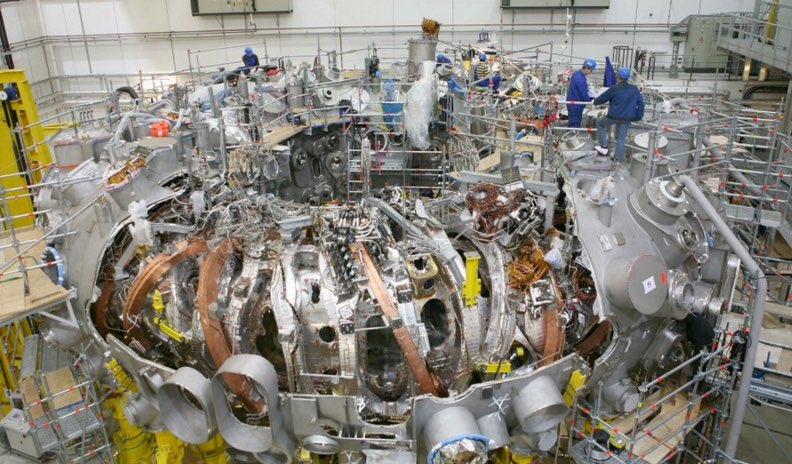 Germany is about to make a major scientific breakthrough in the field of nuclear fusion. Its Wendelstein 7-X (W7X) experimental fusion reactor is about to be injected with hydrogen, where scientists will hope to turn it into a sustained, super-hot plasma.
First hydrogen plasma at the Wendelstein 7-X stellarator at MPI Greifswald #fusion #energy pic.twitter.com/A754zZcJQb

-- Mattias Marklund (@MattiasMarklund) February 3, 2016
The fusion reactor, which mimics temperatures of the Sun, will be switched on by German chancellor Angela Merkel. Although workable and consistent nuclear fusion is likely decades away, this experiment is a major step forward towards this goal. Controlled nuclear fusion is a clean and nearly infinite source of energy that will benefit the world beyond measure.
This gif shows the layers of the Wendelstein 7-X (W7X) which took over 19 years and a billion dollars to construct.
The design of Germany's new fusion reactor, the Wendelstein 7-X, is the most nuts and bolts SFnal thing. I love it. pic.twitter.com/4Maxm3KNjV

-- James Smythe (@jpsmythe) February 3, 2016
Germany is undoubtedly the frontrunner in the field of clean nuclear energy, as this is the second time that it has fired up its experimental fusion reactor without complications.
Lead Stories' Trendolizer™ is constantly scouring the web for the hottest news, viral videos and images.
Follow us on Facebook and Twitter @LeadStoriesCom for your daily news.