The infamous fake news website News360 (meganews360.com) has reposted an old hoax article titled: "Popular Brunei Restaurant Closed Down For Serving Human Meat". The story starts:
A hotel restaurant in Bandar Seri Begawan, Brunei has been closed down by authorities for serving human flesh to consumers. According to our local correspondent, suspicious residents told police of rumors that the restaurant was cooking human meat for customers. Police then raided the restaurant, where they discovered processed human hands and fresh human heads that were still bleeding. The blood was in the process of being drained into a plastic bag.In addition to the illegal meat, authorities discovered automatic weapons, grenades, and cell phones. Ten people were arrested in conjunction with the crimes. For security reasons, the name of the restaurant is withheld for the mean time.
This story is a literal copy paste from earlier versions of the same fake story that placed the restaurant in Malta or Namibia. The only details that were changed were the location and the currency, just like the previous times this fake story was published.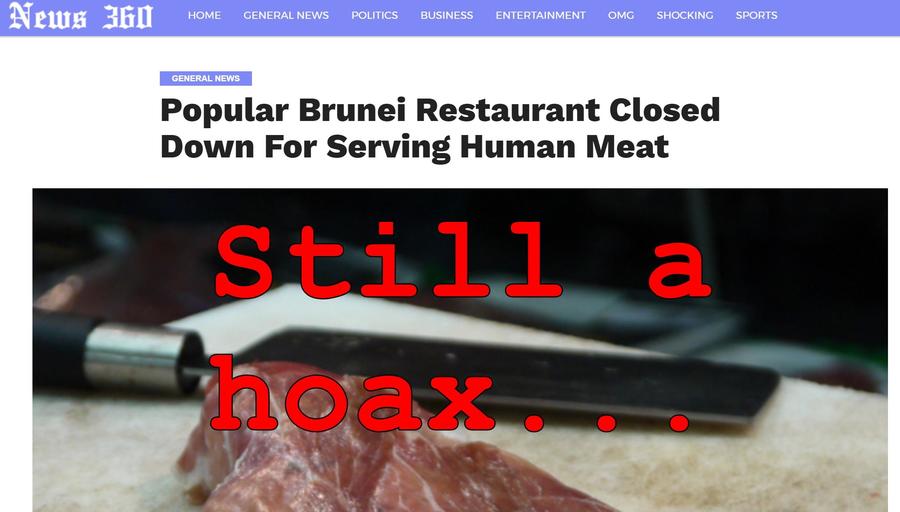 For reference: the image used with the story came from a publicity campaign for the video game Resident Evil 6 and consists of prosciutto and sausage.
The site posting the article appears to be part of a network of fake news websites that all have normal looking front pages with some generic news stories taken from other websites but which frequently publish hoax articles on other parts of the site that aren't immediately obvious to visitors. Some sites we've identified as probably being part of the network include:
cbn-tv.com
cnn-channel.com
fox-news24.com
metro-uk.com
news.cbn-tv.com
online.read-news.com
states-tv.com
meganews360.com
parliaments.eu
The latest version of the cannibal restaurant hoax is already gaining traction on social media as the Trendolizer graph at the end of this article shows. If you notice anyone spreading this fake news around you can help by pointing them to this article here because nobody likes being fooled by scammers trying to get you to click on dodgy ads.