Known fake news website News 360 (meganews360.com) posted another death hoax article titled: "BREAKING: Filipino Rapper And Actor Andrew Espiritu Dies In Tragic Car Crash" or alternatively "CONFIRMED: Filipino Rapper And Actor Andrew Espiritu Dies In Tragic Car Crash". The article opens:
Philippian rapper and actor, Andrew Espiritu passed away this morning after the vehicle he was travelling with fell into a ravine along the national highway in Santiago City.

Espiritu, along with driver Rhomel Alvarez, were on their way home from a showbiz in Manila when the accident took place in Purok 6, Brgy Sinsayon, Santiago City, authorities said.

The stand-up comedian according to the police died at the spot, suffering internal bleeding and the driver suffered minor injuries and was brought to a nearby hospital for treatment.
First clue the story is fake: the image that goes with the article is actually from a story about a major in the Philipines who died in a car crash in 2016.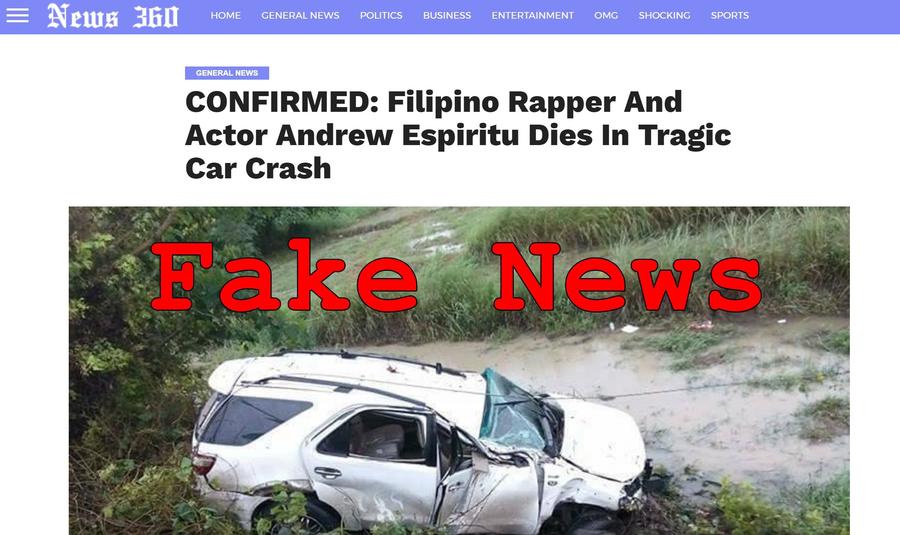 Second clue: a fake site from the same network ran another death hoax about Andrew E. just a few weeks ago, which was just as fake.
Third clue: it is quite unusual for dead people to still be posting pictures of themselves to instagram:
Which brings us to the last clue: meganews360.com appears to be part of a network of fake news websites that all have normal looking front pages with some generic news stories taken from other websites but which frequently publish hoax articles on other parts of the site that aren't immediately obvious to visitors. Some sites we've identified as apparently part of the network include:
cbn-tv.com
cnn-channel.com
fox-news24.com
metro-uk.com
news.cbn-tv.com
online.read-news.com
states-tv.com
parliaments.eu
Meanwhile the story is being shared around widely as you can see in the Trendolizer graph at the end of this article. If you notice anyone spreading the rumor around you can help by pointing them to this article here because nobody likes fake news.