Notorious fake/satire website World News Daily Report scored again with a hoax story titled: "BOSTON: MEMBERS OF MIDGET CRIME GANG SUSPECTED OF 55 BREAK-INS". The fake article opens:
Boston, MA | Three members of the so-called 'Irish mob midgets', a Boston-based criminal organization composed of people of short stature, have been arrested this morning reports the Boston Chronicle.
Later in the article the "Irish Mob Midgets" are described like this:
Although the Irish mob midgets officially describe themselves as a "non-profit motorcycle enthusiast group for small people of the Boston area", several high-profile members of the organization have been arrested in the past years on charges of drug-trafficking, arson and aggravated assault.
It would be quite difficult for the Boston Chronicle to talk about a group knowing about motorcycles: the Boston Chronicle was a newspaper published between 1767 and 1770 in Boston while the earliest (steam powered!) motorcycles didn't even appear until the 1860s.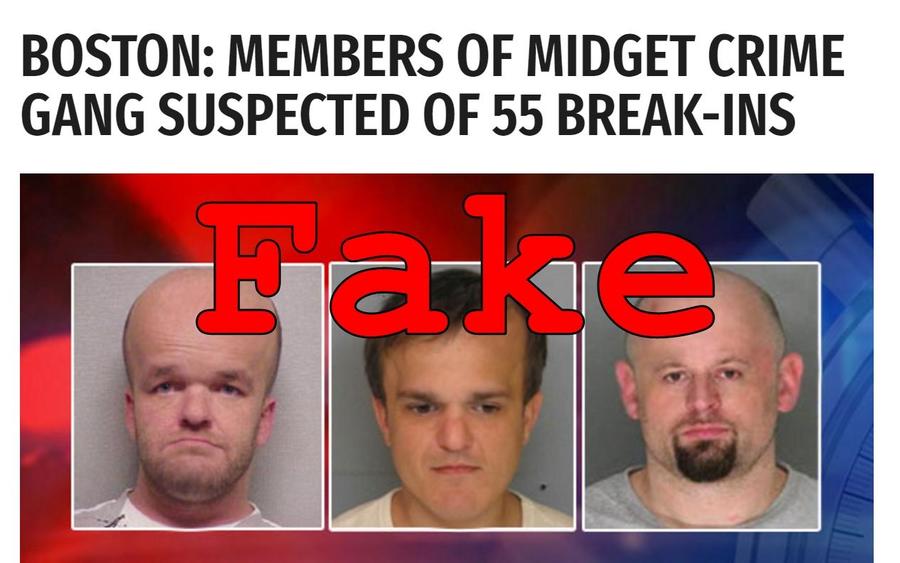 The website World News Daily Report is a well known hoax website specialized in posting hoaxes and made up stories. The disclaimer on their website is pretty clear about that even though you have to scroll all the way down the page to find it:
WNDR assumes however all responsibility for the satirical nature of its articles and for the fictional nature of their content. All characters appearing in the articles in this website - even those based on real people - are entirely fictional and any resemblance between them and any persons, living, dead, or undead is purely a miracle.
This is the second fake news viral smash hit for World News Daily Report in a few days as just last week they hit it big with another story about a woman alledgedly training squirrels to attack her ex boyfriend. That story earned them at least 1.9 million likes.
Their newest fake piece is also being shared around widely as you can see in the Trendolizer graph at the end of this article. If you notice anyone spreading it around as real you can help by pointing them to this article here because nobody likes being fooled by fake news.