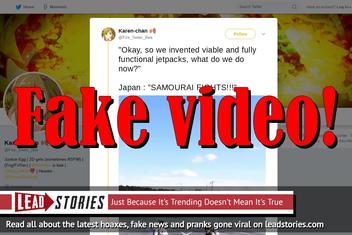 Are Japanese Samurai having fights in the air now, propelled by jetpacks? No, the videos that are circulating online that appear to be showing just that are staged with wires.
We spotted our first flying Samurai fight in a trending tweet (archived here) which we embedded below:
"Okay, so we invented viable and fully functional jetpacks, what do we do now?"

Japan : "SAMOURAI FIGHTS!!!" pic.twitter.com/X8dy5XTN23

-- Karen-chan 🍂 (@Fire_Sister_Bee) March 24, 2018
After a little bit of searching we already found several copies of the video online on YouTube, here is an example:
And another one on Facebook with almost a million-and-a-half views:
This seems to be the original Japanese version, from March 20, 2018 (archived version here):
The Japanese caption reads:
森翔太:技術「ジェット侍 -未来のスポーツを考えよう-」【私立スマホ中学】

私立スマホ中学特設サイト
➡http://softbank.eng.mg/51891

総勢32名を超える先生たちの授業動画が無料公開!
学校では学べない授業がここに。
Which Google translates as:
Shota Mori: Technology "Jet Samurai - Let's think about future sports" - [Private Self-Assembled Middle School]

Private Self-Service Junior High School Special Site
➡http: //softbank.eng.mg/51891

Teacher videos of over 32 students are released for free!
Here is a class that can not be learned at school.
From analyzing the video it is pretty obvious the whole thing is staged and that the two people are suspended by wires. Observe when they push against each other: they both swing outward, then back, like a pendulum would. The "jetpacks" also swing around wildly at some points yet the wearers don't fly off in every direction as you would expect them to do if they were really producing thrust.
That, and at the end of the video you can actually see the shadow of the crane they used near the bottom of the frame.