Did a passenger plane full of illegal immigrants fly over the U.S. border in an attempt to parachute across and did it all go horribly wrong for them with the skydivers landing directly in a New Mexico prison named "La Maga Laro State Prison" where they were caught by ICE?
No such thing happened: the story originated with an article from satirical website Daily World Update published on March 17, 2018 titled "Passenger Plane Full Of Illegals Skydives To America, Land Inside A Prison" (archived here) which opened:
Sometimes, the headlines just write themselves. I mean, we write them, but they're just so easy. Such is the case with a passenger plane full of illegals who tried to skydive to safety and landed inside a prison.

New Mexico's WQRT News reports:

23 illegal immigrants were detained by ICE early Saturday morning after an ill-fated parachute jump from a plane flying across the border.

The 20 men and 3 women apparently paid a hefty price to be allowed to jump from the plane (the "coyote" flying it was found with 143,627 pesos on him), but they landed in another place where they will pay a hefty price -- La Maga Laro State Prison, which sits along a length of existing border fence.

There was "some confusion" according to prison warden Martin Shanks, but "the attempted border crossers were swiftly rounded up and ICE was contacted immediately."
There are several clues hidden in the story that tell you it is fake. First of all, WQRT isn't even a station in New Mexico, it serves Indianapolis. Secondly, there is no "La Maga Laro State Prison" but "La Maga Laro" is an anagram for "Mar-a-Lago", the location of President Trump's Florida vacation home and golf club. Finally: in this earlier article debunking rumors about a "truckload of illegals" voting coming from the same website I jokingly remarked:
The next story will undoubtedly feature a "trainload of illegals" or maybe a "passenger plane full of illegals"...
It seems that has now happened and by a remarkable coincidence that prison warden's name "Martin Shanks" sounds suspiciously similar to my own name...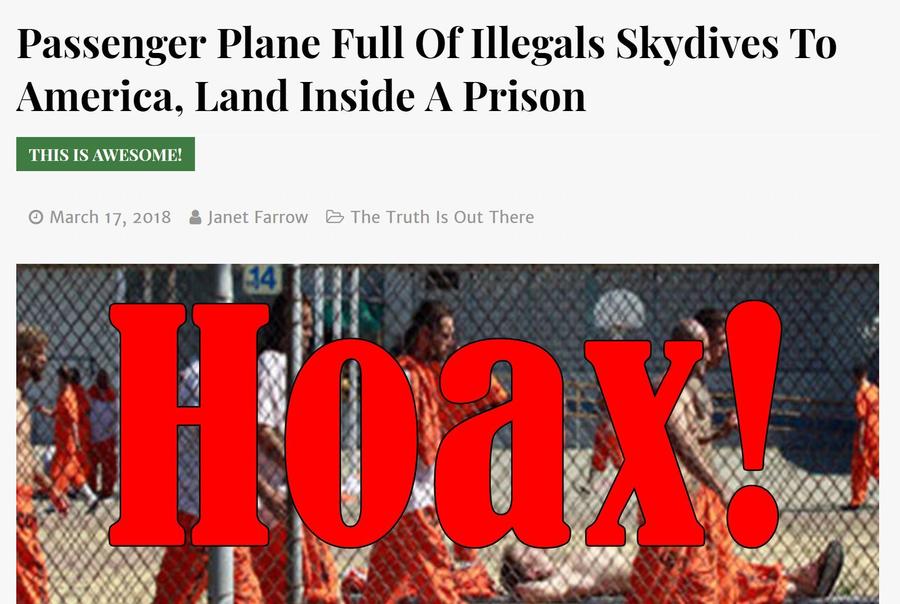 The site Daily World Update comes with a clear satire disclaimer at the bottom of each article:
sat·ire ~ˈsaˌtī(ə)r
noun
the use of humor, irony, exaggeration, OR ridicule to expose and criticize people's stupidity or vices, particularly in the context of contemporary politics and other topical issues.
If you disagree with the definition of satire or have decided it is synonymous with "comedy," you should really just move along.
The owner and main writer of the site is self-professed liberal troll Christopher Blair, a man from Maine who has made it his full time job to troll gullible conservatives and Trump supporters into liking and sharing his articles. He runs several other websites such as ladiesofliberty.net, shareotonin.com and dailyworldupdate.com. Sometimes he is also known under his nickname "Busta Troll". He has at least one accomplice who writes under the pen names "Freedom", "Captain Jellypants", "Butch Mannington" or "Captain Buck Atlantis".
Articles from Blair's sites frequently get copied by "real" fake news sites who often omit the satire disclaimer and any other hints the stories are fake. Blair has tried to get these sites shut down in the past but new ones keep cropping up and he keeps knocking them down.
If you see one of his stories on a site that does not contain a satire disclaimer, assume it is fake news. If you do see the satire disclaimer it is of course also fake news.