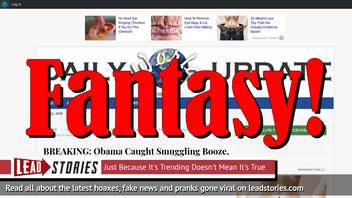 Was a ship named the "My Michelle" smuggling drugs, underage girls and alcoholic beverages to Iran linked to former President Barack Obama? No, that's not true: the entire story was made up from A to Z by a site that specializes in fictional satire stories designed to get conservatives and Trump supporters angry enough to share them without checking so they can then be mocked by fans of the site. The article making the claims was not real.
It was published by Daily World Update on May 22, 2018 with the headline "BREAKING: Obama Caught Smuggling Booze, Drugs And Underage Girls Into Enemy Territory" (archived here) and opened:
A leaked email from inside the Justice Department confirms that a secret investigation is underway to determine if federal agents can link Barack Obama to a container ship boarded just off the coast of Tehran, Iran. The ship, named "My Michelle," was carrying several containers of contraband.

More than 30K kilos of heroin and 60K kilos of cocaine were found in one container. Another contained underage girls taken from white, Christian homes to be sold into Muslim slavery. One container was full of American and Canadian alcohol. Cases upon cases of bourbon and fun-flavored vodkas.

The most damning evidence was a briefcase in the Captain's possession with a dozen Cuban cigars, a million dollars in cash and a note that said "Sorry about the nuke deal, my bad." It was signed "O."
Users on social media only saw this title, description and thumbnail:
There's no way to explain your way out of something like this.
The words "a secret investigation" linked to a picture of Obama making a shushing gesture and the words "most damning evidence" linked to a video titled "Why Do Stupid People Not Realize They Are Stupid?":
The drone picture used to illustrate the story is just stock video footage:
Drone Cam Footage Night Vision Camera 4 royalty free stock video and stock footage. Download this video clip and other motion backgrounds, special effects, After Effects templates and more.
And of course Tehran in Iran is sixty miles from the nearest coastline (of the landlocked Caspian Sea) and four hundred miles from the nearest coastline that borders a sea that is actually connected to international shipping lanes (the gulf of Persia).
So it is no surprise Daily World Update comes with a clear satire disclaimer at the bottom of each article:
sat·ire ~ˈsaˌtī(ə)r
noun
the use of humor, irony, exaggeration, OR ridicule to expose and criticize people's stupidity or vices, particularly in the context of contemporary politics and other topical issues.
If you disagree with the definition of satire or have decided it is synonymous with "comedy," you should really just move along.
The owner and main writer of the site is self-professed liberal troll Christopher Blair, a man from Maine who has made it his full time job to troll gullible conservatives and Trump supporters into liking and sharing his articles. He runs several other websites, including potatriotpost.us, dailyworldupdate.us and nofakenewsonline.us. Sometimes he is also known under his nickname "Busta Troll". A second man working on the sites is John Prager as revealed in this earlier story we wrote.
Articles from Blair's sites frequently get copied by "real" fake news sites who often omit the satire disclaimer and any other hints the stories are fake. Blair has tried to get these sites shut down in the past but new ones keep cropping up and he keeps knocking them down.
If you see one of his stories on a site that does not contain a satire disclaimer, assume it is fake news. If you do see the satire disclaimer it is of course also fake news.
We wrote about dailyworldupdate.us before, here are our most recent articles that mention the site: