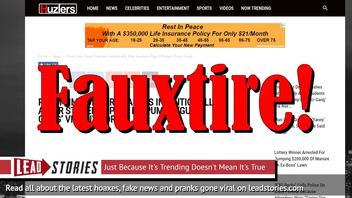 Did prom limo driver Thomas Patt from Miami drive into oncoming traffic because the teens he was transporting to prom played Lil Pump's "Gucci Gang" over the car stereo? No, that's not true: the story was made up by a site that invents fictional stories about bizarre crimes or accidents for entertainment purposes. It is not real.
The story originated from an article published on May 22, 2018 on Huzlers titled "Prom Limo Driver Crashes Intentionally After Students Play Lil Pump's 'Gucci Gang' Via Aux Cord" (archived here) which opened:
MIAMI - Prom night ended in disaster for a group of teens in Miami after the limousine driver allegedly swerved onto oncoming traffic and crashing he vehicle.

Although a major accident, the driver and all passengers, all 14 of them, walked away with no life-threatening injuries. According to students inside the vehicle, the limo driver suddenly swerved onto oncoming traffic in what seemed as an intentional suicide-like attempt to crash and kill everyone in the vehicle as soon as one of the students began playing Lil Pump's 'Gucci Gang' via aux cord.
The picture of the car crash is from a 2016 accident in which a drunk driver rammed a limousine:
A Suffolk County judge dropped all criminal charges against the limousine driver whose U-Turn into an oncoming pickup truck killed four young women touring Long Island's wine country - enraging family members in court who decried the decision. "How could you look at him and do this? He doesn't deserve it!"
The photo of the "driver" is actually Brett Hollingsworth, who was beaten up by someone he was stabbing:
BOISE, Idaho - A Boise man has been charged with aggravated battery after stabbing a victim multiple times, according to the Boise Police Department. BPD officers responded to a stabbing report at a home near South Phillippi Street and Grover Street at 9:04 p.m. on Wednesday, February 3rd.
Huzlers styles itself as a "fauxtire" website and carries a disclaimer at the bottom of each page:
Huzlers.com is the most infamous fauxtire & satire entertainment website in the world. If it's trending on social media you'll find it here!
According to Splinter News the site is run by Pablo Reyes and David Martinez and according to Buzzfeed Reyes is involved with several other fake news websites. They tend to shy away from political stories, opting instead to write for a more "urban" audience, with stories about rappers, criminals and celebrities.
We wrote about huzlers.com before, here are our most recent articles that mention the site: