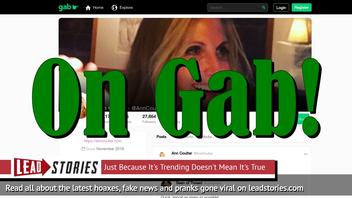 Is conservative writer and commentator Ann Coulter really on the Gab social network? Yes, it appears the @AnnCoulter account is indeed her own, as announced by the service's founder Andrew Torba on Gab and Twitter (where the announcement was retweeted by Coulter's own account).
Coulter's profile appeared a few days ago, probably on November 18, 2018 using the name @AnnCoulter (archived here). Initially it was just regabbing (= Gab's version of retweeting) other content but yesterday an actual post appeared (archived here):
I'll be on the Mark Simone show 710-WOR-NY tomorrow at 11:30am - tomorrow, MONDAY, not my usual Wednesday hit.
The Gab social network advertises itself as:
A social network that champions free speech, individual liberty and the free flow of information online. All are welcome.
In practice this means the service has become a haven for people banned on other networks, for example Alex Jones (of Infowars fame), Milo Yiannopoulos (formerly Breitbart) or Christopher Cantwell (the crying Nazi, look it up):
(null)
Based Faggot The DANGEROUS audiobook is now available! Let me read my book to you. http://amzn.to/2xaR2ZE
Former political prisoner. Current host of Radical Agenda. The most entertaining podcast on the Alt Right.
Andrew Torba, the site's founder, announced Coulter joining the network via this tweet
So nice as always to see fellow freedom fighter and patriot @AnnCoulter

Give her a follow on Gab, she's going to start posting soon: https://t.co/ABTl8RGa6r pic.twitter.com/DVZCDAIviB

-- Gab.com🕊 (@getongab) November 18, 2018
Coulter then retweeted it from her official Twitter account: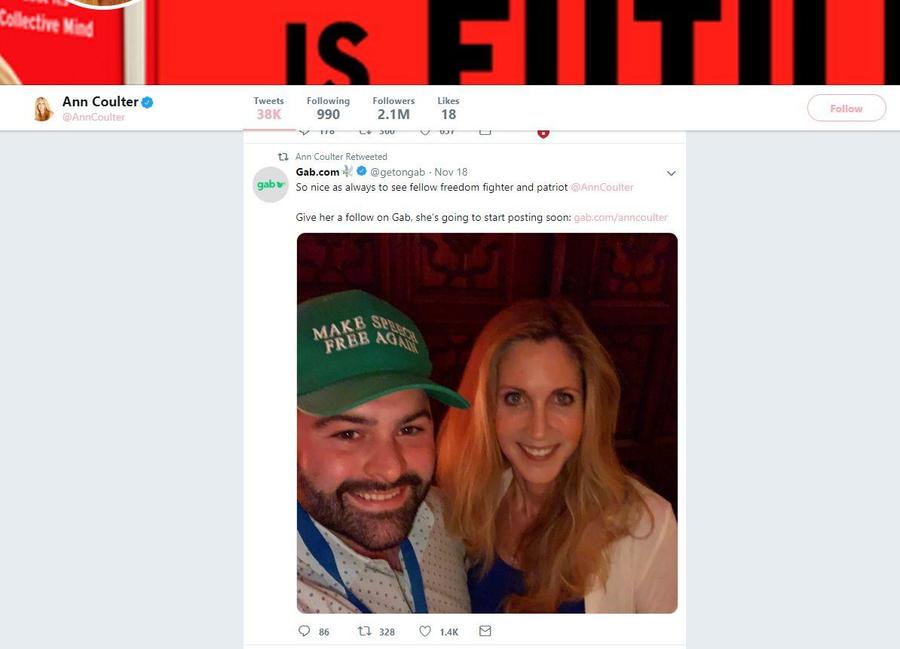 Torba took to his own Gab account to confirm the news, since many people seemed to doubt it:
Guys, yes it is really her. Not sure how much more evidence I can provide lol: