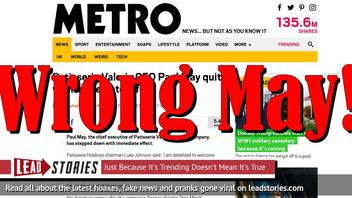 Did Theresa May resign with immediate effect from her position of U.K. Prime Minister today? No, that's not true: a story from a British news website about a CEO named Paul May who quit his job was initially published with a misleading headline. The headline was later changed but the original headline kept circulating on social media making the article go massively viral.
The story originated from an article published by Metro on November 15, 2018 titled "May quits with immediate effect after poor performance" (archived here) which opened:
Paul May, the chief executive of Patisserie Valerie's parent company, has stepped down with immediate effect. Patisserie Holdings chairman Luke Johnson said: 'I am delighted to welcome Steve Francis as new CEO at Patisserie Holdings PLC. 'He has a strong track record of restoring value in turnaround situations, especially in the food industry, and the board looks forward to working with him in the revival of the business.'.
But users on social media only saw this title, description and thumbnail initially:
Serious questions are being asked about the management.
The story was actually about Paul May, who resigned as CEO of Pattisserie Holdings:
The chief executive of troubled café chain Patisserie Valerie has resigned with immediate effect, weeks after shareholders approved a rescue deal for the company. Patisserie Holdings' CEO Paul May resigned on Thursday to be replaced by turnround specialist Stephen Francis, effective immediately.
As can be seen in this tweet (archived here) from Richard Hartley-Parkinson (the writer at Metro who published the article) the original title was different:
May quits with immediate effect after poor performance https://t.co/QqRY1nlRrs via @MetroUK

-- Richard HP (@richardhp) November 15, 2018
He also posted it on Facebook with that headline (archived copy):
The article was posted under that headline to r/labour on Reddit too:
We also found this version of the headline floating around the internet:
May quits with immediate effect after poor performance at Patisserie Valerie
Currently the headline reads:
Patisserie Valerie CEO Paul May quits with immediate effect
Theresa May is still Prime Minister until further notice.