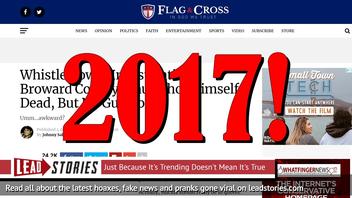 Did a whistleblower investigating 2018 election fraud shoot himself and was no gun recovered from the scene? No, that's not true: a political website run by a marketing firm ran a story about Beranton J. Whisenant, Jr., a federal prosecutor who did indeed kill himself but he was not investigating 2018 election fraud (or any election fraud) because he died in 2017. There is no connection with the 2018 elections in Florida.
The story originated from an article published by Flag & Cross on November 15, 2018 titled "Whistleblower Investigating Broward County Fraud Shot Himself Dead, But No Gun Found" (archived here) which opened:
Beranton J. Whisenant, Jr., a federal prosecutor, committed suicide in May 2017.

Actually, suicide should really be in quotes.

The official report said Whisenant, 37, shot himself in the head, which means a gun would've been found right next to his body - unless a passerby managed to swipe it before authorities showed up.

The thing is, a gun was never found.

Whisenant was handling visa and passport fraud cases in Democrat Florida Congresswoman Debbie Wasserman Schultz's district in Broward County at the time of his death.
Users on social media only saw this title, description and thumbnail so most of them would have thought this was about 2018:
Umm...awkward?
Nowhere in that description or headline does it say "2017" although the article does mention it in one of the first paragraphs (but most people who like/share/comment on a story on social media only get to see the description there and they never click through to the article itself).
It is indeed true that no gun was found at the scene of the man's death but that is less sinister than it sounds. The article fails to note the Whisenant's body was found on the beach, in the surf. It is perfectly plausible for the gun to have washed out to sea as investigators noted. The man had also just broken up with his wife so suicide is not an unlikely theory. All of this can be found in the 2017 Miami Herald coverage of the investigation:
One evening in May, federal prosecutor Beranton J. Whisenant Jr. confronted his wife, Ebony, about ending their marriage, then left their Miramar home in his gray Lexus sedan. Around midnight, she reached him by cellphone and he told her that he was going to Hollywood beach by the Diplomat Hotel.
NewsGuard, a company that uses trained journalist to rank the reliability of websites, describes flagandcross.com as:
A website that covers politics, faith, and entertainment from a conservative, hyper-partisan perspective.
According to NewsGuard the site can generally be trusted to maintain journalistic standards. Read their full assessment here.
However the site flagandcross.com seems to be run by a company named Romulus Marketing according to WHOIS data:
Registrant Contact
Organization:
Romulus Marketing
State:
Georgia
Country:
US
That company appears to be running several other hyperpartisan conservative websites:
greatamericanpolitics.com
keepandbear.com
patriotoutdoornews.com
teapartyactionnetwork.com
The post was widely shared on conservative Facebook pages and groups, with many comments making it clear people believed it to be a story about the 2018 election and suspecting foul play.
Seems like an irresponsible marketing firm is subtly encouraging conspiracy thinking for profit. Not illegal. But definitely not nice.