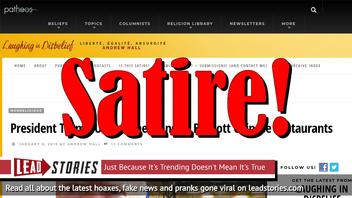 Did President Donald Trump use Twitter to urge Americans to boycott Chinese restaurants as part a trade war with China? No, that's not true: the story was made up by a satirical website. It is not real.
The story originated from an article published by Laughing in Disbelief on Patheos.com on January 9, 2019 titled "President Trump Urges Americans To Boycott Chinese Restaurants" (archived here) which opened:
Washington DC - President Trump addressed the country last night about the need for a border wall with Mexico. He made what many consider to be an awkward attempt to make his case to the American people. His presentation was stilted, wooden, and had none of the unhinged flair Trump's supporters have come to expect.

They did not need to wait for long before Trump reverted back to form.

Americans Against Chinese Restaurants
Within minutes of ending his border wall appeal, the commander-in-chief took to Twitter to talk about the trade war with China. Not only did he call for more tariffs, but he urged Americans to boycott Chinese restaurants.
Users on social media only saw this title, description and thumbnail so they would not have noticed it was a satirical story:
President Trump says we need a border wall with Mexico and a boycott of Chinese restaurants.
The tweets mentioned in the article don't exist and were never sent out by Trump's Twitter account. They supposedly read:
China is taking us to the cleaners. Every dollar we give them enables this tragedy to go on. We are in a crisis. Americans need to stop ordering take out from Chinese restaurants. When eating in these places we need to stand up and walk out without paying the bill. #MAGA
and
This is going to be tough. We can do it. Look, I'm suffering, too. I love pu-pu platters. It's my favorite ethnic food. And General Gau makes a mean chicken. So crispy and saucy. He's a great man. I'm making him Secretary of Defense and Delicious Chicken.
NewsGuard, a company that uses trained journalist to rank the reliability of websites, describes patheos.com as:
A website that publishes commentary from a range of religious leaders and thinkers and provides a "Religion Library" with information on more than 20 faiths.
According to NewsGuard the site can generally be trusted to maintain journalistic standards. Read their full assessment here.
However the "Laughing in Disbelief" section of Patheos has a satire disclaimer:
Have you clicked a link to a story and you're here?

The story you are reading is satirical. The post may have links to real events that the satire is based on, but the Laughing in Disbelief article is fake.

There are winks to readers in each piece besides the link(s) to this page that I humbly offer as hints that the story in question is satirical.
We wrote about patheos.com before, here are our most recent articles that mention the site: