STORY UPDATED: check for updates below.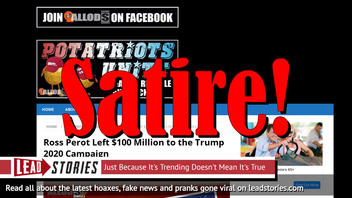 Did Ross Perot leave $100 million to the Trump campaign after he passed away on July 9, 2019? No, that's not true. The story was published by a liberal satire website that tries to educate gullible Trump supporters and Republicans about the need to actually click and read links before sharing or liking them in order to avoid being embarrassed by fans of the site later. All the events described in the article are not real.
The story originated from an article published on July 9, 2019 titled "Ross Perot Left $100 Million to the Trump 2020 Campaign" (archived here) which opened:
Ross Perot was born in the desert with no shoes on his feet. From there, he made himself into one of the most powerful men in America. A man -- some say -- who would have been President had he played the 1992 election differently. That man is returning to that desert, to be with Jesus for eternity, but not before doing one more thing for his country.

Ross Perot's will explicitly instructs his 11 children to donate $9 million each to the Trump 2020 campaign. All 11 of them, Billy, Bobby, Lou, Kieth, Brenda, Gwen, Danny, Linda, Barb, Mary, Lorraine, and Joe, agreed immediately. The funds will be transferred by the end of the day tomorrow.

Perot's family says he was an avid Trump supporter and wanted the Trump agenda to move forward. His spokesman for the past 37 years, Art Tubolls, told us that Mr. Perot was aligned with the President's ideals.
Users on social media only saw this title, description and thumbnail:
He was born in the desert with no shoes on his feet.
The story was posted in the "Celebrity Fan Fiction" category and "Art Tubolls" is an anagram for "Busta Troll" (the owner of the website initially making the claim). And of course Perot only had five children (named Ross Jr., Nancy, Suzanne, Carolyn, and Katherine). About the only true part of the story is that Perot passed away:
(Reuters) - H. Ross Perot, the feisty Texas technology billionaire who rattled U.S. politics with two independent presidential campaigns in the 1990s that struck a chord with disgruntled voters, died on Tuesday at the age of 89, his family said.
NOTE: there were some reports Perot donated a few thousand dollars to the Trump campaign before he died. That still is over $99,990,000 short of what the satirical story is claiming. And Fox News has updated their initial reporting on the donation, saying it was not Perot but his son who made the donation:
Editor's Note: A previous version of this report wrongly attributed the Trump donation to Ross Perot Sr. The populist campaigns of Ross Perot, who died Tuesday at the age of 89, were widely seen as having paved the way for the eventual election victory of Donald Trump. But his family boosted Trump in other ways - earlier this year, his son Ross Perot Jr. donated to Trump's re-election campaign.
The site that published the satirical story is part of the "America's Last Line of Defense" network of satire websites run byself-professed liberal troll Christopher Blair from Maine along with a loose confederation of friends and allies. Blair has been in a feud with fact checking website Snopes for some time now and has also criticized other fact checkers in the past who labeled his work "fake news" instead of satire. In reaction to this he has recently rebranded all his active websites and Facebook pages so they carry extremely visible disclaimers everywhere.
Every site in the network has an about page that reads (in part):
About Satire
Before you complain and decide satire is synonymous with "comedy":

sat·ire
ˈsaˌtī(ə)r
noun
The use of humor, irony, exaggeration, or ridicule to expose and criticize people's stupidity or vices, particularly in the context of contemporary politics and other topical issues.

Everything on this website is fiction. It is not a lie and it is not fake news because it is not real. If you believe that it is real, you should have your head examined. Any similarities between this site's pure fantasy and actual people, places, and events are purely coincidental and all images should be considered altered and satirical. See above if you're still having an issue with that satire thing.
Articles from Blair's sites frequently get copied by "real" fake news sites who often omit the satire disclaimer and any other hints the stories are fake. Blair has tried to get these sites shut down in the past but new ones keep cropping up.
Blair and his operation were profiled by the Washington Post on November 17, 2018 by Eli Saslow:
November 17 The only light in the house came from the glow of three computer monitors, and Christopher Blair, 46, sat down at a keyboard and started to type. His wife had left for work and his children were on their way to school, but waiting online was his other community, an unreality where nothing was exactly as it seemed.
If you are interested in learning more about Blair and the history of his sites, here is something to get you started:
STORY UPDATED: check for updates below. Yesterday Eli Saslow at the Washington Post wrote a fantastic article about Christopher Blair, a man from Maine who has been trolling conservatives and Trump supporters online for years and occasionally even made a living out of it.
If you see one of his stories on a site that does not contain a satire disclaimer, assume it is fake news. If you do see the satire disclaimer it is of course also fake news.
NewsGuard, a company that uses trained journalist to rank the reliability of websites, describes potatriotsunite.com as:
A site that publishes false stories and hoaxes that are often mistaken for real news, part of a network named America's Last Line of Defense run by hoax perpetrator Christopher Blair.
According to NewsGuard the site does not maintain basic standards of accuracy and accountability. Read their full assessment here.
2019-07-10T22:11:37Z

2019-07-10T22:11:37Z

Added update about reported donation by Perot's son.

2019-07-10T08:13:29Z

2019-07-10T08:13:29Z

Fixed wrong month in date of Perot's death, changed June to July. Hat-tip to eagle-eyed reader Scott King for notifying us.