STORY UPDATED: check for updates below.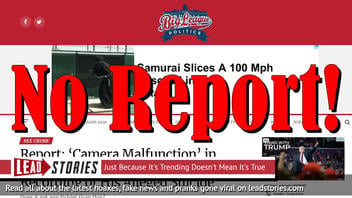 Is there a report that a "camera malfunction" in Jeffrey Epstein's prison cell prevented recording of his alleged suicide? No, that is not true: There were no media reports that a camera monitoring inside Epstein's cell malfunctioned in the hours before the accused sex traffickers death on Saturday August 10, 2019. There were tweets from a political marketing executive. These are not "reports" and they offer no sourcing that warrants any legitimate news site to echo the claim.
Updated August 29, 2019: The Washington Post reported more than two weeks after Epstein's death that some of the video captured by a jail camera in the hallway OUTSIDE the cell was "unusable," but that another camera recorded "clearer footage" of the area. Many of the false reports claimed this involved video of what happened inside the cell, but there is no indication a camera was inside the cell. The Post attributed the information to three people who had been briefed on the evidence.

The story originated from an article published by BigLeaguePolitics.com on August 10, 2019 titled "Report: 'Camera Malfunction' in Epstein's Prison Cell Prevented Recording of His Alleged Suicide" (archived here) which opened:
Does it get any fishier than this?

The reported suicide of Democrat-affiliated sex predator Jeffrey Epstein earlier this morning has journalists and other concerned citizens demanding answers.

But they shouldn't expect any to arise soon, if ever, as a report from New Right founder Michael Coudrey indicates that a mysterious camera malfunction has prevented any footage of Epstein's alleged suicide from being captured.
Users on social media only saw this title, description and thumbnail:
Does it get any fishier than this?
The basis for this story is a tweet posted by marketing executive Michael Coudrey, whose website says he provides "'digital information warfare' services to political candidates across the country." He tweeted "BREAKING: Alleged 'camera malfunction' last night at MCC where Jeffrey Epstein was locked up."
BREAKING: Alleged "camera malfunction" last night at MCC where Jeffrey Epstein was locked up.#EpsteinFiles

-- Michael Coudrey (@MichaelCoudrey) August 10, 2019
Updated August 29, 2019: The information from the Washington Post sources (who were not named by the newspaper) supports Coudrey's tweet that there was a "camera malfunction" at the MCC. Coudrey told us this in a direct message via Twitter:
I apologize for not being able to elaborate about my sourcing at the time, but it was a very sensitive information.
Lead Stories has lifted the false rating on that tweet, but subsequent tweets by Coudrey did contain information that is disproven by the same reporting that verified his first claim. Contrary to what he wrote, there was clear video of the hallway outside the cell. The Washington Post reported on August 26, 2019:
At least one camera in the hallway outside the cell where authorities say registered sex offender Jeffrey Epstein hanged himself earlier this month had footage that is unusable, although other, clearer footage was captured in the area, according to three people briefed on the evidence gathered earlier this month.

It was not immediately clear why some video footage outside Epstein's cell is too flawed for investigators to use or what is visible in the usable footage. The incident is being investigated by the FBI and the Justice Department's inspector general's office, which are attempting to determine what happened and how to assess whether any policies were violated or crimes committed.
There are many questions about how Epstein could have hung himself in his cell just two weeks after prison officials announced he had attempted suicide and failed. There is conflicting information about if Epstein was on suicide watch, under which jail guards would check on him frequently. Reuters reports that he was not.
CNN's Justice Department reporter noted in a tweet that the prison confirmed Epstein was in the special housing unit, not where suicide watch is provided:
Significant - Jail officials in statement say Epstein was in the Special Housing Unit at the MCC. This is important cause it means he was supposed to get special attention. So what happened here?

-- Shimon Prokupecz (@ShimonPro) August 10, 2019
The Justice Department released this statement in the hours after Epstein's death:
On Saturday, August 10, 2019, at approximately 6:30 a.m., inmate Jeffrey Edward Epstein was found unresponsive in his cell in the Special Housing Unit from an apparent suicide at the Metropolitan Correctional Center (MCC) in New York, New York. Life-saving measures were initiated immediately by responding staff. Staff requested emergency medical services (EMS) and life-saving efforts continued. Mr. Epstein was transported by EMS to a local hospital for treatment of life-threatening injuries, and subsequently pronounced dead by hospital staff. The FBI is investigating the incident.
U.S. Attorney General WIlliam Barr promised a full investigation in a statement Saturday:
I was appalled to learn that Jeffrey Epstein was found dead early this morning from an apparent suicide while in federal custody. Mr. Epstein's death raises serious questions that must be answered. In addition to the FBI's investigation, I have consulted with the Inspector General who is opening an investigation into the circumstances of Mr. Epstein's death.
Former New York mayor and Trump lawyer Rudy Guiliani expressed his own suspicions about a malfunctioning camera in a tweet Saturday afternoon, but he soon delete the tweet. It read:
What does the word suicide mean in the phrase suicide WATCH? Who was watching? Did they fall asleep? Did the camera malfunction? Was there camera surveillance? Who was he about to implicate? This is very questionable. Committing suicide on suicide watch doesnt happen.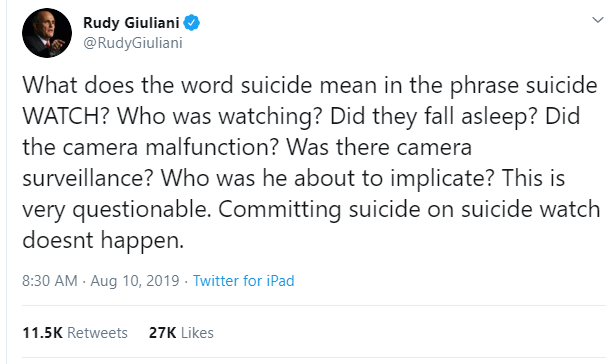 NewsGuard, a company that uses trained journalist to rank the reliability of websites, describes bigleaguepolitics.com as:
A conservative political site owned by a political consultant that has published false and misleading headlines and stories and that does not correct errors.
According to NewsGuard the site does not maintain basic standards of accuracy and accountability. Read their full assessment here.
We wrote about bigleaguepolitics.com before, here are our most recent articles that mention the site:
2019-08-29T14:17:16Z

2019-08-29T14:17:16Z

Update August 29, 2019 - adding sourced reports that while one camera malfunctioned, resulting in 'unusable' video in the hallway outside Epstein's cell, another camera recorded 'clear video.'

2019-08-11T02:32:57Z

2019-08-11T02:32:57Z

Update at 10:30pET - added Justice Dept statement confirming Epstein was in the special housing unit

2019-08-10T20:09:21Z

2019-08-10T20:09:21Z

Update at 4:15pET - Rudy Guiliani deletes his "camera malfunction" tweet