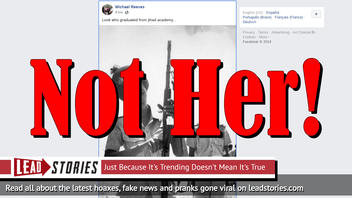 Does a black-and-white photo of a uniformed Somali woman with a rifle show Rep. Ilhan Omar attending a Jihad Academy? No, that's not true: The image used to suggest the Minnesota congresswoman attended military training to take part in a Jihad is from 1978, four years before Rep. Omar was born. The woman is pictured wearing a Somali Army uniform -- which at the time was a U.S. ally -- and there is no evidence she was involved in a terrorist organization.
The misrepresented image has been shared on social media, including from a post (archived here) published on August 20, 2019 under the title "Look who graduated from jihad academy..." Some of the comments below the photo read:
Ilhan

Omar what ever her last name is

And this is one of the new faces of the Democratic party..this is a person deciding our future of that docent shake you up there is something wrong with you.

How is she not on watch list. She should have been taken out

She has an AK, but she wants your guns...

Well, well, well.....seems we have a Jihadi in Congress.

Praying she does not get reelected
This is what social media users saw:
Someone of another race may not be able to easily discern one young Somali woman from another, but a reverse image search of this photograph revealed several instances of the image, including one captioned "Somali lady in uniform February 28th, 1978". Somalia was allied with the United States in 1978, a time when it was ending an unsuccessful war with Ethiopia, which was allied with the Soviet Union. Instead of Jihad Academy, the woman may have been trained by the U.S. military.
Ilhan Omar was born in Mogadishu, Somalia, in 1982 -- four years after the photograph was taken. She was just two when her mother died. Her father, who was a teacher, moved the family to a refugee camp in Kenya to escape the civil war when she was eight. Omar was admitted to the United States as a refugee in 1994 and eventually settled in Minnesota, according to her official biography.
Instead of attending a Jihad Academy -- or even a Somali bootcamp -- Omar was educated in Minnesota, her bio said:
As a student at Edison High School in Minneapolis, she became an organizer and has been a coalition builder ever since. She worked as a community educator at the University of Minnesota and has been a devoted progressive activist in the DFL party for many years. Before running for office, Ilhan was a Humphrey Policy Fellow and served as a senior Policy Aide for a Minneapolis City Council Member. Through advocacy work with which she's been involved, she's advanced important issues, including support for working families, educational access, environmental protection, and racial equity.