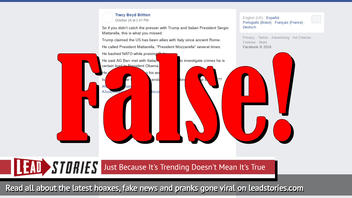 Did President Donald Trump call Italian President Mattarella "Mozzarella" during a press conference or public Oval Office meeting? And did he claim that the United States and Italy have been allies since the time of ancient Rome? No, that's not true: Trump did not say any of this.
The claims were made in a Facebook post (archived here) with following text:
So if you didn't catch the presser with Trump and Italian President Sergio Mattarella, this is what you missed:

Trump claimed the US has been allies with Italy since ancient Rome.

He called President Mattarella, "President Mozzarella" several times.

He bashed NATO while praising Putin.

He said AG Barr met with Italian Intelligence to investigate crimes he is certain lead to President Obama.

He was noticeably slurring his words. Again.

Is it any wonder the Italian translator was looking at Trump like this??
This is what the post looked like:
Here is the video with the interpreter, it shows Trump meeting with the Italian President in the Oval Office. Her reactions are clearly not about the quotes mentioned in the Facebook post because they don't happen in that video:
There is also video of a later press conference, but several of the things described in the Facebook post also don't happen in it:
At 0:15 you can hear Trump pronounce Mattarella. To us it sounds a bit like "Maddarallo" but definitely not like "Mozzarella".
According to PronounceNames.com this is how you are supposed to say the name of the Italian President:
This is how "mozzarella" normally sounds:
Both don't really sound like what Trump says.
And there were indeed some remarks about ancient Rome around the one minute mark in the video:
The United States and Italy are bound together by a shared cultural and political heritage dating back thousands of years to ancient Rome.
That's a far cry from "being allies" since those days. Italy and the United States do share a lot of cultural and political heritage: both countries are republics and they both have a senate that is inspired by the one they had in ancient Rome. And a brief stroll through Washington and present-day Rome is enough to notice the many similarities in architecture for government buildings, courthouses, monuments etc. that are also inspired by the ancient Romans. Both countries also use a calendar based on the Julian calendar introduced by Julius Caesar. And the legal systems of both nations still use plenty of Latin words and phrases.
With respect to some of the other claims: Trump did seem to say he believed there were crimes commited during the 2016 election that lead back to President Obama:
(Speaks English.) Mr. President, I would like to ask you, on September 27, Attorney General Barr has been in Rome to meet with Italian intelligence officials. I would like to know if you personally talked with Prime Minister Conte to arrange this meeting, which kind of information Attorney General Barr was looking for, and if you were satisfied from the information the Italian intelligence gathered for you. Thank you.

PRESIDENT TRUMP: Well, I don't know the details; I just know that our country is looking into the corruption of the 2016 election. It was a corrupt election, whether it's Comey; or McCabe; or Strzok or his lover, Lisa Page -- the two great lovers. There was a lot of corruption. Maybe it goes right up to President Obama. I happen to think it does.
Source: Boston Globe transcript
He also criticized NATO allies for not contributing enough money to the alliance, one could interpret that part as "bashing" and he did mention Russia was fighting ISIS too, which could be seen as "praising Putin" (even though he didn't mention him by name).
But the mozzarella and ancient Rome claims are clearly made up out of thin air.